One point was what Sunderland needed, what they came for and what they got. Dick Advocaat's miracle mission was completed at the Emirates as he masterminded the sweetest of dour 0-0s against Arsenal. That single point is enough to propel Sunderland four clear of Hull City, therefore ensuring their survival and their participation in next season's Premier League.
Advocaat has overseen more exciting games than this one but this was the climax of his tenure, a triumph of the motivation, preparation and organisation skills which Ellis Short paid to bring to Wearside. Sunderland defended deep and in numbers and resolutely refused to score a goal. They barely threatened in the first half but, after the break, Steven Fletcher had three chances to score the winner they did not in fact need.
When it was all over the Sunderland fans erupted and the players embraced as if they had won a cup. After some encouragement from his staff, Advocaat walked across the pitch to the away end, where he was met with roars from the fans. By the team he reached them, he was in tears.
Advocaat will decide next week whether he will stay at Sunderland next season or whether he will retire from management. If this was the penultimate game of his prestigious career then it was not a bad one. If he leaves front-line coaching, having completed this rescue job, no-one could blame him.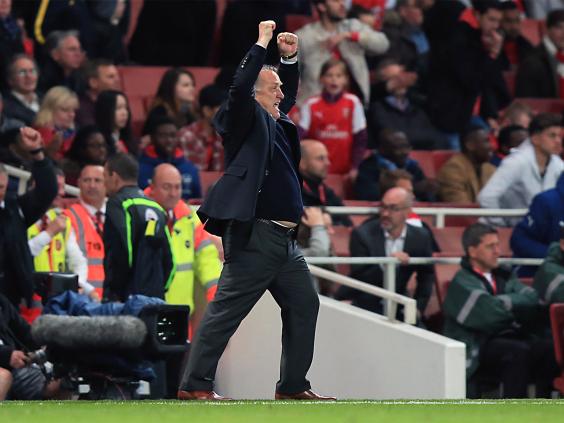 "My emotions came when my friend and assistant Bert van Lingen came over, we have worked for 25 years together," said Advocaat afterwards. "When he arrived and started crying, I didn't need so much encouragement. I did the same. He said let it go, so I said why not?"
While Advocaat would not make any promises on his future he spoke like a man looking back on a last job well done. This was just his eighth game in charge but the 12th point Sunderland have taken. They are now five matches unbeaten and a very different side – disciplined, driven and focused – from the one that conceded four goals at home to Aston Villa and Crystal Palace.
Advocaat, at 67 years old, is more of a fixer than a builder now, and he suggested that this summer it was time for Sunderland to go in a new direction. "Hopefully now the owner can start with another set up," he said, "bringing less players, but with more quality than they did in the past."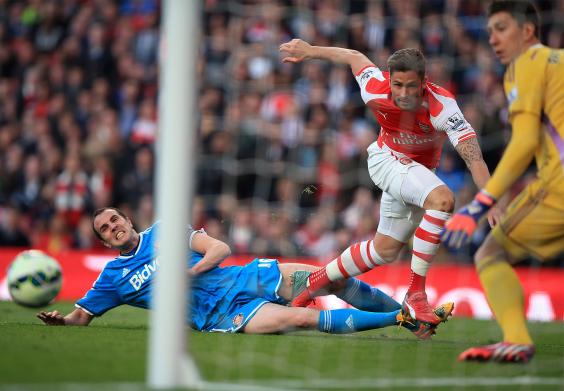 These players were immaculate here, though, following Advocaat's instructions to the letter. Swansea City had shown how to play against Arsenal here last Monday and so Sunderland dug in, defending deep, frustrating their hosts. Sunderland played 4-4-1-1 in the first half and switched to 4-1-4-1 at the break, neither system giving Arsenal enough space to attack into.
For Wenger's side it was a night of real frustration, their third consecutive home game in which they have failed to score. This point was not quite as valuable for them as it was for Sunderland, although another draw, or a modest defeat, here to West Bromwich Albion on Sunday will be enough to hold off Manchester United and ensure that they finish this season in third. But the similarity with their last home game, against Swansea, will not be lost on anyone. With the season almost over, but with an FA Cup final left to play, Arsenal appear to have lost their attacking edge.
Arsenal's best chances came in the second half. Billy Jones accidentally deflected a cross onto his own bar, before two substitutes combined, as Theo Walcott set up Tomas Rosicky, who fired wide. Costel Pantilimon had to save from an Olivier Giroud flick and a Kieran Gibbs header but neither save was especially surprising. Wenger admitted afterwards that his players "did not look like scoring" and it was not a good night for a side who are losing the ability to unpick opponents at home.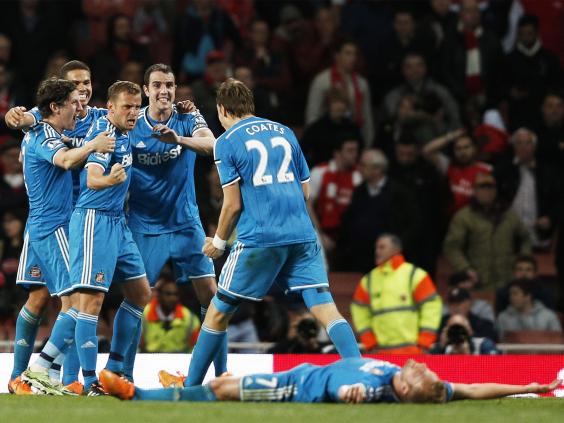 The best chances, in fact, all fell to Steven Fletcher, who replaced Danny Graham to lead the line in the second. He forced an early save from David Ospina from close range, then produced a weak chip when clean through, and finally diverted a Patrick van Aanholt cross over the bar with a gaping goal. It was a bad miss and he looked imploring at the linesman to flag him offside and spare him the embarrassment. No flag came.
In the end, it did not matter. The final minutes were taken up by desperate hacks and clearances, as Sunderland tried to get the ball as far away from their goal as they possibly could. Pretty was not the priority when Sunderland sent for Advocaat and they got exactly what they paid for. They will be here next season, although Advocaat may not be.
Man of the match Cattermole.
Match rating 7/10.
Referee A Taylor (Greater Manchester).
Attendance 59,987.
Reuse content