Arsenal recently fielded the same team for six successive games, but a few of the attacking players among that XI who thought their FA Cup final place was nailed on were given pause as Theo Walcott and Jack Wilshere took apart a West Bromwich Albion side that had just beaten the champions Chelsea 3-0. Both were substituted during the second half, walking off to a standing ovation and wondering whether they had done enough to start at Wembley.
For Walcott, who scored a hat-trick in little more than half an hour, there might even have been a more melancholy thought about whether he had appeared at the Emirates for the last time in an Arsenal shirt.
Playing as the main striker, he looked a more than adequate understudy to Olivier Giroud and the shame is that he has never convinced his manager, Arsène Wenger, to give him a longer run in that position. His normal role on the right, meanwhile, was filled to equally good effect by Wilshere, constantly drifting inside on his favoured left foot.
Santi Cazorla and Mesut Özil also enjoyed themselves with some classic short, sharp passing against a porous Albion defence before substitutes Aaron Ramsey – who might have scored three even more quickly than Walcott – and Alex Oxlade-Chamberlain, just back from injury, joined the fun. Yet room must surely be found against Aston Villa for Francis Coquelin, the one genuine defensive midfielder. The only certain conclusion was that there is no need to rush back Danny Welbeck.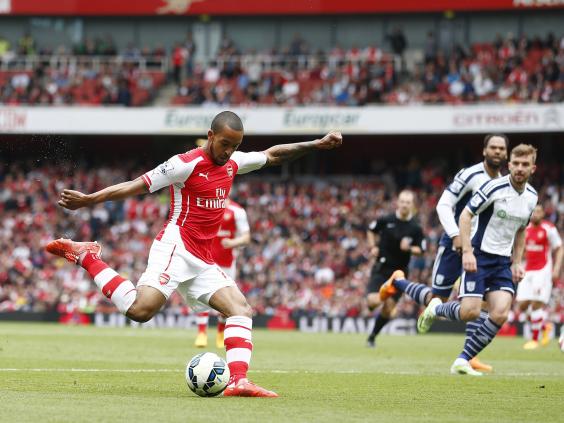 After the anticlimax of three home games without a goal, it was the sort of performance to make the post-match lap of appreciation one of the Premier League's happier ones. Victory next Saturday, to achieve the comparatively rare feat of retaining the Cup, is still required, however, to justify Wenger's assertion that progress has been made.
Third place is one rung higher than the past two campaigns, but the Champions League failure against Monaco was hard to take. Of the major signings who made Arsenal the second-highest spenders this season, only Alexis Sanchez has been an unquestionable success; and there would have been greater concern in the second half here about some of the defending had Albion not already been out of contention.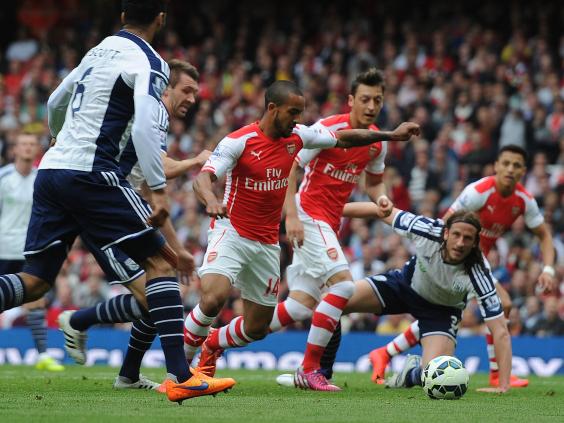 Sending on a second striker, in Victor Anichebe, when  4-0 down, improved them and there could have been several more goals to both sides than the one Gareth McAuley headed from a corner with David Ospina groping. "The first half was top quality," Wenger justifiably claimed, adding with reference to the two goalscorers: "You could see some players were in good shape. Theo is a good goalscorer but he's been out for a year – a big, big time. Jack is a bit similar. He had a convincing performance."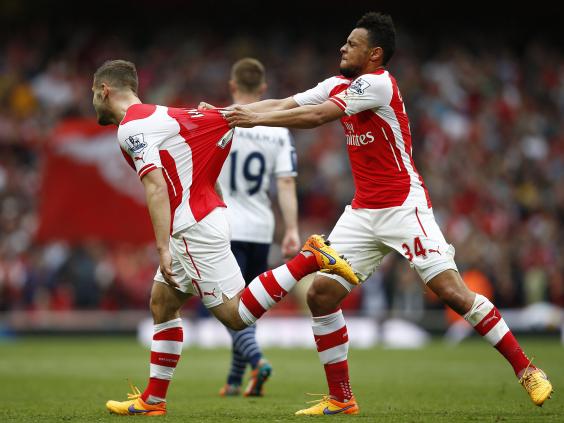 In the fourth minute Walcott had taken Cazorla's pass and hit the ball high past Boaz Myhill into the top corner of the net. After he poked in his second following some clever footwork, Wilshere thrashed in a half-volley that sat up and was set up perfectly for him; his run and Cazorla's low cross then gave Walcott a tap-in for his hat-trick eight minutes before half-time.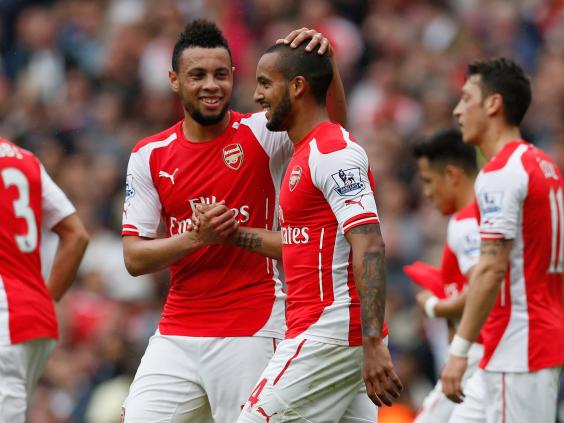 Albion made a better fist of things in an open second period, and after McAuley's header, Ospina saved from Anichebe, Chris Brunt, Chris Baird and Craig Gardner. They finish a respectable 13th, just below their average position since returning to the Premier League five years ago but a considerable improvement under Tony Pulis, who has taken 10 points more from his 19 games than Alan Irvine did. Unfortunately for the League Managers' Association, it is one of those changes that clearly worked.
Now Pulis, who sets off this morning to row the Channel for charity, must use his persuasive charms to keep Saido Berahino at the club. "To finish 13th is absolutely brilliant," he said. "The Chelsea game took a lot out of us and I maybe should have freshened it up."
Reuse content