Given his extraordinary start to the season, Anthony Martial can be expected to make a significant contribution to this afternoon's game at the Emirates. Signed from Monaco on the last day of the transfer window, all the early stories about the 19-year-old focused on the size of his fee, a whopping £35m. 
Then he started playing and it was immediately clear that the Frenchman might be something very special. Pace, power and a cool finish, Martial's early performances brimmed with such confidence and quality that it would be no surprise if he scored the winner today. For many Arsenal fans the surprise will be that he is playing for the visitors. 
For there was a time when Martial was just the sort of player that the Arsenal manager Arsène Wenger was famous for finding. Martial is frequently compared to Thierry Henry, arguably Wenger's greatest signing, but not to the first brilliant young striker he had brought to north London. That was Nicolas Anelka, a mere 17-year-old when he was signed in February 1997. Anelka had an immediate impact as Arsenal won their first title under Wenger, but also attracted the attention of Real Madrid, to whom he was sold in the summer of 1999.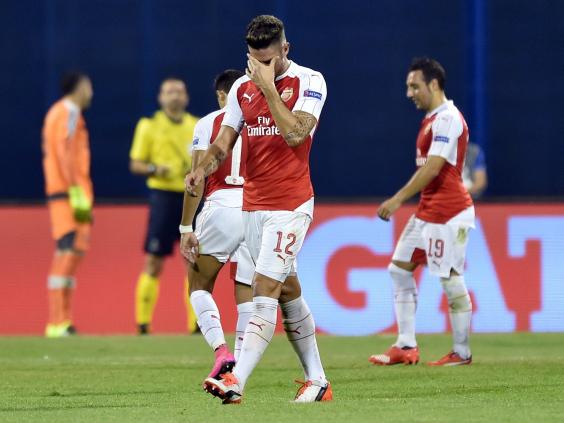 Wenger responded by bringing in a 21-year-old Henry, a misfiring winger who, in a couple of seasons established himself as the Premier League's most dangerous striker and eventually became Arsenal's record goalscorer. Henry, quick, lethal and audacious epitomised Wenger's early years at Arsenal and did much to establish the elder Frenchman's reputation as a truly exceptional manager. 
Even before Henry was sold to Barcelona in 2007, Wenger was grooming a successor in Robin van Persie. There was a common strand to the three of them. All arrived at Arsenal before the age of 22 and were Premier League golden-boot winners by 31. None started their careers as prolific scorers but all could roam across the front line.
However, van Persie's Arsenal career was blighted by injuries and by his time the team had lost its title-winning habit. By then, too, Wenger seemed to be losing his Midas touch as a spotter of great strikers [see panel]. After van Persie, Wenger signed Emmanuel Adebayor who, with hindsight, may have played some of his best football at Arsenal but was already an unpopular figure when he was sold to Manchester City. His successors, the likes of Eduardo, Marouane Chamakh, Andrei Arshavin and Gervinho were a rum bunch, none of whom remotely resembled Henry. Not all were centre-forwards but all played, and struggled, up front.
The poster boy for this group of under-achievers was surely the ludicrous figure of Nicklas Bendtner (below). Signed for just £75,000 as a teenager (Wenger loves a bargain) he soon became known more for his own predictions of greatness rather than anything he did on the pitch.
By the time Bendtner left in 2013 Wenger's reputation as a developer of striking talent had all but disappeared. Olivier Giroud joined a year earlier and is part of the problem. Now in his fourth Premier League season many feel he has neither the pace, nor the predatory instincts, of a title-winning striker and last season Henry himself joined the chorus of disapproval.
While publically supportive of his man, it is clear that Wenger recognises his deficiencies. Early on he noticed that rather than place his finishes Giroud tended to power them in. At London Colney one day, he called Giroud over and gave him a little instruction. He pointed out that great goalscorers like Henry, very rarely blasted their efforts. They placed them, Wenger said, with a composure that came from hours of honing.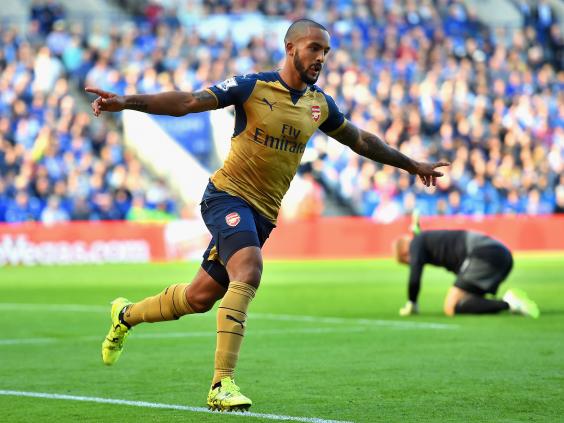 Watching Giroud, it seems he is still learning and, meanwhile, the club is still searching for a central striker. It is more than three years since an Arsenal player hit more than 16 goals in the league. Giroud is unlikely to start today, with the  unconvincing Theo Walcott probably playing as a central striker, while Alexis Sanchez, a success up front for Arsenal but not as a centre forward, comes in from the wing.
The question Wenger is often asked after Arsenal's indifferent opening to the season, and which played a part in his grumpy press conference on Friday, is why, with more than £100m to spend last summer, he did not think there was a striker in world football who would improve his striking options.
Not Martial, not Christian Benteke (who joined Liverpool from Aston Villa for £32.5m), not Edinson Cavani of Paris Saint-Germain, not Antoine Griezmann of Atletico Madrid. The latter two would probably have required fees of more than £50m, but it is money the club has and many of their fans would like to see spent.
Reuse content