Former Arsenal captain Patrick Vieira has accused the club's fans of going "too far" in their criticism of manager Arsene Wenger after they were knocked out of the FA Cup by Watford last weekend.
Having won the Cup in both 2014 and 2015, Arsenal suffered a 2-1 defeat by Watford to knock them out of the competition and leave their hopes of silverware this season hanging by a thread, with the Premier League their only realistic chance of winning anything this season.
With the Gunners trailing leaders Leicester by 11 points with a game in hand, fans have voiced their anger at Wenger's running of the first team, and Vieira has jumped to his former manager's defence to urge fans to show him "a bit more respect".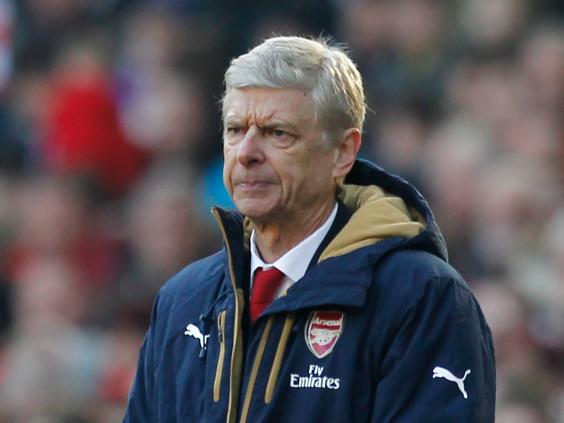 "Arsenal are going through a difficult period, but I was surprised and a bit disappointed," Vieira told Talksport 2 when asked about the banner on display at the Emirates that read "Arsene, thanks for the memories but it's time to say goodbye.
"Fans can be frustrated, but they forget at times what Arsene has brought to the club.
"He deserves a bit more respect. Fans can boo and show their anger, but the way they did it with that banner showed a lack of respect. This is the way it is, this is football, but it shouldn't be like that."
Arsenal 1 Watford 2 player ratings
Arsenal 1 Watford 2 player ratings
1/22 Arsenal: Ospina 6 out of 10

Watford had two real chances on goal and Ospina could do absolutely nothing about them. Bar picking the ball out of the net he had nothing to do.

2016 Getty Images

2/22 Chambers 4 out of 10

His final ball remains atrocious and this performance showed Chambers has the decision making of a centre-back, lacking the drive and incision of Bellerin.

2016 Getty Images

3/22 Mertesacker 7 out of 10

Exquisitely composed despite the threat of Ighalo's pace, he read the game quite superbly to cut out Watford's counters and showed outstanding timing in the tackle.

2016 Getty Images

4/22 Gabriel 5 out of 10

The consensus may be that he was lucky to be on the pitch after his tackle on Deeney but it didn't slow his forceful play. However he was far too tight to Ighalo for him to swivel and score the opener.

5/22 Gibbs 5 out of 10

Made impressive progress up and down the left flank, combining well with Alexis Sanchez and making Guediora look very ordinary defensively.

6/22 Elneny 5 out of 10

Found himself in goalscoring positions surprisingly often but did not show the incisive finishing that was a trademark of his at Basel. He did, however, bring neat, tidy passing to Arsenal's midfield.

2016 Getty Images

7/22 Coquelin 7 out of 10

Another Arsenal player to embrace the physical battles of the game he dived into tackles with glee but, unlike against Spurs, got the important ones spot on.

2016 Getty Images

8/22 Campbell 7 out of 10

Yet again Arsenal's best attacker was subbed off early to suit Wenger's plans. Yes Ozil and Sanchez are more naturally talented but Campbell was perfoming well throughout his 68 minutes.

2016 Getty Images

9/22 Ozil 4 out of 10

Three minutes of brilliance just before half-time was the sum of Ozil's contributions. Whether it's tiredness or not the playmaker has been nowhere near his early season form for some time now. He needs a break.

10/22 Sanchez 4 out of 10

Another game where he kept trying but nothing whatsoever went right. He kept shooting and crossing, trying to play himself out of the slump, but nothing was coming.

2016 Getty Images

11/22 Giroud 5 out of 10

The illusion of a couple of goals against Hull was revealed to be exactly that today. He had a few chances, but rarely put himself about to create more and spurned those opportunities created for him.

12/22 Watford: Pantilimon 6 out of 10

For all Arsenal's possession the reserve keeper had very little to do, a fortuitous deflection off his hand from Giroud's effort his only major contribution.

13/22 Nyom 7 out of 10

Dealt superbly with a struggling Sanchez, hitting him with power time and time again and never allowing him to settle on the ball.

2016 Getty Images

14/22 Prodl 7 out of 10

Was lucky to avoid giving away a penalty for a clumsy tackle on Ozil but dealt far more effectively with Giroud, manhandling his opponent robustly but fairly.

2016 Getty Images

15/22 Cathcart 7 out of 10

When Arsenal's pressure looked like paying off Cathcart came to the rescue, diving in superbly to intercept a pass for Giroud a few feet away from goal just minutes after Watford took the lead.

2015 Getty Images

16/22 Ake 7 out of 10

A horrible day for the Chelsea loanee, though it wasn't really his fault that team-mates kept leaving two Arsenal players up against him. Improved notably in the second half, keeping Sanchez locked up.

2016 Getty Images

17/22 Behrami 7 out of 10

Tracked Arsenal's midfield runners very effectively, invariably putting himself between Elneny and the ball when his opponent seemed set to shoot.

2016 Getty Images

18/22 Watson 7 out of 10

Five tackles and a string of interceptions were the output from an excellent display by the FA Cup winner with Wigan, whose influence only grew as Watford protected their lead.

2016 Getty Images

19/22 Capoue 7 out of 10

Time and again unleashed the pace of Ighalo with some stunning passes from deep to launch the counter. He could only look on in frustration as Watford failed to take them.

20/22 Guedioura 6 out of 10

A quiet game that seemed to be little more than him being bypassed by Gibbs until a tonking strike seemingly secured a semi-final spot for Watford. His only real input, but what a spectacular way to make your mark.

2016 Getty Images

21/22 Ighalo 6 out of 10

A real source of frustration for Sanchez Flores in the first half, when his passing killed several great opportunities. When a real chance fell to him though he swivelled and finished in style.

2016 Getty Images

22/22 Deeney 8 out of 10

Dreadful in the first half, where he offered no support to Ake down the left, he was revitalized in the second as an out-and-out striker, adding two assists in a game-changing display.

2016 Getty Images
Pressure is on Wenger to turn around Arsenal's mid-season slump ahead of Wednesday's Champions League last 16 second-leg against Barcelona, with calls growing for the 66-year-old Frenchman to step down as manager should they fail to get back into the title race.
Vieira believes that Wenger will know himself when the right time is to leave the club, and feels it will be part of his "vision" for the growth of the team as well as his own career.
"Arsene will know when it is time for him to go. He knows what he is doing," he said.
"He loves the game, he works really hard, he's a work addict. He watches every single game in every single league and has a clear vision of what he wants to achieve. People like it or don't like it.
"He has done a fantastic, unbelievable job for Arsenal Football Club and, with that message after the Hull game, the fans went a little bit too far."
Reuse content