Elusiveness is one of Mesut Ozil's great football qualities, but his play can be so subtle that it counts against him, leaving him short-changed when praise and accolades are distributed at the end of a season or match.
That might well have been the case on Sunday afternoon, when Arsene Wenger assessed how his side got their season underway, one week on from their infuriating defeat at home to West Ham United. Olivier Giroud had scored a bicycle kick – not exactly his usual style – while Alexis Sanchez made his first start of the season, winning the game with an athletic header.
But Wenger, perhaps mindful of Ozil's low-key brilliance, directed his most enthusiastic praise to the £42million man from Gelsenkirchen. "It was a very good performance," Wenger said. "It is a pleasure to watch the quality of his passing, and the intelligence of his passing. In the build-up of the game, he was absolutely magnificent. He works harder than many people think he does."
Crystal Palace 1 Arsenal 2 player ratings
Crystal Palace 1 Arsenal 2 player ratings
1/24 Alex McCarthy, Crystal Palace

An excellent low save from Sanchez stood out in a confident display from the summer signing. He could do little about both Arsenal goals. 6

Getty

2/24 Joel Ward, Crystal Palace

A well-taken goal couldn't quite make up for a series of careless errors early in the first half, one of which led to Arsenal's opener. 5

Getty

3/24 Scott Dann, Crystal Palace

Often found himself having to put his body on the line to make up for his colleagues mistakes. A defensive rock in a disorganised side. 6

Getty

4/24 Damien Delaney, Crystal Palace

A careless own-goal summed up a disappointing afternoon for the centre-back, who was made to look leaden-footed by Arsenal's fast-moving attackers. 5

Getty

5/24 Pape Souare, Crystal Palace

Looked to supplement the attack on the left and did well to shackle Ramsey when he drifted right. But too often allowed himself to be pulled infield allowing Bellerin to exploit space. 6

Getty

6/24 James McArthur, Crystal Palace

An energetic box-to-box display from the midfielder, who cleared off the line at one end but also held the ball up well to assist Joel Ward's goal. 7

Getty

7/24 Yohan Cabaye, Crystal Palace

Pardew had argued that the club's record signing could impress in Arsenal's side. Not on the basis of this game. Too often he was bypassed by Arsenal's pacey counters. However his excellent set-piece delivery remained Palace's best attacking weapon. 6

Getty

8/24 Yannick Bolasie, Crystal Palace

A vibrant, dangerous presence on the right who gave Monreal plenty to think about. It seemed a bizarre decision by Pardew to remove him halfway through. 6

Getty

9/24 Jason Puncheon, Crystal Palace

A well-crafted, energetic display in the number 10 role. He moved the ball neatly without ever suggesting he might be about to make a definitive impact. 6

Getty

10/24 Wilfried Zaha, Crystal Palace

A thrilling display from the England winger, who shone as bright as any of his more feted opponents. He took on his opponents time and again, showing confidence and thrilling the Selhurst crowd. 8

Getty

11/24 Connor Wickham, Crystal Palace

Anonymous in the first half, he only became more visible in the second as he wasted two excellent opportunities, hitting the post then blazing over when in space inside the box. 5

Getty

12/24 Off the bench: Jordan Mutch, Crystal Palace

Did little to replace Bolasie's creativity and trickery but did show plenty of willingness to get up and down. 6

Getty

13/24 Petr Cech, Arsenal

Much better from the new man, he showed quick reactions to sweep up behind Arsenal's high defensive line and made a couple of good, if not excellent, saves. 7

Getty

14/24 Hector Bellerin, Arsenal

His return showed just how invaluable he has become to Arsenal. Made several important tackles in the second half as well as getting forward to add to the attack. 8

Getty

15/24 Laurent Koscielny, Arsenal

Should have closed down Ward much quicker for Palace's goal. This was not the assured performance Wenger would have expected from his French defender. 5

Getty

16/24 Per Mertesacker, Arsenal

As commanding as ever in the air, though guilty of a few loose passes on the deck. He kept Wickham out of sight for most of the contest. 6

Getty

17/24 Nacho Monreal, Arsenal

On the receiving end of a torrid afternoon from the excellent Zaha, he dropped every deeper to deal with the threat but still had difficulties. 6

Getty

18/24 Francis Coquelin, Arsenal

Lucky to avoid a dismissal on the stroke of half-time but Wenger perhaps should have considered removing a player who gave the ball away much too often. 5

Getty

19/24 Santi Cazorla, Arsenal

Looked reinvigorated in his preferred deep-lying role, working well with Ozil and kicking off Arsenal's counters. 7

Getty

20/24 Aaron Ramsey, Arsenal

Something strange seems to have happened to the Welshman, who has lost his knack for making the right decision. Seems too eager to shoot when his teammates are well placed. 5

Getty

21/24 Mesut Ozil, Arsenal

Thrived in the space Palace afforded to him, combining well with Sanchez and drifting out to the left-flank to create chances. 7

Getty

22/24 Alexis Sanchez, Arsenal

What a return for the Arsenal star. Palace defenders seemed terrified of closing him down for fear he would make them look foolish. He often did. 8

Getty

23/24 Olivier Giroud, Arsenal

Another to atone for a disastrous display against West Ham, taking his early goal in spectacular fashion to set Arsenal on course. At times his flicks can look too premeditated though, and Palace often beat his teammates to his knock downs. 7

Getty

24/24 Off the bench: Alex Oxlade-Chamberlain, Arsenal

His introduction for Coquelin gave Arsenal another valuable option on the counter, forcing Palace's defence deeper to compensate for him. 6

Getty
Wenger also spoke about Ozil's new habit of running in behind, helping to stretch the play in a way that Arsenal might lack when neither Alex Oxlade-Chamberlain nor Theo Walcott is on the pitch. "He made many runs without the ball, behind the defenders, which I like," Wenger said. "That is a bit new because he likes to come to the ball. But he mixed up his game better."
It was certainly a top-level Ozil performance, of the type that makes you wonder why he does not to this every week, and, if he did, how good it would make Arsenal. If the previous Sunday, when Ozil struggled to out-manouevre Reece Oxford, showed how frustrating he can be, then Selhurst Park one week later was the opposite. This was a display of intelligence, skill and timing that few other players in the Premier League could have delivered.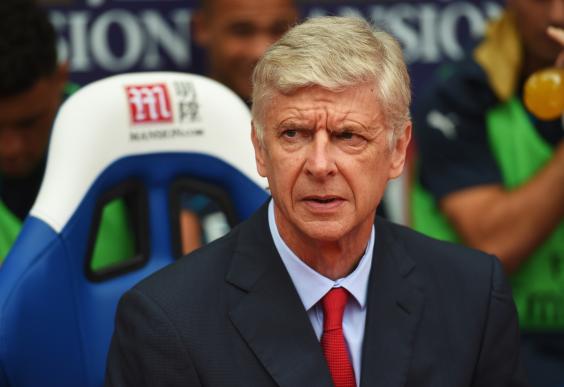 The challenge now for Ozil is to take his game to the next level, the level of midfielders like David Silva and Yaya Toure, who joined the Premier League at a similar age and have guided Manchester City to the 2012 and 2014 titles. Wenger said on Sunday that he must score more goals, as he did with more force before the Community Shield.
"I want more goals from Mesut, because he plays in the position and he is a good finisher," Wenger said three weeks ago at the Emirates Stadium. "But he doesn't take enough chances when he is in a position where he can finish. He is conscious of it and wants to do it now. His main aspect will always be the intelligence of his passing, but we want 10 goals per season from him."
That is the challenge, although, the signs are there that, in his third year in England, Ozil is starting to impose himself on the game. "He shows more authority to dictate the game than before, he has added some steel,"Wenger said before the season began. "I am confident that he can be one of the great players of 2015-16."
Reuse content