Arsene Wenger has insisted that it is integral to Alex Oxlade-Chamberlain's career that he stays at Arsenal and has urged him to sign a new contract with the club.
Oxlade-Chamberlain will enter the final 12 months on his contract in the summer, along with a number of other Arsenal stars, including Mesut Ozil and Alexis Sanchez, as the club face losing a whole host for nothing in the summer of 2018.
Reports earlier in the season suggested the England international would leave the Emirates in the summer with both Liverpool and Manchester City interested but Wenger has called it "vital" the 23-year-old signs a new deal at the club.
Arsenal have the same season every year
Arsenal have the same season every year
1/8 Surprise early defeat

A surprise early defeat, such as 2013/14's to Aston Villa or 2015/16's to West Ham United, makes July's Emirates Cup win seem like a distant memory.

Getty

2/8 Impressive win against top club

A promising win against a title rival, like last season's 3-0 victory over Manchester United or this season's win over Chelsea, has the Emirates hoping for the best again.

Getty

3/8 Injuries start to mount up

However, a long queue starts to form outside the treatment room. Key players, as well as regular absentees, tend to be the victims.

Getty

4/8 November curse strikes again

Arsene Wenger's side then begin to unravel in November, with the curse kicking in after an away defeat against one of the top flight's lesser lights. It's around now that the already-faint hopes of a title challenge start to fade.

Getty

5/8 Champions League elimination

The most predictable part of it all comes in February, with Champions League elimination, usually to Bayern Munich, Barcelona or Monaco, if they are really unlucky.

Getty

6/8 Title hopes finally killed off

A heavy, signature defeat to a fellow top six side puts paid to any lingering hopes of a title challenge in late February or March. 2013/14's 6-0 reverse at Chelsea, Arsene Wenger's 1,000th game in charge, is perhaps the most memorable example.

Getty

7/8 Strong rally to finish

The pressure is off, time to turn the style on. A rally at the tail end of the season does wonders for Arsenal's league standing, but little to combat allegations of flakiness.

Getty

8/8 Top-four finish

Arsene has his 'trophy'. Champions League football is coming to the Emirates again next year. What more could the fans want?

Getty
"I personally think it is vital that Chamberlain stays at Arsenal," the Arsenal manager, who is still yet to make a decision on his own future, said.
"We bought him when he was very young, we have built him up and I think he has a great mentality. I like his mentality and he has a good football brain. It would be a big damage for us to lose this kind of player."
Oxlade-Chamberlain joined the Gunners from Southampton as a central midfielder but has failed to establish himself in a settled position and has often been stuck out wide on the right or left flank.
However, Wenger sees his future back in central midfield in the long term, but suggested he needs to improve defensively first as he can sometimes be a liability by dribbling in the wrong position.
"I played him [in central midfield] a few times a few years ago and I think he did well," Wenger added. "When I didn't play Ozil I had to find a combination with him in central midfield.
"He is offensive. You can see as well he is a guy who can get out of pressure. He has a dribbling skill and acceleration that can get you out of pressure. He can penetrate. In midfield that is important.
"I felt as well sometimes on the flank he is out of the game but in the middle he is more focused.  He needs to be involved in the game.
"He does not have enough experience in that position. He is a player who likes to take the ball and go at people sometimes. I think that this will get out of his game.
"He can lose balls but defensively he is strong in the challenge when he wants to switch on. He has that kind of robustness to deal with body to body which is very important in the Premier League."
Wenger also encouraged Oxlade-Chamberlain to mature mentally too and accused him of being too critical of himself, which sometimes causes his head to drop in games.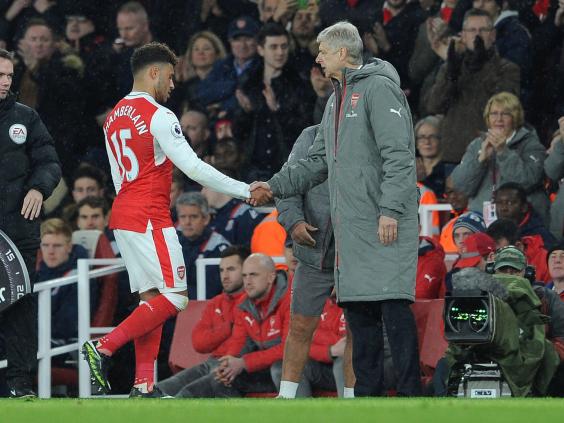 "He is very critical of himself and he works on it. He is one of the guys who sometimes is too harsh with his own performance. You can see he is blaming himself on the pitch sometimes when he misses something.
"You are always in the game when it's always the next job. You can see sometimes the fact that he is still in what he has missed when he gets the ball again. He works on that and I think he has improved a lot."
Reuse content