If Francis Coquelin takes the field on Wednesday night, for a hectic battle at Loftus Road, he will likely be wearing a protective mask having broken his nose on Sunday. The discomfort is a price worth playing for a player who is so desperate to take his unexpected chance.
Coquelin is enjoying his best ever run in the Arsenal team, a run he had always been waiting for but must have feared would never come. He has started 11 games since Arsene Wenger brought him back from his loan spell at Charlton Athletic and threw him into the first team at Upton Park on 28 December. Since then, in the absence of more experienced team-mates, Coquelin has made that holding role his own.
Wenger spoke at length about Coquelin at his pre-match press conference on Tuesday morning, admitting that this sequence of games was so unlikely that the player was disappointed to leave a Charlton side on which he was just beginning to make his mark. Coquelin had only started  three Championship matches but he would still have preferred to stay at The Valley rather than sit on the Emirates bench.
"He wasn't happy when I called him back," Wenger admitted. "He played at Charlton and he thought I just called him back as cover. He was surprised when I played him against West Ham."
Neither of Coquelin's past loan spells – at Lorient and Freiburg – had been especially successful and, with his old contract expiring at the end of this season, everyone was expecting this season on Arsenal's books to be his last.
"I told him, at the start of the season, to give absolutely everything until the start of the season until Christmas," Wenger said. "Then we will see together and see where you are. If you respect that you have done a big part of your job." Had his loan at Charlton not worked out, Wenger would have loaned him out again, helping Coquelin to earn a new deal somewhere.
Arsenal 2 Everton 0 player ratings
Arsenal 2 Everton 0 player ratings
1/22 Hector Bellerin - 7

Combined well with Alex Oxlade-Chamberlain and got forward well. Looks assured on the right of the Arsenal defence.

Getty Images

2/22 Laurent Koscielny - 7

Had a real battle with Romelu Lukaku. Caught out by the Everton forward in the first half and was booked for a cynical challenge on Aaron Lennon in the second half after Gabriel Paulista's mistake.

Getty Images

3/22 Gabriel - 6

Showed the good and bad sides of his game. Gabriel was guilty of some suicidal defending in the first half when he almost allowed Romelu Lukaku in on goal. But then produced a brilliant tackle to deny Lukaku with the Everton forward bearing down on goal. A poor pass late on gifted possession to Aaron Lennon midway inside the Arsenal half and nearly put Arsenal in trouble.

Getty Images

4/22 Kieran Gibbs - 6

Had a solid game at left-back.

Getty Images

5/22 Francis Coquelin - 7

Received lengthily treatment after a nasty clash of heads with Olivier Giroud in the second half but had another good game. His defensive qualities mean he is becoming an important part of the Arsenal midfield. Eventually forced off late on with blood pouring from his mouth from the clash with Giroud.

Getty Images

6/22 Santi Cazorla - 6

Captaining the side, Cazorla tried to make things happen but was denied space by Everton. Played a neat one-two with Olivier Giroud before hitting a shot just over and also forced Tim Howard into a good save.

Getty Images

7/22 Mesut Ozil - 6

A peripheral figure against Monaco, Ozil was better here. He played the ball into the area for Olivier Giroud to score Arsenal's winner and nearly added a second when he had a shot blocked.

Getty Images

8/22 Alex Oxlade Chamberlain - 7

At fault for Monaco's third on Wednesday night, Oxlade-Chamberlain was one of Arsenal's better performers here. Had a good game before being replaced by Tomas Rosicky on 82 minutes.

Getty Images

9/22 Alexis Sanchez - 6

Arsenal need Sanchez firing again. Struggled to make an impression on the game.

Getty Images

10/22 Olivier Giroud - 7

Arsene Wenger stood by Giroud and after his disappointing night against Monaco and that decision paid of with Arsenal's opener. He steered Mesut Ozil's cross past Tim Howard.

Getty Images

11/22 Tomas Rosicky - 7

Came on for Alex Oxlade-Chamberlain and sealed an important win.

12/22 Tim Howard - 6

Could do little about the first goal and absolutely nothing about the second, which looped past him like an unsolvable riddle.

Getty Images

13/22 Seamus Coleman - 5

Got forward frequently and industriously as a wing back, though was just as often forced onto the defensive.

Getty Images

14/22 Phil Jagielka - 7

Courageous as ever. Produced a key block on Ozil on 80 minutes to keep Everton in touching distance at 1-0, while a block on a Bellerin thunderbolt in the first half was just as important.

Getty Images

15/22 John Stones - 6

At fault for neither of the goals, and produced a generally solid display.

Getty Images

16/22 Luke Garbutt - 6

Martinez thinks he could play for England – on this showing, he could well have another developing gem on his hands.

Getty Images

17/22 Muhamed Besic - 5

Hauled off for Steven Naismith on 77 minutes as Everton searched for more attacking verve, but his bity style is increasingly a key feature of the Everton midfield.

Getty Images

18/22 Gareth Barry - 6

Mr Reliable's ageing bones show their wear in contests like this. Solid, though occasionally bypassed too easily.

Getty Images

19/22 James McCarthy - 7

An elegant soul who would not look out of place in Arsenal's midfield; he improved along with his teammates in the second half, though without a cutting edge.

Getty Images

20/22 Kevin Mirallas - 4

Electric in the Europa League, he had little chance to properly test the occasionally shaky Bellerin

Getty Images

21/22 Ross Barkley - 3

England's great hope is becoming a shadowy enigma. Drifted in and out of the game, but has lost the intangible menace he had last season.

Getty Images

22/22 Romelu Lukaku - 5

Superb against Young Boys in midweek, but Arsenal's more mature defence gave him very little to work with. Two strong runs, thoug, and was only denied by a last-ditch block from Ospina

Getty Images
But by Christmas Arsenal were struggling desperately in midfield. Mikel Arteta was out with a calf problem, Aaron Ramsey was recovering from his second hamstring strain of the season and Jack Wilshere had undergone another ankle operation. Mathieu Flamini is not, it is now apparent, of the required standard and so Wenger needed someone else, and turned to Coquelin.
Wenger believes that Coquelin, now 23 years old, has found his voice as a footballer, realising his strengths – screening the defence – and specialising at it. "He is respectful, focused and open. He analysed well what he is good at: defending in midfield," Wenger said. "He was in between a bit the playmaking position and a box-to-box player, he is not that, he's a sitting player who can win the ball. He restricted his game to that and you make success in life with what you're good at. You don't have all the qualities but you have to express what you're good at and he's good at that."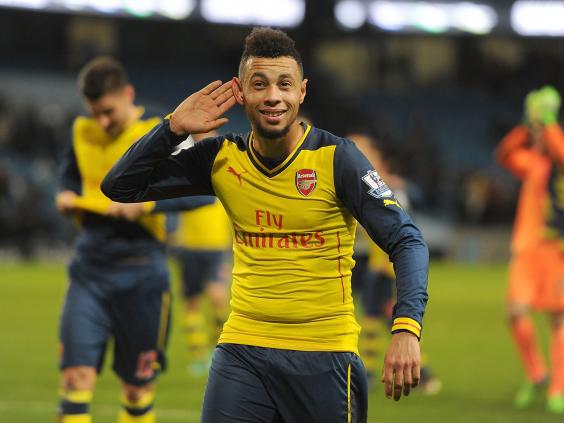 Coquelin's Arsenal debut came over six years ago and while most of his team-mates that day – Johan Djourou, Fran Merida, Gayin Hoyte and Emmanuel Frimpong – have left the club, he is now in the first team and signed to a long-term contract.
"He has gone through a lot of doubt questioning himself, being certainly at many times being discouraged that he doesn't get a chance," Wenger reflected. "Now that he has a chance he doesn't want to let it slip away. But he is a winner and he wants to win. That is why he is so committed."
Wenger admits that Coquelin has proved him wrong but says that he has been vindicated in his commitment to never closing the door on any player. "It is a surprise to everybody," he said. "The only thing I do is that I never say never to anybody. In my job you have to be open-minded like that. You have to make decisions at times. But never close the door completely to anyone."
Reuse content