Tottenham Hotspur got their title bid back on track in the easiest fashion imaginable as Harry Kane's two goals against Championship-bound Aston Villa lifted the Londoners within two points of leaders Leicester City, who host Newcastle United on Monday evening.
If a single point taken from the fixtures against West Ham United and Arsenal – followed by last Thursday's 3-0 Europa League loss at Borussia Dortmund – had represented a stumble on Spurs' part, the fixture list offered them the perfect restorative trip afternoon and they took full advantage. 
Right now Villa Park is to visiting clubs what a spa resort was to the Victorians. A Villa side eight points adrift at the bottom had conceded nine goals in their two previous home fixtures.  That Tottenham scored only twice was the only mystery. Indeed once Kane had scored his second goal in the 48th minute, the rest of this contest had the feel of a training game.
"It was very important to get the three points and keep the pressure on Leicester," said a satisfied Pochettino afterwards. "We showed the right energy and mentality too. The last few games we felt were difficult but today it was good to recover the winning feeling."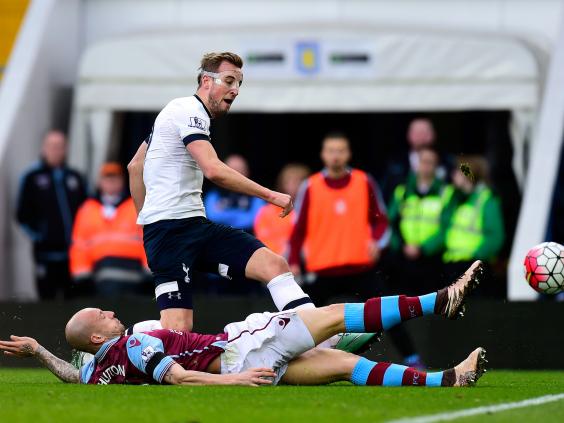 The most striking feature of the victory was the combination between Kane and Dele Alli which produced the two goals. Alli's assists for Kane were his seventh and eighth of the campaign – more than any other English player. Gary Lineker tweeted "Both players musts for England's starting XI" and the first goal in particular showed them on the same wavelength. 
It was a triumph of Alli's quick thinking and Kane's finishing. Fouled by Villa midfielder Idrissa Gana, Alli looked up at once and released the dead ball across the pitch to Kane who held off Alan Hutton and slotted it low across Brad Guzan and inside the far corner. Pochettino sang the praises of Alli afterwards, saying: "It was fantastic. This shows how he is a very clever player, always aware to take advantage. It was perfect to put the ball in for Harry."
Three minutes after the restart, Villa were undone again as Kane poked the ball in from Alli's low cross at the conclusion of a swift Spurs counter. 
Tottenham's Argentine manager had made seven changes from his much-altered line-up in Dortmund and with their best players back, it took some impressive work from Guzan to prevent a first-half humiliation for the hosts.  Villa may have belatedly added some football wisdom to their board last week with the appointment of ex-manager Brian Little in an advisory role and former Football Association chairman David Bernstein as a director, but on the pitch they are just not good enough.
Kane, scorer of a last-minute winner on this ground last season, could have had a hat-trick inside the first half-hour. After four minutes he reached an Erik Lamela through-pass ahead of Guzan but lobbed the ball on to the top of the bar. Before long another chance came from Danny Rose's low centre but his first-time strike flew off Guzan's body and over the bar.
It seemed a matter of when and not if Spurs would score but for a while Guzan's one-man unit held out. When Kane peeled away from Jores Okore down the left, the American blocked another shot. Villa's back four were left exposed time after time and on the half-hour it was Lamela's turn to go close. Kyle Walker crossed, Lamela shot and Guzan touched the ball on to the near post.
Eventually, though, the inevitable happened. Kane had two more goals, and Spurs their eighth away league win of their hugely impressive season. Second in the table, they hold a lead of six and seven points over third-placed Arsenal and fourth-placed Manchester City respectively, though Pochettino stressed: "It is too early to put some teams out of the race."
He added:  "We are in a good position but there are eight games to play and 24 points, and that's a lot of points. We are in the race and if we  compare last season to this season we need to feel very proud of our players. Our supporters are right to dream. We need to dream but to keep working hard."
While Spurs are dreaming of a first league title since 1961, another of the English game's famous names, Aston Villa, are bound for the Championship. "Proud history, No future" read the message on the scarves on sale outside the ground. Inside, the North Stand offered the scene of fans unfurling banners protesting against owner Randy Lener and chief executive Tom Fox during the second half. "Lerner Out" read one, "Get the Fox out" another. Neither was abusive yet both were confiscated by heavy-handed stewards.  The Tottenham fans showed their support for their home counterparts by joining in chants of "We want Lerner out".
For Villa manager Rémi Garde, the on-field action offered more depressing evidence of his team's fragility. "We conceded two goals in the worst period you can imagine," he said. "The first one was a lack of concentration and lack of experience. We know when we concede a goal we become fragile and we started the second half poorly, conceding straight away. But the reaction of the players and the attitude was right and at the end we could have drawn."
With Spurs switching off in the closing minutes, Villa might actually have snatched an improbable point but for glaring misses by Rudy Gestede and Joleon Lescott. The former smashed a shot against the crossbar from close range. Lescott was then guilty of volleying wide from four yards when Gestede flicked a corner on. For Villa, beaten for the fifth game running, it was just another one of those days. Asked if it was a nightmare, their French manager replied: "It's not a dream, for sure. It is not a nightmare so far because in our difficulties we are still alive." But only just.
Reuse content