Bastian Scwhweinsteiger believes he has what it takes to prove the doubters wrong and deliver titles at Manchester United.
The German midfielder, bought from Bayern Munich for around £15million last week, has struggled in the last year because of recurring injuries and played a limited role for Pep Guardiola's team in 2014-15.
Bayern Munich and West Germany legend Franz Beckenbauer questioned the move to Old Trafford, suggesting that it might have been better for the 30-year-old to move to the lower standard of the American MLS.
But the midfielder believes he still has what it takes to dominate at the top level.
Manchester United training - 17 July
Manchester United training - 17 July
1/7 1)

Louis van Gaal watches his players train

Getty Images

2/7 2)

Michael Carrick on an exercise bike

Getty Images

3/7 3)

Rooney and Carrick share a laugh

Getty Images

4/7 4)

David De Gea continues to be linked with Real Madrid

Getty Images

5/7 5)

New signing Memphis Depay

Getty Images

6/7 6)

Phil Jones, Jonny Evans and Bastian Schweinsteiger have a jog

Getty Images

7/7 7)

The German midfielder sprints

Getty Images
"I don't know at what age Beckenbauer moved to America," he told reporters in a press conference during the club's pre-season tour of the US. "I am 30. It is a challenge for me to prove I can do it here. I had my knee trouble after the World Cup which was very intensive for me and I had a break in October.
"But I have a lot of experience in big matches and that is an advantage. I am confident I can adjust to the Premier League. My style of play is to control a game.
"You have to be smart in your brain and fast. For me it is very important to control a situation in defence. You can always score goals but you have to add stability in the defence."
The midfielder, who won eight German league titles, seven DFB-Pokal Cups and the Champions League in his 17 years at Bayern as well as the World Cup with Germany, also revealed he turned down the chance to join Manchester United back in 2010 but that it was a dream to join the club his brother supports.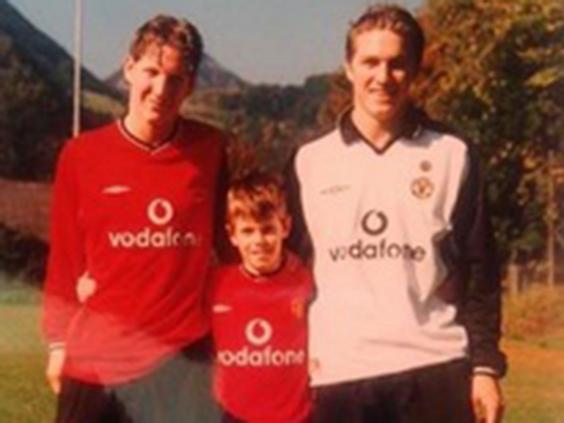 "I had the chance to join United in 2010" he added." I thought about what to do. There were opportunities. But my goal was always to win the Champions League with my club Bayern Munich. Now I am happy to be here.
"My brother [Tobias, who plays for Bayern II] is a huge Manchester United fan. He is a big Eric Cantona and Ryan Giggs fan. It was always a dream to be a Manchester United player.
"I saw the 1999 Champions League final between United and Bayern at home. My brother had the United jersey on and I had Bayern's. I didn't cry but my brother was very happy.
"I always followed the Premier League and we watched a lot of United games with my brother."
The midfielder also admitted that he hasn't just joined the club to test himself in England, he wants to win titles.
"That is my goal for my time here," he said. "I want to win titles and this is what Manchester United is used to and I am the same. I cannot guarantee titles but I will guarantee that we will do everything to be successful in the season.
"I want to make a positive impact. I think I can contribute a lot to the team.
"In Germany we had two seasons when Borussia Dortmund were the champions twice in a row. I also remember the Champions league seasons before we won the Treble with Jupp Heynckes, once against Inter Milan in Madrid and in Munich against Chelsea.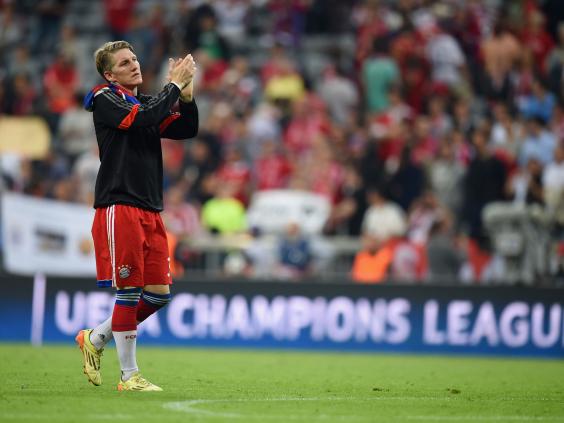 "You learn a lot from these defeats and situations. It was a progress. It is the same at Manchester United. I know the club are looking forward to winning titles again and I am the same.
"They are the biggest club in the world and I am sure this team has the quality to win titles. He [Van Gaal] wants to have success and if he doesn't have success one season then he is more hungry.
"I know maybe sometimes he is not so easy but what I love is that he always wants the best. He wants to improve in every second. He is honest to you.
"This is why in Munich the fans and the team loved him so much. Of course at first it was a little bit different but the relationship grew and we loved him."
Schweinsteiger will make his first appearance in red when United play Club America on Saturday.
Reuse content