If Bournemouth stay in the Premier League it will be one of the managerial achievements of the season. They are in good form, and have a great chance to win their third straight league game this afternoon, at home against Swansea City.
Bournemouth have improved ever since Benik Afobe joined in January, and his goals have been crucial to their recent wins. He has given Eddie Howe something they had lacked ever since Callum Wilson's devastating knee ligament injury last September.
But that contribution from Wilson and Afobe is far more than just goals. This Bournemouth team needs a quick striker up front, to scare the opposition and force them back, thereby giving the Cherries enough space to play out from the back. There is a drastic difference between Bournemouth's record when they do have Wilson or Afobe up front, and when they do not.
The evidence proves that Bournemouth are far more secure at the back with one of those two strikers up front. In their 16 Premier League games with Wilson or Afobe playing, Bournemouth have conceded 21 goals, seven in the first half, and just five in the first 30 minutes. Six of their nine league wins have come from those games.
Without an incisive spearhead up front, the picture is very different. In their 13 games with neither Wilson nor Afobe in attack, Bournemouth have conceded 23 goals, 17 in the first half and 11 in the first 30 minutes.
Clearly, the difference between Bournemouth with Wilson or Afobe and without them concerns more than just attacking threat. It is the difference between whether Bournemouth can get a footing in the game or not – and play the way they want to.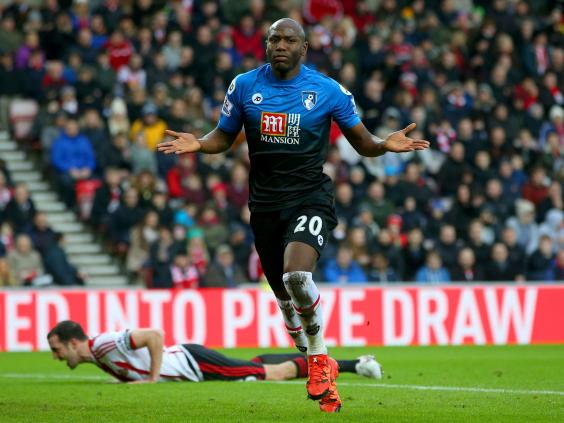 There is no secret to how Bournemouth try to win games. Howe wants them to play out from the back, go through the midfield and get the ball to their forwards. But whether they can do this, find their rhythm and take the initiative all depends on who they have up front.
When it is Wilson or Afobe leading the line, opposition defences will be scared of their pace in behind, so will drop five yards back. There will be a domino effect, so the opposition midfield will drop five yards as well. And the lone striker will be isolated up front. He will be powerless to stop Bournemouth from playing out from the back, and they will be able to build up play and start games on the front foot. This explains their strong defensive record.
But with neither Wilson nor Afobe, Bournemouth have to play a slower man up front, such as Glenn Murray, a good striker but not blessed with the same pace.
Opposition defences are less worried about pace running in behind, so they can play a higher line. Then the midfield can squeeze up too, and the forwards can get in Bournemouth's faces. Now Bournemouth are under pressure from the first minute when they try to play out from the back. This is why they concede early on and lose control of games.
What this shows is that signing Afobe from Wolves has allowed Bournemouth to find their balance again. He is crucial, as Wilson was, not just for his goals but for making the whole team work again.
This is why Howe's Bournemouth are so impressive, and why I have backed them all season to stay up. They are a proper team, more than a sum of their parts, and have a clear way of playing which comes from the manager himself.
Eddie has always stuck to his principles, and to Bournemouth's footballing identity. Even when results suffered after Wilson's injury, he did not tear everything up; he just waited until he could find a good replacement. To change his style of play would have undermined the players, and gone against everything he has done as a manager so far.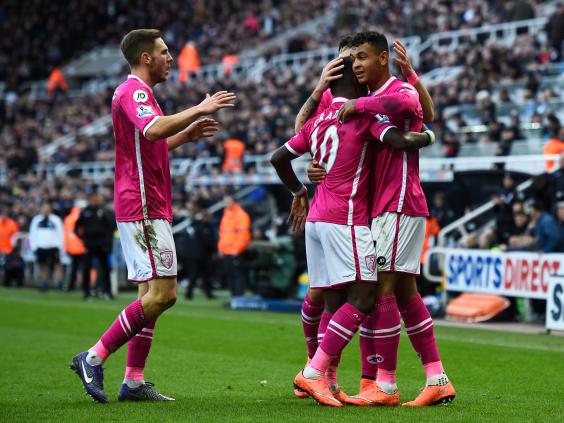 Bournemouth are an example to other teams at the bottom end of the table of the importance of sticking to your principles. I remember when I was at Stoke City with Tony Pulis, we knew what we were good at, keeping it tight at the back, and scoring from set-pieces. That was our ethos, and it kept us up. Howe has his own.
That is why Bournemouth are doing so well, and far bigger clubs, Newcastle United, Sunderland and Aston Villa, are being left behind. Sunderland have steadied under Sam Allardyce, but those three teams have been chopping and changing managers and players for years. The current manager is left with a group of players assembled by the previous regimes, with little idea what to do with them.
I see a lot of Premier League football and there are times watching Newcastle and Villa when I have very little idea what they are trying to do on the pitch. They have no plan and no identity. And until they get some stability they never will.
But at every level, every successful team has a clear way of playing. 
Just look at all the teams in the Premier League this year who have over-achieved: Leicester City, Tottenham Hotspur, Watford and Bournemouth. The managers all have a plan, and the players know how to execute it. Unless you have hundreds of millions to spend on top players, that is how you get results in the Premier League. Eddie Howe has always had that plan, and now he has the players to execute it again.
If Hiddink is pragmatic, Everton's season will be over
The biggest game of the weekend is at Goodison Park this evening, where both Everton and Chelsea have their season on the line. Both sides have under-achieved in the Premier League this year, with Everton back in 12th and Chelsea 10th.
Everton should be doing so much better, given the attacking quality they have in their squad. But everyone knows their problems in home games against sides who sit in and frustrate them. They have recently lost at Goodison to West Ham, West Bromwich Albion, Swansea, Stoke and Leicester. If you let Everton have the ball in their own half, and set traps for them, they will eventually over-play and can be picked off on the break.
The big question today is whether Guus Hiddink will do that. Will he be pragmatic enough to play nice and compact, with Nemanja Matic and Jon Obi Mikel in front of the back four, waiting for Everton to make a mistake? If he does, Chelsea should reach the FA Cup semi-finals. 
But if they come out and play, as Jose Mourinho's side did at Goodison in September, they will give Everton exactly what they want.
Reuse content