There were suggestions last night that Branislav Ivanovic bit Everton midfielder James McCarthy in the melee that saw Gareth Barry sent off, however no complaint has been made.
It is unclear from replays exactly what occurred between the two as they tangled - with suggestions on social media ranging accusing the Serbian of trying to headbutt the Irishman or even an attempted bite.
Ivanovic appears to move his head towards the shoulder of McCarthy before John Stones attempts to pull the two players apart - Ivanovic later grabbed Stones around the throat.
Ivanovic was famously bitten by Luis Suarez when playing at Anfield in April 2013.
Speaking after the game, Chelsea manager Jose Mourinho was not impressed by the suggestion that Ivanovic had either bitten or headbutted McCarthy.
"Did Branislav Ivanovic go in with his head? Don't make me laugh. Don't make me laugh," he told BT Sport.
Mourinho, who was last month fined £25,000 for saying there was a "clear campaign" against Chelsea, was not prepared to discuss the Ivanovic incident post-match or the possibility the Serbia defender would be banned.
Chelsea 1 Everton 0 - player ratings
Chelsea 1 Everton 0 - player ratings
1/21 CHELSEA: Petr Cech

A fairly safe game for the Czech goalkeeper. His experience told him that Everton wouldn't have many chances but that when they did he would have to be alert. He was. He saved Lukaku's close range shot incredibly in the second half. 6/10

Getty Images

2/21 Branislav Ivanovic

One of Chelsea's most consistent defenders all season and in recent years. Won his battles well against Naismith. Could argue he gave Oviedo too much space when the left-back chose to drive forward. 7

Getty Images

3/21 Kurt Zouma

Very similar to the home game against Manchester City a couple of weeks ago. He was outstanding. The French defender was alert to almost every attack Everton created. And even when Lukaku broke free from Zouma's control the defender was able to dart back and win the ball. Cahill will struggle to get back into the side if Zouma continues like this. 7

Getty Images

4/21 John Terry

His experience continues to help Chelsea. Whenever his defence were under pressure, which indeed was rare, he remained focused and instructed his back four the way you would expect a captain to do: with authority and intelligence. 7

Getty Images

5/21 Ramires

Not one of his better games. His tackles were late and his distribution was poor. Due to the Brazilian's rather casual approach, Lukaku was able to get into space before putting his sight's on goal. It was a surprise that Fabregas didn't start ahead of him. 5

Getty Images

6/21 Nemanja Matic

Assured going forward and vital when tracking back. He drew a foul from Besic in the first half after showing producing a lovely piece of skill and shortly before half-time when he controlled the ball inside his own area before going on a run that got his side out of trouble. 8

Getty Images

7/21 Juan Cuadrado

His full debut for the Blues and it was clear he has a lot of talent. Whether it was a drop of the shoulder or a silky pass, the Colombian demonstrated why Chelsea sought his signature last month. 6

Getty Images

8/21 Willian

Another frantic and frenetic performance from the Brazilian. His set pieces do leave a lot to be desired on occasions and they poor against Everton. They were either too close to Howard or failed to beat the first man. 6

Getty Images

9/21 Eden Hazard

A constant threat to the Everton defence. He switched sides in the second half when Cuadrado left the pitch and he was still just as effective. A goal would have capped off a superb display of skill and creativity. 8

Getty Images

10/21 Loic Remy

Always seeking to get in behind of the opposition defence. He didn't have as much success as he did against Manchester City but is was always a threat. 6

Getty Images

11/21 EVERTON: Tim Howard

Did brilliantly to save Hazard's deflected shot in the first half. His experience aided the likes of Stones who occasionally found himself out of position and having to face Hazard on the turn. 6

Getty Images

12/21 Seamus Coleman

A very difficult evening for the right-back. Hazard was in the mood to attack and so often did down the left flank which Coleman was defending. 6

Getty Images

13/21 Phil Jagielka

Typically composed performance. He didn't choose to dive in when Juan Cuadrado and others held the ball on the edge of the Everton captain's area. He also had the added task of organising a defence that was being attacked every five minutes. 6

Getty Images

14/21 John Stones

Had to contend with Remy who never stopped looking for ways to bypass the Everton back four. Jagielka on more than one occasion had to cover for his central defensive partner. One redeeming moment was when he slid in to win the ball from Cuadrado. 6

Getty Images

15/21 Bryan Oviedo

He should be happy with his performance against Chelsea. Willian and Juan Cuadrado tried to toy with him but the Costa Rican, who was playing at left-back, stayed calm. Effective when going forward too. 7

Getty Images

16/21 Muahmed Besic

Beaten easily by Matic in opening stages. He also received a yellow card for cynical foul on Hazard. 5

Getty Images

17/21 Gareth Barry

This may possibly be Gareth Barry's last season in the Premier League; you can see why. The former England international had a torrid evening against Hazard and Cuadrado. He was booked for a rather comical and clumsy tackle (if you can call it that) on Cuadrado. Received a second yellow and was sent off for a tackle on Willian. 4

Getty Images

18/21 Aaron Lennon

His full debut for Everton. The former Tottenham player is lacking a bit of match sharpness but maybe this was a little too early especially when he was forced to chase Willian all night. Too many errant passes. 5

Getty Images

19/21 Ross Barkley

Everton's most exciting player against Chelsea. Whenever he received the ball he tried as best as he could to progress play by either going down the flanks or forwards to Lukaku. 6

Getty Images

20/21 Steven Naismith

Nowhere near as effective as his Belgian teammates Lukaku. He was positioned on the left wing and expected to cut inside but Ivanovic is not a daft right-back and read the Scotland international's every move. 5

Getty Images

21/21 Romelu Lukaku

He met his match against Zouma. Usually the Belgian forward is able to bully defenders off the ball but not the French defender. Failed to beat Cech from close range in the second. 6

Getty Images
"I'm concerned with my reaction, because one more question I leave. The next question for that story I have to go," he said.
Mourinho has already shown his displeasure at Diego Costa being suspended retrospectively for three matches for stamping on Liverpool's Emre Can.
The Blues boss continues to imply his side are unfairly treated and two decisions went in favour of Everton in the opening quarter of the contest.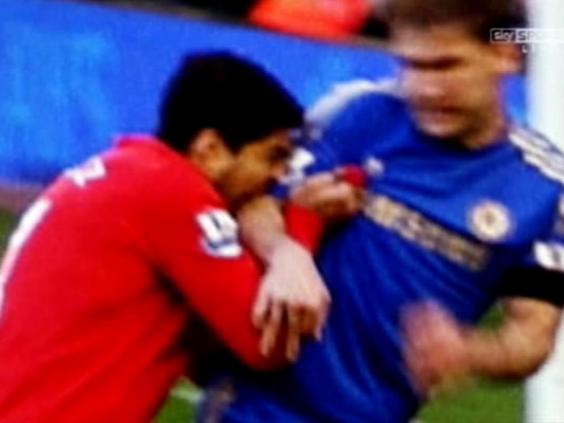 Chelsea might have had a fourth-minute penalty when the ball hit Steven Naismith's arm, and Everton had another reprieve when Barry fouled Juan Cuadrado and Eden Hazard in quick succession but was booked only for the first offence.
Mourinho added: "I'm tired of stories and I'm never tired of football. Football is emotion and what we had here today.
"A discussion because of a red card, a red card that should be given in the first half, because Barry should be sent off in the first half. He pulled Hazard. The second yellow card should be given there."
Mourinho had no complaints with referee Moss' performance.
"I think it's a clear penalty. I also think the referee had a fantastic performance," the Blues boss added. "The official that disallowed the goal, it was a fantastic decision."
Additional reporting from PA
More follows
Reuse content