Brendan Rodgers, the Liverpool manager, believes Euro 2015 duty with England's Under-21s would be good for Raheem Sterling's long-term development.
Rodgers will reserve judgement until the end of the Premier League season on whether the England winger will be fresh enough to  compete in the Czech Republic with Gareth Southgate's side.
England manager Roy Hodgson came under fire for deciding to use 19-year-old Sterling sparingly in the senior side's Euro 2016 qualifiers against San Marino and Estonia recently, prompting widespread inquests into player burnout.
Rodgers said England should take their strongest available age-group side to next summer's European competition – full caps such as Sterling included – fitness and freshness permitting.
"We assess that come the end of the season," Rodgers said. "I think it is a relevant point for England: if they are going to improve internationally there has to be more focus given to the Under-21s team.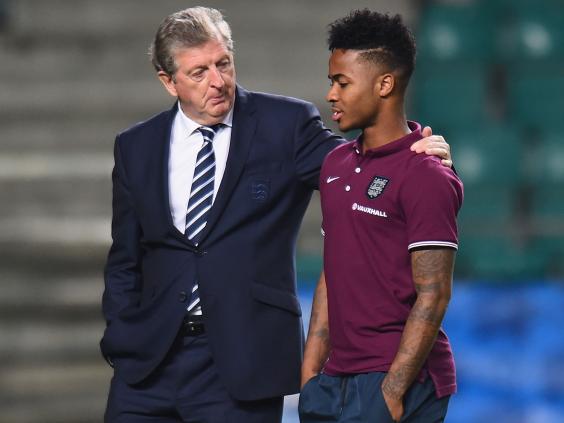 "I think Gareth is doing an excellent job there, allowing the players to develop and hopefully getting into the first team.
"Raheem is still eligible to play but I think there are a number of young players that break through that can fit into that age group and I don't think it would do them any harm at all if they went and experienced a competition like that surrounded by top players.
"If they were good enough to go on and win that tournament that would not hold back their development."
Rodgers again leapt to the defence of Sterling, as he revealed exclusively to The Independent yesterday, but insisted there was no club versus country row between himself and Hodgson.
"What has been disappointing in the whole affair is it has been grossly unfair how the kid has been put on the back pages for something he clearly did not say," Rodgers said. "For a couple of days it probably shook him a little bit but he was brilliant in training this morning."
In addition to Hodgson making public Sterling's comments about his tiredness in the build-up to the Estonia game last Sunday, the England manager also questioned Liverpool's use of a 48-hour recovery programme for the likes of the youngster and striker Daniel Sturridge, who has not played since sustaining a thigh injury in an international training session last month.
Hodgson said there was no evidence to suggest the two-day recovery plan worked but Rodgers on Friday defended his methods, although he stressed that did not mean he was at odds with England or any other country. The pair have exchanged messages about the situation but have yet to speak directly. They may well get the chance if Hodgson attends Liverpool's game at Queen's Park Rangers on Sunday.
"Roy is a manager with great experience who has been around the game long enough and all managers deal with situations different. I am not here to make any comment on that," Rodgers added.
"One thing to clear up is this second-day recovery: people are looking at it thinking Liverpool players are sat at home with their feet up on the couch.
"The recovery is different for each individual player but our second day of recovery is a technical session outside and the key in that session is the intensity and density of the session – the spaces are very small which still allows me to do the technical and tactical work required."
Reuse content