It was a feeling Glenn Murray has not felt since, even amid the prestige of the Premier League.
Although the striker last season enjoyed an unlikely survival with Crystal Palace, and although he has recovered from a serious injury to become one of this season's most prolific scorers, the 31-year-old has still experienced nothing compared to the release of tension after winning the Football Conference play-off with Carlisle United back in 2005.
"Even though the Premier League is obviously the best league in the world to play in, at that moment in my career, getting into the football league, it was huge. Growing up as a young boy, I used to watch Carlisle. I watched the football league, that was always the dream."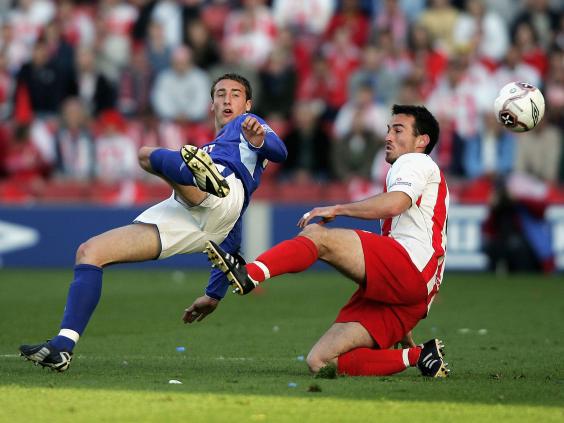 Murray is also one of the fixture's dream stories, arguably more than many of the clubs that came up to the Football League from the conference. Since Carlisle beat Stevenage Borough 1-0 in that 2005 match at the Britannia Stadium, he has not looked back.
Murray has risen steadily through all of the divisions and become part of that very rare band of players who have gone from non-league to Premier League and experienced every division in between. It has given him an even rarer perspective of playing in the Premier League, and also makes him an example for those playing in the Football Conference promotion final between Grimsby and Bristol Rovers today. Murray is preparing to enjoy watching the game, which is live on television but recalls it is far from enjoyable to play in.
"They're very nervy, tense affairs, a huge amount riding on it, for the club, for the fans, for the players," he says. "It's not necessarily a nice experience. Obviously, when you win it is, but it's tense, you're scared to make a mistake. It's quite a difficult game for the boys."
Murray feels it has made him more difficult to play against. His rise through the divisions is not the only distinctive aspect of his career. He is also one of a handful of players, along with Rickie Lambert and Charlie Austin, to show that the so-called old-fashioned English forward can have a real effect amid the new sheen of the Premier League. Murray has not only played a crucial role in Crystal Palace's fine form under Alan Pardew by so abrasively leading the line with his strong hold-up play, but also scored six goals in 14 games before last night's trip to Liverpool.
"I don't find it surprising," he says of the success of that breed of forward. "Even though it might not be the prettiest way to play football, I still believe it's the most effective."
Bristol Rovers v Grimsby is on BT Sport 1 from 1.30pm
Reuse content