So here comes one of the most beguiling and entirely unpredictable stories of a Premier League season which is not exactly short of them. We are about to discover whether Ole Gunnar Solskjaer, the epitome of equanimity and an uncombative nature, can form a successful partnership with Vincent Tan, the serial interferer from Malaysia who regularly telephoned the new Cardiff City manager's predecessor with requests that his players score more goals from distance and make better use of throw-ins.
Temperamentally, Solskjaer – who finds himself dealt a monumental relegation scrap with West Ham United in his first Premier League game today – is not cut out for a war with the owner. The businessman Kjell Inge Rokke, who has bankrolled the Molde club where Solskjaer forged his managerial reputation after leaving the helm of Manchester United's reserve team three years ago, is a strong, demanding entrepreneur. But he is nothing like Tan.
Solskjaer finds himself in alien territory in every way, with the prospect of a survival battle an equally new proposition for someone whose biggest struggle in football management was the eight games it took him to deliver a win for Molde in last year's Tippeligaen. The side eventually finished sixth. "He has always been on the up curve in his managerial career so far," says Oyvind Herrebroden of Norwegian newspaper VG, who has followed Solskjaer's progress as closely as anyone. Solskjaer guided Molde to their first Norwegian title, in 2011, after seven campaigns as runner-up.
Sir Alex Ferguson – whose influence has prompted frequent allusions to "The Boss" and "The Gaffer" in Solskjaer's press conferences over the past few years – has characterised the 40-year-old as a man who would never bang tables and shout. A "sweet natured boy who was never looking to be confrontational with me" is how he describes him in his autobiography. Yet there is already evidence that he possesses a very firm sense of what he wants and how he intends to achieve it.
At Molde he dispensed entirely with Norway's deeply observed culture of restricting managers to the training ground and installed himself instead as a more powerful, English-style boss. He was also adamant about the characteristic he wanted in most new players. "Does he have pace?" is the first question he would always ask. "He wants players who want to be on the ball and who are ready to make use of it quickly," Herrebroden says.
This means a Cardiff side who have been one of the Premier League's least entertaining outfits can certainly expect a change of style, with former Manchester United academy midfielder Magnus Wolff Eikrem already joining from Heerenveen in the Netherlands and Mats Moller Daehli, another Carrington product, expected imminently from Molde. Observers of United youth football will be fascinated to see how it might work out for Daehli. The respected United We Stand magazine enthused about the way the 18-year-old left-sided player started last season. "This boy will be a future first-team player for United. Always exciting to watch. A real 90-minute player," its correspondent noted. But that form was not sustained in the second half of the Under-18 campaign.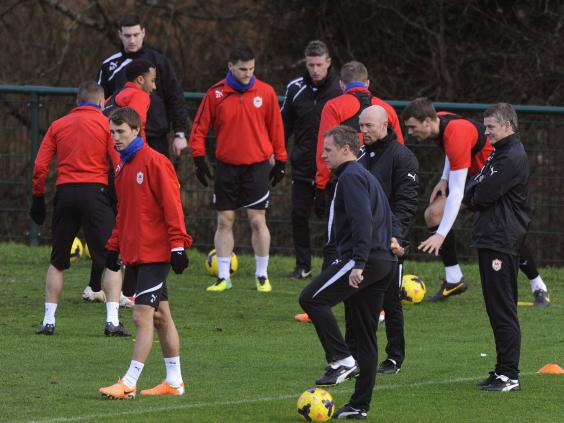 Cardiff's new United connection could see that club's former striker Mame Biram Diouf, now with Hannover, heading to South Wales and it is cemented by the presence of the key man in Solskjaer's backroom team. Mark Dempsey, born in Manchester, has become something of an adoptive Norwegian during his association with Solskjaer, acquiring the language and a pair of cross country skis.
The former journeyman Football League midfielder is perceived in Norway as a major contributor to Solskjaer's success – yet also as an enigma. He never gives interviews and it is always Solskjaer's other English coach, former United youth goalkeeping coach Richard Hartis, who deputises before the TV cameras.
Another key player in Cardiff's near future will be Solskjaer's best friend and agent Jim Solbakken, who has advised many of the players Solskjaer has signed, Eikrem, Diouf and Daehli included, amid some scepticism in Norway.
However, those who have worked under Solskjaer speak most of his charisma. "Sociable, nice, angry only when he needs to be," are the descriptions which emerge from Molde. And deeply analytical, too.
Ferguson tells the story of how Solskjaer, the perennial United substitute, would always sit on the bench making notes about the game which was unfolding. "So by the time he came on he had analysed who the opponents were, what positions they were assuming," Ferguson relates in the autobiography. "He had those images all worked out for him like a diagram and he knew where to go and when. He had that analytical mind. He had mental pictures everywhere. Yet he didn't play all of the time because he was not the most aggressive of strikers."
Solskjaer did not leave Molde for the Premier League when the Aston Villa job was vacated in the summer of 2012 because he felt an obligation not to desert the owners who had invested in him after a mere 18 months. There was also the novelty of a Champions League qualification campaign for the new Norwegian champions. Instead, he has now taken on a club who – despite Tan's willingness to spend – may find it as hard to persuade players with Premier League credentials to sign this month as they did last summer.
Solksjaer displayed characteristic cool pragmatism yesterday, ahead of a game in which opposition manager Sam Allardyce exemplifies how these jobs can bite you. "Too many people are too focused on results," Solksjaer said. "Now it's about developing the team the way you want and getting the performance. We all know when we go into this job that it might be a six-game contract. If you win you are the flavour of the month; if you lose you are out."
New signing Eikrem, sitting beside his manager, described how Solskjaer responded after their poor start plunged Molde to the bottom of the table last season.
"He just said how good as players we were and just to continue what we did [the previous] year," the 23-year-old said. The Norwegian former Premier League striker Jan Age Fjortoft, now a broadcaster, discerned precisely the same characteristic in the way Solskjaer faced the media after a particularly bad defeat a few years back. "I remember he said: 'I know my boys, I know they will come back next week.' And they did," Fjortoft told United We Stand.
This is a quality Solskjaer may need to hone as he seeks to navigate a course through possibly the bumpiest job in football. After West Ham, his side travel to Manchester City, and then to Old Trafford.
Reuse content