Chelsea were left last night considering their options over goalkeeper Thibaut Courtois' loan clause after Uefa's public intervention on the side of Atletico Madrid left them on the back foot.
After Chelsea and Atletico were drawn together in the Champions League semi-finals, Courtois is eligible to face his parent club, but his doing so would trigger a clause in the loan agreement – thought to be €3m (£2.5m) per appearance – that the Spanish club has said it cannot afford to pay.
Uefa, though, intervened and said that any such deal between Chelsea and Atletico was "null, void and unenforceable" as any indirect influencing of one team's selection by another would undermine the integrity of the competition.
Chelsea would not comment on details of the contract drawn up between the two clubs, but did say that they would evaluate Uefa's statement and respond over the weekend. But the club insisted again that Courtois has always been fully eligible to play and that they would be happy for him to do so.
"The loan was arranged back at the start of the season," Chelsea's chief executive, Ron Gourlay, told Sky Sports News immediately after the draw. "It's quite simple – Thibaut can play against Chelsea. That was never in doubt. Regarding the Uefa statement that came out, we will evaluate that in due course, over the next 24 to 48 hours. As far as Chelsea's concerned, we've complied with the loan rules. Thibaut can play against Chelsea, in both ties, if selected by the Atletico Madrid manager. That is fact."
Courtois' eligibility for the two games – which will take place at the Vicente Calderon Stadium on Tuesday 22 April and at Stamford Bridge on Wednesday 30 April, has never been in doubt. Uefa, unlike the Premier League, allows players on loan to face their parent clubs and Chelsea have always said that Atletico would be free to pick him.
The issue is about the terms of the clause in the agreement that would oblige Atletico to pay Chelsea a fee that could reach €6m (£5m) should Courtois play in both legs. The Atletico president, Enrique Cerezo, had said that the club would not be able to pay that amount. "For him to play we would have to pay a large quantity of money," Cerezo said earlier this week, "a figure we cannot pay."
Uefa's stated, in the strongest possible terms, that such an agreement was unfair and unsporting. "The integrity of sporting competition is a fundamental principle for Uefa," the statement read.
"Both the Uefa Champions League and the Uefa disciplinary regulations contain clear provisions which strictly forbid any club to exert, or attempt to exert, any influence whatsoever over the players that another club may [or may not] field in a match.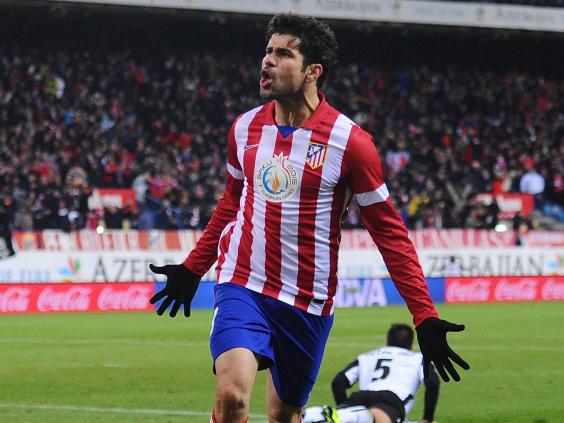 "It follows that any provision in a private contract between clubs which might function in such a way as to influence who a club fields in a match is null, void and unenforceable so far as Uefa is concerned.
"Furthermore, any attempt to enforce such a provision would be a clear violation of both the Uefa Champions League and the Uefa Disciplinary Regulations and would therefore be sanctioned accordingly."
Regulation 3.01 of the Champions League rules states that "no club participating in a Uefa club competition may, either directly or indirectly... have any power whatsoever in... the management, administration and/or sporting performance of any other club participating in a Uefa club competition."
What remains to be seen is whether Uefa has the power to void the clause in the loan agreement made last summer, thereby releasing Atletico to field Courtois free of charge. While the organisation took a strong stance on the issue yesterday, it had been more relaxed on Thursday, saying that details of agreements between clubs were primarily an issue for Fifa.
Chelsea travel to Swansea City for a Premier League game, with Eden Hazard missing through injury. Nemanja Matic and Mohamed Salah, who were ineligible for Tuesday's Champions League triumph against Paris Saint-Germain, in which Demba Ba scored the decisive goal, are likely to come into a changed team.
"The ones that are not playing so regular, all of them are being good professionals to try to be ready," Chelsea's manager, Jose Mourinho, said last night. "You could see Demba as an example of a player who doesn't play a lot and was ready to try to respond."
Mourinho expects a difficult test from Swansea. "They are a good team, they play good football. Especially at Swansea it is never easy and Chelsea knows that better than other teams. They still need the three points, they are not in big danger like other teams but they still need a couple of points to stay in the Premier League and they will try to get points out of this game."
Chelsea's Premier League game at home against Sunderland has been moved from Easter Sunday to the previous day, Saturday 19 April, further away from their semi-final first leg in Madrid.
Euro semi-finals: Draw details
* Champions League
Atletico Madrid v Chelsea
Tues 22 & Wed 30 April
Real Madrid v Bayern Munich
Wed 23 & Tues 29 April
Final Sat 24 May, Lisbon
* Europa League
Benfica v Juventus
Seville v Valencia
Thurs 24 April & Thurs 1 May
Final Wed 14 May, Turin