Pre-season buzz, then life on the bench
Charlie Adam's build-up to the 2014-15 season started in front of the TV, watching the World Cup and dreaming of a Scotland return to the international stage. "When you watch the World Cup, you want to be there, you want to be part of it," he says.
At this stage, he was preparing for Stoke's pre-season – "just going for runs, going on the bike, swimming," and by the time Stoke's players reported for training, on 10 July, he was raring to go. "We'd done so well the [previous] season, we got top 10 and there was a buzz about the place. We had signed Bojan [Krkic], we had signed Mame Diouf."
Adam had ended the previous campaign with eight League goals – his best return since his head-turning debut season with Blackpool four years earlier – as Stoke finished in the top half of the top flight for the first time since 1975. However, Mark Hughes's men won just once in pre-season and Adam began the campaign as a late substitute in the home loss to Aston Villa.
Premier League 2014/15 memorable moments
Premier League 2014/15 memorable moments
1/12 Comical tackle of the season

Phil Jones' commitment has never been in question – but he really went the extra mile in May's Premier League clash against Arsenal. Having slipped with Olivier Giroud on his shoulder, the defender managed to nod a header away – despite lying flat on the ground. Former Gunners defender Martin Keown labelled him as a "comical stuntman" – and it's hard to disagree on this showing.

Getty Images

2/12 Unluckiest player of the season

In the opening match of the season, Ashley Young may have seen Ki Sung-Yeung's goal and thought it was going to be a bad day – but little did he know, it was about to get a whole lot worse for him. Whilst berating team-mates for their defending, videos appear to show bird excrement falling from the sky and straight into the midfielder's mouth – something he still denies, of course.

Getty Images

3/12 Best free-kick

"It was a boring game and I livened it up. My mates think I'm a legend" – the words of Jordan Dunn, the pitch invader who ran on to take a free-kick in August's match between West Ham and Spurs. His effort was arguably better than many seen on the pitch that day, but Dunn was subsequently fined £305 for his moment of madness.

Getty Images

4/12 Best worst celebration

Charlie Adam's reaction to scoring one of the goals of the season? A not-so-great robot celebration – which led team-mate Peter Crouch to judge it as "horribly wrong". Adam had just scored from his own half against Chelsea at Stamford Bridge, but many will remember the goal for other reasons.

Getty Images

5/12 Worst attempt at a head-butt

An addition to the historic list of on-field battles between Manchester United and Arsenal, Gunners midfielder Jack Wilshere took umbrage with opponent Marouane Fellaini – and appeared to head-butt the Belgian. Wilshere's nine inch height disadvantage meant that his strike failed to meet its target, however, probably helping him to avoid an FA ban.

Getty Images

6/12 Strangest complaint

Match officials will carry out a number of checks before every match – ensuring twenty-two are on the field of play, checking there are no holes in the nets and so on – but in October, before Leicester's match at Swansea, the away team's goalkeepers became convinced that the crossbar was too high and complained to the officials. Checks were made – and the goals were found to be the correct height.

Getty Images

7/12 Biggest loser at mind games

After West Ham's 1-1 draw with Manchester United in February, Hammers chief Sam Allardyce accused his opponents of purely playing long-ball football – much to the Dutchman's anger. Instead of brushing the comments off, Van Gaal produced a document to suggest it was actually Allardyce's men who lumped the ball forward more often. Big Sam's efforts to get under the skin of his counterpart had worked.

Getty Images

8/12 The Alan Pardew award for bonkers behaviour from a manager

In February, the pressure was starting to mount on Leicester boss Nigel Pearson – and things threatened to come to a head during his side's 1-0 home defeat to Crystal Palace. Eagles midfielder James McArthur had collided with the hot-headed manager on the touchline, and instead of helping him to his feet, Pearson appeared to strangle the 27-year-old. He subsequently escaped punishment by the FA.

Getty Images

9/12 Most topical celebration

On the day of Manchester United's victory over Spurs in March, a video emerged showing the United Wayne Rooney skipper being knocked to the ground in a boxing match in his own home by ex-team-mate Phil Bardsley. He went on to celebrate his goal in the 3-0 win with a celebration imitating his own knock-out.

Getty Images

10/12 Weirdest press conference/best name calling

Nigel Pearson has always been a manager who will back his players – even if it means ostracising himself from the media. A journalist had asked Pearson to explain his comments that his side had faced a high level of criticism and negativity, and instead of giving a reasoned answer, Pearson labelled the reporter as an "ostrich" and said his "head must be in the sand".

Getty Images

11/12 The delusional boaster award

Step aside Jose Mourinho – you're not the best coach in the Premier League, according to Newcastle boss John Carver. His suggestion for the mantle? Himself. Speaking recently, on the back of eight straight defeats, Toon boss Carver made the bold statement – perhaps to deflect attention onto himself and away from his struggling squad.

Getty Images

12/12 Playground moment

Cesc Fabregas has always been able to pick a pass – and showed this more than ever in May's away trip to West Brom. During a break in play, the Spaniard's 20-yard punt hit opponent Chris Brunt on the head whilst referee Mike Jones was dealing with another incident. Jones saw Fabregas' strike and showed him a straight red card – but his three-match ban has since been reduced to just one, after Chelsea successfully argued the initial punishment was excessive.

Getty Images
"We never really started the season well," says Adam, who had to wait until late September for his first run of League starts. "In that period of six games I scored a couple of goals and thought I did OK," he adds. There was the satisfaction of converting a penalty in a televised home win over Swansea – "I got man of the match" – but he soon found himself back on the bench.
For Adam, the excitement of signing the highly-talented Bojan was tempered by the knowledge that he would be competing with the young Spaniard (and Stephen Ireland) for the No 10 role in Hughes' favoured 4-2-3-1 system. Adam actually sees central midfield as his best position but Hughes prefers him higher up the field in a role Bojan was soon excelling in, the former Barcelona player opening his account in England with a spectacular winner at Tottenham in early November. Looking back now, Adam insists he understands his manager's decision. "The manager tried to get Bojan in the team which is understandable. I respect that decision as the little man just went on an unbelievable run where he was incredible."
Adam's response to losing his place shows the kind of professional he is. Instead of sitting on the bench and sulking he tried to help those who were playing. "I try to analyse the game. Try and help myself and help the lads as well. Sometimes the lads playing in my position don't see things. It is a good thing to have sometimes – a player [speaking at half-time] to another player. I would say, 'This is what is happening, the spaces are there, try and go there'."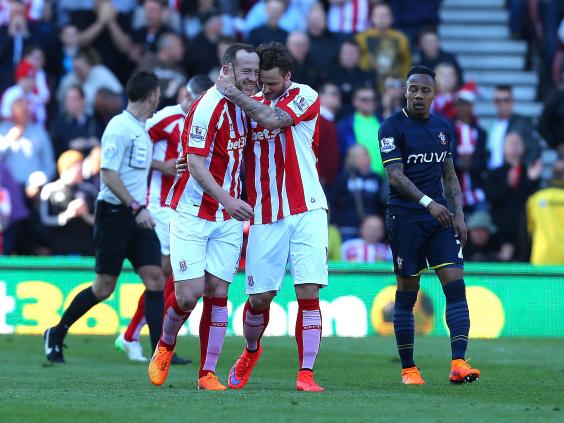 At the time Stoke were struggling for consistency and impressive victories, such as at Spurs, were mixed with disappointing defeats, though one of them, by Burnley in mid-November, remains in Adam's mind the best team performance against Stoke all season. "They came to us and they had a plan for us and we never knew how to change that game plan."
During these up-and-down periods, Adam has no doubt who was his side's key player: Glenn Whelan, the unsung midfield pivot. "When he is not in the team we seem to be a bit ragged. He is the focal point, he sits there he knows his job, he does his job well. He had a period where he was captain and for me, for those eight games he was unbelievable."
Adam turned 29 in December and Stoke ended the year sitting 11th in the table after a home victory over West Bromwich in which he featured for the last 13 minutes. He began the new year with a 90-minute run-out in the FA Cup third round against Wrexham, his first start for three months. But in the League he remained on the bench. However, there was never a falling-out with Hughes. "I respect him as a manager and coach and he has been brilliant for me and the players," Adam says. "I spoke to him two or three times and asked, 'When am I going to get an opportunity?' and he said, 'You're going to get back in'. I was coming on as sub and making an impact but wanted to start games."
At Stoke's Clayton Wood training ground, Adam compensated for his lack of minutes on the field with an extra work-out with the club's fitness coach, Damian Roden, every Thursday to maintain his sharpness. "When you are not playing it is hard and it just keeps you ready, topping your fitness up," he says of sessions involving a series of "three-and-a-half, four-minute runs". Did they work? Adam thinks so, "because when I have come on as a sub or started games I have made an impact on the team."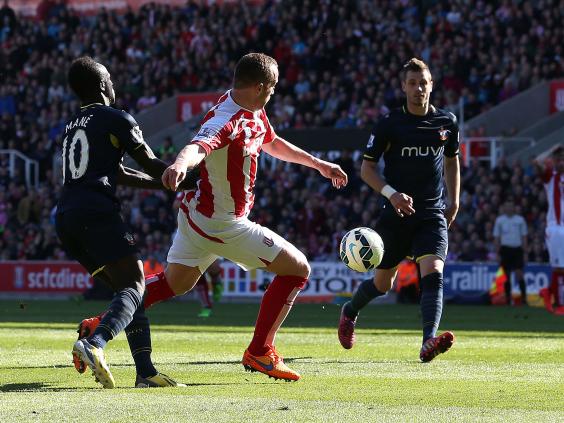 You might think that in frustrating times like these Adam would use his spare time to get away from football as much as possible. The opposite is true: he is obsessed by the sport. He sponsors a Sunday league team in Blackpool, Blackhurst Budd, and has been a regular at their matches. This season, however, with a one-year-old daughter, Anabella, at home, it has been harder to maintain that routine. "It is something to switch off with on a Sunday though now I have a baby, Sunday is more a family day for me. I try to get down as much as I can to help, though. I want to get into coaching when I finish."
It's not just Blackhurst Budd he watches. "I enjoy football. If I can, I try and go and watch a game once a week in midweek local to me – if Blackpool are playing at home I go and watch that," says Adam, who lives up in Poulton-Le-Fylde. "I just love watching the game. Switching off for me is watching the game."
At last a chance to shine
In January, Stoke lost Bojan to a cruciate knee ligament injury but even then Adam did not find himself back in the first XI. Hughes turned initially to Ireland, leaving Adam waiting once more. Yet, eventually, his policy of not making a fuss, coming off the bench and waiting for his opportunity brought its reward.
He replaced Ireland at half-time during the victory over Hull on 28 February and four days later, for the midweek home win over Everton, took the Irishman's place in the starting line-up. It was his first League start since 25 October and after keeping his place for the trip to West Bromwich, he felt he was rediscovering the best of himself by the time Crystal Palace visited the Potteries a week later. Stoke lost but Adam "felt as if everything I did was right for the team: the way I want to tackle, chase, drive with it, create chances".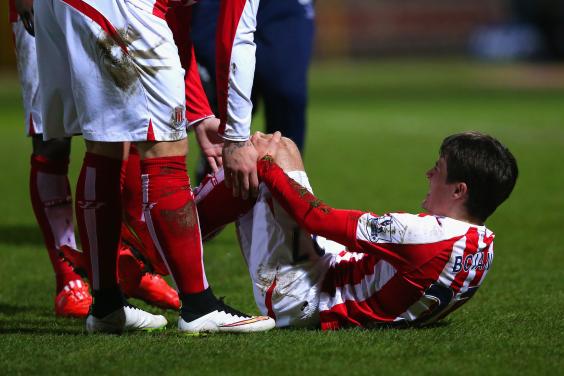 At Stamford Bridge a fortnight later, on 4 April, Charlie Adam conjured one of the truly memorable moments of the season with a bold,  breathtaking goal. From there Adam's campaign really took off. "It just gave me confidence to play and the season just kicked on from there really," he recalls.
In Stoke's next two home fixtures he hit the winner against Southampton and then an emphatic equaliser against Sunderland, the latter strike leading Gary Lineker to liken him to Matt Le Tissier. It is a comparison that fits with the popular image of the Scot as a slightly tubby 70s or 80s throwback with his magic left foot and gap-toothed grin. Yet in person, in his club training top and shorts, he is taller than you might think and understandably he is dismissive of the caricature,  and resents any suggestion that he is any less fit than his team-mates.
"A lot of people say to me, 'You don't look the same as on the pitch'. I have a short-legged running style and it looks as if I'm a bit heavier. But if you look at the stats and what I've covered, even in training, I will be as high as anybody.
"When I was at Liverpool I was one of the [players with the] highest distance covered, and since I've come here, it is the same. The thing about football is everybody has an opinion and the only opinion is Saturday afternoon at three o'clock. They don't see Monday to Friday and it is only for that hour and a half on the pitch that everybody tries to make a decision on what you are like as a person." One striking feature of Stoke's season has been their strong finish. Adam, who scored the opening goal, believes the 3-0 win over Tottenham a fortnight ago was the best they have played.
"For 45 minutes, we were unbelievable, we could have been five or six up," he says, adding that Hughes's methods are geared to his team gathering momentum as the season goes on. "When everyone else is dipping, we are still going. We still train as hard at the back end of the season as we trained pre-season.
"Normally Tuesday is a difficult day – it is a running day for us, [playing] five-a-side with a good intensity. Certain clubs have maybe taken their foot off the gas a bit but we have just kept on and it's a credit to the staff here and to the players who've taken it on board."
The Scot, who spent his first season at the club working under Tony Pulis, speaks admiringly of the transformation of style overseen by Hughes. Where Pulis's Stoke side would be working on shape from Monday onwards – "you probably could know you'd be playing on a Tuesday because of the way he sets up the training" – and spent Thursday and Friday doing set-piece drills, now it is all about ball work. "The progress over this two-year period has been enormous in terms of the way we play, passing it, and the amount of goals we are scoring; we are conceding goals but we are scoring goals which is great."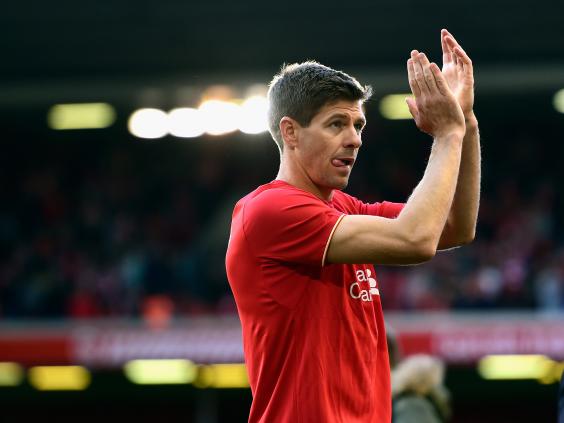 Liverpool have been warned. Today's game will be Steven Gerrard's last in English football, a player for whom Adam has the highest regard. A team-mate of Gerrard's in 2011-12, he played in the Liverpool captain's charity match at Anfield in March.
"He was always one player I wanted to play against and I did that, and was fortunate enough to share a dressing room with him for a year," Adam says. "He is a quiet guy in the dressing room, it is all for the players, everything he wants to do is for the players and he is one of the best captains I ever played under."
There's no prospect of an immediate break for Adam at the final whistle this afternoon, though. The planned family holiday to Portugal has been delayed by five days following his recall to the Scotland squad after a 14-month absence.
As for next season, Adam has another year on his contract with Stoke and he would happily sign for longer. "I've not spoken about it. If there is an opportunity to sign again, I will sign but that is the club's decision. We will see what happens, it is up to them. I still have a year to go. I want  to stay."
If not, prospective employers will hardly need telling what he can do – just ask the champions.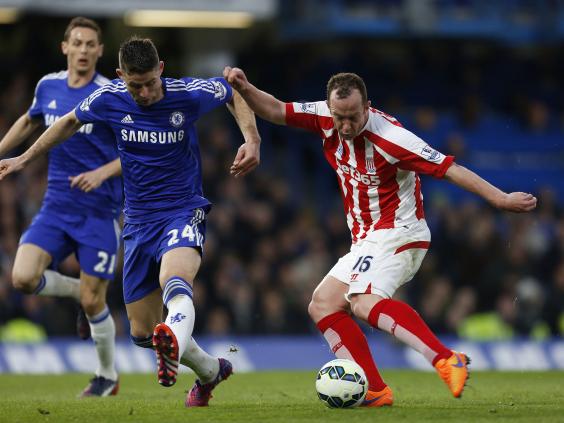 Beating Courtois from 55 yards - bold, skilful and utterly deliberate
It took vision and inspiration, power and precision to beat Thibaut Courtois from 55 yards but Adam's wondergoal at Chelsea also owed a little to some clever homework from Stoke's goalkeeping coach Andy Quy and first-team coach (and former Chelsea goalkeeper) Eddie Niedzwiecki.
"They said to me, 'just watch where the keeper is, as he is off his line quite a bit.' You see it with Manuel Neuer who comes out a lot and Courtois does it as well. He was on his 18-yard box and I had looked a couple of times during the game and seen him there. I've tried it often enough and it hasn't come off – and you do look silly – but fortunately for me it came off."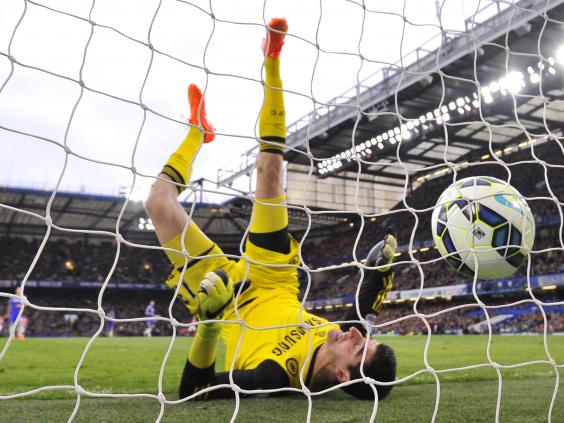 Adam had scored from the halfway line twice before – for Ross County in a Scottish league fixture at St Mirren, then for Blackpool's reserves at Accrington Stanley – but to pull off such a feat at the home of the champions-elect, against one of the world's best goalkeepers, was surely something else.
"You have got to have the character to be able to handle the pressure," he admits, "as if it doesn't come off, your team-mates are in your ear." Instead, he had Chelsea players in his ear. "During the game, John Terry and Didier Drogba said to me, 'What are you trying there?'  That just shows the respect the Chelsea lads have got for you. It is great everybody wants to talk about it and hopefully in 10 years' time when the kids are grown up they will see it and say 'Dad scored that goal'."