Frank Lampard has backed Antonio Conte to build a dynasty at Chelsea after the Blues wrapped up the Premier League title with victory at West Brom.
Former Italy boss Conte has now won four successive domestic titles as a manager after his triple success at Juventus between 2012 and 2014.
Conte's future at Stamford Bridge remains far from certain, though, with Inter Milan reportedly coveting the 47-year-old.
West Brom vs Chelsea player ratings
West Brom vs Chelsea player ratings
1/23 West Brom vs Chelsea player ratings

We run the rule over the two teams.

Getty

2/23 Ben Foster – 7 out of 10

Aside from Batshuayi's goal, he made a number of vital saves to keep his side in it.

Getty Images

3/23 Craig Dawson – 5 out of 10

Dawson was finding himself in all of the right positions, but every delivery he sent into the area found the hands of Courtois.

Getty Images

4/23 Gareth McAuley – 6 out of 10

Used possession well, but was just outclassed at times by Chelsea's ability on the ball. Defensively he was impressive.

Getty Images

5/23 Jonny Evans – 5 out of 10

Failed to make any real impact on the game – looked lost at times.

Getty Images

6/23 Allan Nyom – 5 out of 10

Nyom let his frustration get the better of him at times and he gave away too many unnecessary fouls.

Getty Images

7/23 Darren Fletcher – 6 out of 10

Fletcher proved his ability to feed Rondon with long balls, but we just did not see enough of it tonight.

Getty Images

8/23 Sam Field – 5 out of 10

Field found himself being dragged out of position and chasing possession at times, which was leaving his side vulnerable.

Getty Images

9/23 Chris Brunt – 7 out of 10

His work rate was faultless and he certainly upheld his defensive duties.

AFP/Getty Images

10/23 Jake Livermore – 6 out of 10

His confidence on the ball was encouraging and he looked particularly menacing when pressing forward with possession.

Getty Images

11/23 James McClean – 4 out of 10

McClean was very lucky not to see a red card following a handful of unnecessary fouls whilst carrying a yellow card.

Getty Images

12/23 Salomon Rondon – 7 out of 10

Rondon had a florious opportunity to open the scoring within minutes. He improved as the game progressed and proved problematic for the Chelsea defence until the final whistle.

Getty Images

13/23 Thibaut Courtois – 7 out of 10

He collected every delivery into the box tremendously and commanded his area with confidence.

Getty Images

14/23 Cesar Azpilicueta – 8 out of 10

His assist today created the goal that won them the title. Aside from that he moved well into the midfield and passed well throughout.

Getty Images

15/23 David Luiz – 7 out of 10

A textbook display from the central defender – strong, tackled well and cleared danger on several occasions.

AFP/Getty Images

16/23 Gary Cahill – 6 out of 10

The skipper led by example at the back and looked dangerous when challenging in the opposing box for a set piece.

Getty Images

17/23 Victor Moses – 6 out of 10

Moses cleverly enticed fouls from The Baggies throughout, which benefited Chelsea endlessly. Impressive display.

AFP/Getty Images

18/23 Cesc Fabregas – 7 out of 10

The midfielder dictated the pace of the game from his position and he was pumping balls up to the strikers tremendously today.

AFP/Getty Images

19/23 Nemanja Matic – 7 out of 10

Matic always provided an option for Chelsea on the edge of the area and he was a key element of almost every move going forward.

Getty Images

20/23 Marcos Alonso – 6 out of 10

He showed glimpses of brilliance, but it would have been encouraging to see him staying wider and providing another element for Chelsea going forward.

Getty Images

21/23 Pedro – 6 out of 10

Pedro's pace was uncontrollable, but his decision making when in possession left questions to be answered.

AFP/Getty Images

22/23 Eden Hazard – 5 out of 10

An unusually quiet display for a man of such talent – just appeared to have gone off the boil today.

Getty Images

23/23 Diego Costa – 5 out of 10

He received a number of balls into his feet inside of the area that he failed to control and this resulted in the loss of possession.

Getty Images
The ex-Juventus midfielder is likely to be offered a new contract at Chelsea, 12 months into the three-year deal he signed on joining last July.
And Lampard, who won three Premier League titles with the Blues, believes the Italian has all the ingredients to lead the club to lasting success should he stay.
Asked if he thought Conte could go on to build a dynasty, former Chelsea midfielder Lampard said: "I think so.
"If you're a Chelsea fan that's what you're hoping for now. The way he's held himself this year and the results have been different class.
"I think he's going to be backed, and he does need backing. It's a great squad of players they've got there. Maybe a freshen up, don't lose your best players and add one or two at the top end."
Lampard, who left Stamford Bridge in 2014 to join Manchester City, claimed Chelsea were deserved champions but warned they might find it tougher next term.
Speaking to Sky Sports after Chelsea's 1-0 win against the Baggies on Friday, Lampard added: "They are by far the strongest team this year.
"The consistency, the desire, the quality in the team - they deserve it, and they deserve that moment with their own fans.
"It will be a big test next year. The formation they play won't be a surprise for anybody and all the other teams behind them will be back stronger."
Lampard, Chelsea's record goalscorer, won his three titles alongside club captain John Terry - who will leave the club this summer after a 19-year career at Stamford Bridge.
Former England captain Terry has now won five Premier League titles and Lampard suggested the 36-year-old's influence will be tough to replace.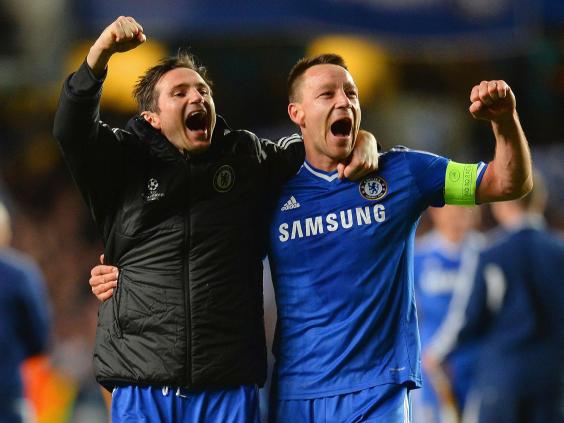 "If he's going to leave this is the year to do it," said 38-year-old Lampard.
"He hasn't played a huge part on the pitch, but the part he's played behind the scenes, I know for a fact, once he goes, everyone will appreciate him even more.
"Someone has to take the mantle now. He's such a big miss for them. Gary Cahill, maybe he'll step up even more now, but John Terry is so important for this club."
PA
Reuse content