Manchester United skipper Nemanja Vidic is refusing to abandon dreams of retaining the Premier League title just yet.
United head to Chelsea on Sunday nine points adrift of their hosts, who themselves have only briefly headed the table this season.
Most pundits have written the Red Devils off, and those who have not accept anything other than victory at Stamford Bridge would effectively kill their chances.
A veteran of five championship-winning campaigns, Vidic knows the qualities required to come out on top at the end of an arduous domestic campaign.
And with so many big matches ahead, the 32-year-old is not willing to write United off just yet.
"I am not giving up," Vidic told MUTV. "Not yet.
"The next six or seven matches will determine how we are going to do. The results we get will tell us what our aim will be this season.
"Chelsea away is a tough match. If we win it, we are six points behind them. That would still give us a chance to think about winning the title.
"I know it doesn't sound right at the moment. But with a few wins in a row we still can challenge for the title.
"I am not saying to win it. But if we challenge, from there we can see what our position is."
In only two full seasons during Vidic's time in England have United failed to win the league.
As the margin of failure to Chelsea and Manchester City in those campaigns were a single point and goal difference respectively, the sharp lurches in form experienced during David Moyes' debut term in charge have come as something of a shock.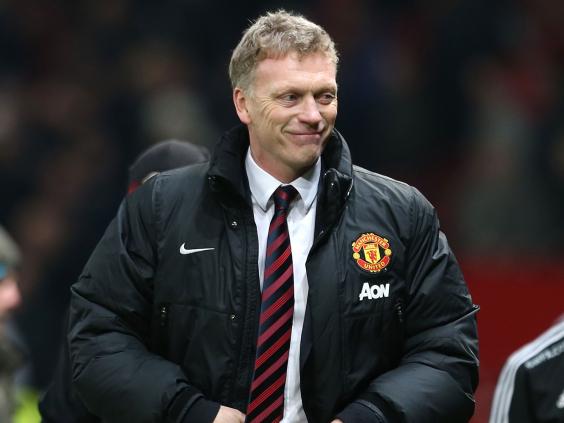 So much so that Vidic is not prepared to look at a league table which, heading into the weekend's fixtures, had his team slumped in seventh, good enough only for the final Europa League spot - and not even that if one of the two cup qualifiers are from lower down the standings.
"I don't look at the table now," said Vidic.
"I am waiting to win a few games in a row, then I will look at the table again.
"It is important not to have this sequence of good results, then bad ones.
"We need consistency. We are not necessarily looking for great performances, we just need a few wins in a row to know everything is going the right way."
There have been periods when United have looked quite good, the impressive opening day win at Swansea, a 12-match unbeaten run spanning two months, a run of six wins on the trot that ended on New Year's Day.
Interspersed with that, though, has been some woeful form.
That has included one win in five after that initial Swansea success, including defeats to Liverpool and Manchester City, and back-to-back home losses inflicted by Everton and Newcastle, neither of whom had any recent history of winning at Old Trafford.
And then there were the three losses in a row to usher in 2014, costing United a place in the FA Cup and giving them a deficit to overhaul in next week's Capital One Cup semi-final against Sunderland.
"We have had some bad luck this year," said Vidic.
"We had tough matches at the beginning of the season, including a few derby games.
"We had just changed the manager, so there was pressure on the new one. There were expectations. Everything was looking forward.
"If we had a better schedule and we had won the first few matches, maybe everything would have been different.
"But we had some draws. We lost against Liverpool away. We haven't had luck with injuries. The season was stop and go all the time. It has looked like we have never started playing.
"I am not trying to find excuses. We have a big squad with a lot of good players. I just hope a better time is coming for us."
Manchester United - January transfer targets
Manchester United - January transfer targets
1/21 Dante

Bayern Munich defender Dante would be interested in a move to the Premier League according to his agent - and United have been monitoring him. His current club could yet convince the defender to stay however.

GETTY IMAGES

2/21 Alberto Herrera

United tried to sign the Athletic Bilbao midfielder in the summer but his botched signing rather summed up their ineffective dealings in the transfer market. With a £30m release clause, he remains an available, if perhaps slightly pricey, option in January.

Getty Images

3/21 Mario Mandzukic

An old-fashioned target man, Mandzukic has been linked with a move to United recently after Bayern signed Robert Lewandowski. However, Lewandowski won't arrive until the summer - meaning United might have to wait.

Reuters

4/21 Will Hughes

Will Hughes has emerged as a transfer target for Manchester United boss David Moyes after a series of superb performances have catapulted Derby County into the upper reaches of the Championship.

5/21 Guarin

There is no doubt that midfield is the area most in need of reinforcements for David Moyes and another man linked with an Old Trafford switch is Colombian international Guarin. Valued at around £15m, the Inter Milan man's versatility would undeniably improve things for the Red Devils.

Getty Images

6/21 Bilal Basacikoglu

Bilal who, you might ask, but the young Turkish winger is an emerging star at Dutch side Heerenveen and a player to catch the eye of David Moyes. Aged just 18, he may be a player more for the future than to immediately turn United's fortunes around.

7/21 Steven Defour

For many years the Belgian was linked with a move to Old Trafford and having been a target of Moyes' at Everton, the midfielder could very well be the man brought in to improve things for United. Played for Porto recently against Atletico Madrid in a match watched by Moyes - did he catch the Scotsman's eye?

Getty Images

8/21 Koke

Reportedly one of United's main January targets, although the Atletico Madrid man is said to be very happy in the Spanish capital, particularly given his team's success this season. Might take some persuading to join Moyes' stuttering side.

Getty Images

9/21 Ilkay Gundogan

Undeterred by the modest success of their last Dortmund purchase, United could also be after midfielder Gundogan. Wouldn't be cheap but certainly an improvement on their current crop of players. Dortmund are understood to be keen to tie him to a new contract.

Getty Images

10/21 Sami Khedira

Another strongly linked with a Manchester move, the German international's recent serious knee injury makes a January switch unlikely but he could be brought in from Real Madrid further down the line.

Getty Images

11/21 Ross Barkley

Manchester United bought the last exciting teenage prospect to come through Everton's ranks so understandably they have been linked with the precocious Barkley. Knows Moyes from his Everton days, but will he join the Scot in making the switch from Blue to Red? Everton have already stated they will not sell in January.

Getty Images

12/21 Fabio Coentrao

After nearly signing on deadline day last summer, there's every chance that Moyes could return for Real Madrid's second choice left-back should he fail to lure another top name. Not really the priority though considering the good form of Patrice Evra.

GETTY IMAGES

13/21 Eliaquim Mangala

United could do with strengthening at the back and French defender Mangala is reportedly another to have caught Moyes' eye. However with Porto wanting all of his £40m release clause, he seems a rather pricey option.

Getty Images

14/21 Diego Costa

Rooney and Van Persie have spent too much time this season on the treatment table - so more options in attack would be helpful. Who better then than a failed target of eternal rivals Liverpool and a man whose goals have fired Atletico Madrid to the top of La Liga? Highly unlikely Costa would wish to leave in January - and even less likely Atletico would let him.

GETTY IMAGES

15/21 Blaise Matuidi

Another midfielder strongly linked with an Old Trafford switch, the PSG man could be available for as little as £7m which would represent great value for money. Not the sort of signing to instil renewed confidence at Old Trafford - but perhaps one of the more likely arrivals.

Getty Images

16/21 Andrea Ranocchia

Another man being mooted as a defensive recruit for Moyes, the towering Italian has fallen out of favour at the San Siro and would surely jump at a move to Manchester United.

17/21 Everton Ribeiro

The 24-year-old Cruzeiro man believes he could be the solution to United's midfield woes after being linked with a move there saying: 'I would fit in any part of the midfield. I would do well as a playmaker to support the attack.' It remains to be seen whether he'll get the chance to prove it with a January move.

18/21 Miralem Pjanic

The Bosnian midfielder has excelled at Roma this season and would certainly be a good signing for United. Previously linked with moves to Arsenal and Spurs, a move to Manchester would mean no Pjanic on the streets of London. Roma have confirmed they have received offers for the Pjanic.

Miralem Pjanic The Bosnian midfielder has excelled at Roma this season and would certainly be a good signing for United. Previously linked with moves to Arsenal and Spurs, a move to Manchester would mean no Pjanic on the streets of London.

19/21 Kevin Strootman

Another Roma star thought to be wanted by United, the Dutch midfielder is however highly valued by Roma chief Rudi Garcia which may prove an obstacle to any move.

20/21 Toni Kroos

The Bayern Munich midfielder is stalling on a new contract, raising hope he could be prised away. However, he's been integral to the multi-trophy winning side and it seems highly unlikely the German champions will let him go.

GETTY IMAGES

21/21 Alex Teixeira

If their pursuit of Strootman falls through, another man reportedly being lined up is Shakhtar midfielder Teixeira. The 23-year-old impressed against United in his side's recent visit to Old Trafford.
PA
Reuse content