Guus Hiddink says he would give John Terry a new contract if the decision was down to him. The Chelsea captain scored a brilliant stoppage-time equaliser in the champions' controversial 3-3 draw with Everton – albeit from an offside position – but there remains doubt about his future. Chelsea's policy is to give players over 30 only year-long contracts, and Terry has still not been offered a new deal.
Hiddink said he would advise the club to do so if he was asked and added that the 35-year-old is as good now as he was in the Dutch coach's first spell in charge at Stamford Bridge, in 2009.
"If I am asked, I will give my honest opinion about that," Hiddink said. "If I say what I'm saying now, spontaneously out of my heart, then you can imagine what I think.
"I fully agree [he remains important], not just with his equalising goal, but with his attitude and the actions he did defensively and offensively. His commitment is huge for this team and for the club.
"For me there's not much [difference] between John in 2009 and now. For me, you would have to underline that with data. You can say, 'hey, make a test and say he has lost some speed', but I cannot see that. He's fit, he trains well, he takes care of himself, takes a good rest, which you have to do at that age. I cannot see that he is slowing down a bit."
Hiddink also said Terry has a hugely positive effect on Kurt Zouma, his centre-back partner on Saturday and often tipped as his successor.
"He's also progressing Kurt," Hiddink said. "I saw [Zouma] from a distance previously and sometimes he was a little bit out of position, but he's progressed very fast in the last year. We need those kind of players. John is also doing his job defensively very well. With his age and experience John is much more of a leader. Kurt is a very young player, not the type of leader John is yet, many, many years with this huge experience. Kurt has a different way of playing."
Roberto Martinez, the Everton manager, feels his side are still in the chase for the Champions League places, despite another disappointing result that failed to match the quality of their attacking play. "We are thinking we can get sucked into the top-four positions and we are allowed to think that way," Martinez said.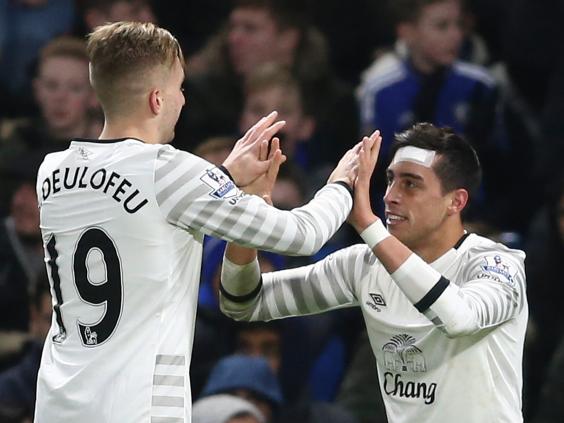 "Today, we won the game, it's as simple as that. We were 3-2 when the clock showed 97 minutes and 50 seconds. We should have played 97. And then we concede a goal that shouldn't have been given. It was offside. So for me it was a performance that shows how far we've come.
"We played a real intensity at the Etihad on Wednesday and kept a clean sheet, creating a good threat. Today, scoring three goals, it was a victory that unfortunately has been taken away from us."
Terry, however, said he knew Chelsea would be given additional time to find an equaliser after Everton thought they had sealed a first Premier League win at Stamford Bridge in 21 years.
"I was thinking maybe four, five minutes [to go]," Terry told Chelsea TV. "Then the ref jogged past me and said, 'You've got seven and a bit there, they've just over-egged their celebrations'. 
"We knew we had enough time to create a chance or something, a couple of long balls into the box. I'm delighted to get my first of the season, but more importantly to get the point."
Martinez also confirmed that Everton have made a move for the Leeds United defender Sam Byram, but that a deal is still some way off being completed.
"At the moment, we only made an approach and I think there are still many steps to go in that process," he said.
There had been a feeling that Everton might need an emergency right-back due to the injuries to Seamus Coleman and Bryan Oviedo, but Martinez expects Irish defender Coleman to be back in action next week and said the injury to Oviedo that caused the long second-half delay at Chelsea was not as severe as first thought.
"We're going to assess Bryan Oviedo's injury," he said. "I think it's not as bad as we feared. I don't think there's any bone damage. I don't think it will be a bad injury. Seamus Coleman should be back in the next week or so, so it's not a situation that needs a drastic decision in that respect."
Reuse content