Just as talk of a title race ratchets up, then, Chelsea merely pick up speed again.
This Eden Hazard-inspired goalkeeper-influenced 2-1 win over Manchester City does not quite mean the discussion goes back to when they win the title rather than if, given Tottenham Hotspur's admirable late win at Swansea City, but it does instantly restore Chelsea's intimidating aura after the weekend's defeat to Crystal Palace. They responded so resolutely.
As for Pep Guardiola's aura, that is significantly diminished. Beyond the fact City are now five games without a win in the league, this defeat represented the first time that he has last six times in a single league season, and the first time he has twice lost to the same manager in a single league season. As symbolic as it is significant, given that it happens to the manager of the champions-elect.
Chelsea vs Manchester City player ratings
Chelsea vs Manchester City player ratings
1/22 Thibaut Courtois - 6

Completely at fault for Aguero's equaliser - a rare lapse in concentration. Showed his strengths moments later though to deny Sane a one-on-one chance on goal.

2/22 Cesar Azpilicueta - 6

Decision making was on point for much of the evening and kept a calm head under pressure.

3/22 Kurt Zouma - 7

A respectable return to the starting line-up. After months on the sideline he seemed to cope well with both the pace and intensity of the game.

4/22 David Luiz - 7

A fierce and fiery performance from the Brazilian. Hit hard in his challenges and dealt with Aguero well.

5/22 Gary Cahill - 6

Solid as ever in his reading of the game and challenges, both on the deck and in the air.

6/22 Marcos Alonso - 6

Handled his defensive duties well and proved effective on the front foot.

7/22 N'Golo Kante - 6

Industrious as ever with his running and positioning but one of his more quiet evenings. Conceded a sloppy foul on the edge of his own box which City nearly equalised from.

8/22 Cesc Fabregas - 6

Kept the ball moving well in the middle and was relatively effective in dictating the flow of the game.

9/22 Pedro - 7

Dealt well with his defensive responsibilities tonight and got well forward to put the City defence under pressure. Questionable touches/passes here and there but overall a good night from him.

10/22 Eden Hazard - 8

Once again, Hazard proved to be the difference. Took his first goal well from a difficult angle and reacted well in his penalty attempt to grab Chelsea's second.

11/22 Diego Costa - 6

Another mixed performance. Menaced the City backline with his physical presence but his hold-up play was found wanting at times. It ultimately fell to others to make the difference tonight.

12/22 Willy Caballero - 6

Completely misjudged Hazard's first goal. Despite taking an unfortunate deflection off Kompany, he should have done better in dealing with the strike. To his credit, he saved Hazard's initial penalty kick but couldn't stop the forward from following up.

13/22 Fernandinho - 5

His reckless challenge on Pedro cost City dearly and handed the home side their second goal. Too hot-headed.

14/22 John Stones - 6

Dominated in his aerial battles but struggled to deal with Hazard's pace and quick feet. Had a glorious chance to equalise in the second half but couldn't find the goal.

15/22 Vincent Kompany - 5

For all his fight and heart, there was a certain sharpness missing to his game tonight. His weak positioning afforded Hazard the space for his first goal while his lack of pace saw him struggle to keep up with the tempo of the game at times.

16/22 Gael Clichy - 6

Linked up with City's forward players well and was a nuisance in getting in behind the Blues defence.

17/22 Fabian Delph - 5

A series of early, well-timed challenges boded well but he looked out of depth at times. Not a surprise given his lack of Premier League football this season.

18/22 Jesus Navas - 5

A quiet evening as a whole. Had very little say for himself.

19/22 Kevin de Bruyne - 6

Sloppy passing in the centre of park let team-mates down on occasion. Kept him self busy nonetheless and wasn't afraid to take on his opposite men.

20/22 David Silva - 7

One of City's more effective players - especially in the first half. His slick passing and clever link-up play kept the visitors' midfield ticking over. Created numerous chances too and found himself well positioned to set up City's equaliser. Couldn't find that all important equaliser though.

21/22 Leroy Sane - 6

Had the chance to put City ahead after Aguero's equaliser in the first half. Flashed with brilliance but couldn't sustain such form throughout the night.

22/22 Sergio Aguero - 6

A classic poachers finish for City's goal. Certainly kept the Chelsea backline busy but it wasn't to be his night.
Guardiola just can't quite get it right, and his side can't quite seem to build on what they do well. That is not the case for Hazard at the moment, who is back on player-of-the-season form. Chelsea are meanwhile back on winning form, after such a brief halt.
It was a game almost completely played at hurricane pace. That is of course what both managers idealise but then they both also revealed in the last few days that they tend to obsess over errors much more than what they have done well, intensively poring over what went wrong with their teams until they figure them out. The wonder is how long they will spend on this, because it was a game ironically played at exactly the kind of pace where mistakes are inevitable, especially in defence.
Take the first few goals. Chelsea admittedly burst at City in a blur, but there was still so much space for Cesar Azpilicueta to run into and even more for him to pick out Hazard. The Belgian looked to pick his spot, only for the ball to deflect off the returned Vincent Kompany's head and past Willy Caballero.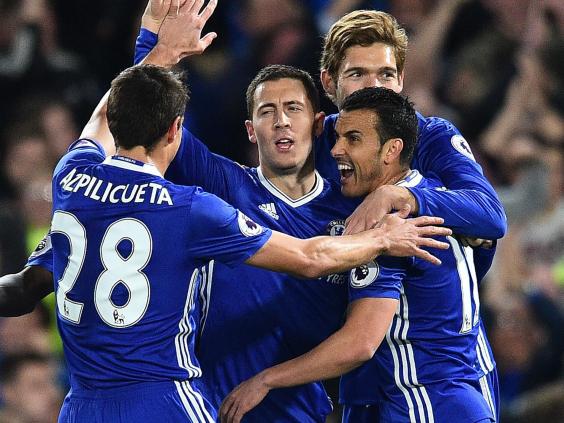 If there was some debate over whether the City goalkeeper was at fault for that, there could be no doubt his Chelsea counterpart was at fault for the equaliser. Initially a bit lax, Guardiola's team got into gear once Sergio Aguero tore straight at David Luiz and Gary Cahill to shoot, and leave the two central defenders arguing about who was to challenge him. It seemed there was still confusion in the City backline when Thibaut Courtois then played a ball straight to David Silva moments later. The playmaker's shot was parried, but only to the waiting Aguero to make it 1-1.
City looked to be on a wave again, only to again be undone in a self-damaging manager we have seen so often this season. Without the midfielders to properly control games, it means so much of their play and so many of their players are so rushed. Fernandinho then predictably rushed into the back of Pedro in the box, for a Chelsea penalty. Caballero redeemed himself for the earlier goal by saving Hazard's shot, only for Hazard to instantaneously redeem himself for that by poking the ball past him.
This is perhaps the biggest issue with Guardiola's side, even beyond the defending. In fact, the problems with the backline come because they just don't control matches. They could actually do with occasionally taking some of that pace down, but then Guardiola could probably do with a City equivalent of Sergio Busquets more than any other player.
Chelsea don't usually have that problem with controlling games, especially when they're in the lead. It's a nice position for any team of course but particularly suits them for how it allows them to sit and then counter with scorching pace.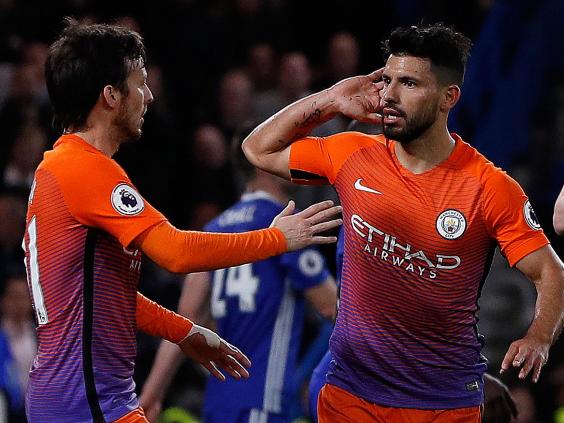 But while they generally did that with their usual conviction, they were forced into a reshuffle with the replacement of Kurt Zouma with Nemanja Matic, that also temporarily left them susceptible to deliveries. City had three similar occasions when they might have scored, first when Kompany headed onto the bar, second when Fernandinho blazed over when he might have done better, then when John Stones feebly hit a free header straight into the arms of Courtois.
It is going to be very difficult to wrestle the title out of Chelsea's arms meanwhile. They look too durable, too resolute, no matter what Spurs seem to do.
Chelsea can match anyone for pace, since they are so clearly setting it.
Reuse content