Chelsea midfielder Eden Hazard claims it took him just a week to forge an understanding with Cesc Fabregas and Diego Costa that has proven to be so successful this season.
Costa looks set to return for Saturday's visit of Queens Park Rangers after missing the majority of October with a niggling hamstring injury which was aggravated on international duty. The Spaniard's nine goals this season is a major reason why Chelsea have set the early pace, but Fabregas has also chipped in having already made 10 assists since arriving in the summer.
Hazard was Chelsea's go-to player last season as they lacked a striker with the prowess in front of goal that Costa has demonstrated so far, but he told the Evening Standard that the Spanish international duo are the key reason why the Blues are unbeaten this season.
"The time it takes to develop a relationship on the pitch depends on the guy. Sometimes it's quick, sometimes not. But it's easy for me to play with them because they understand football and are very good players. We didn't need to train two years together, just one week was enough. They know when I move and I know when Costa and Fabregas move. It's a pleasure to play with them.
Chelsea injury list and suspensions
Chelsea injury list and suspensions
1/3 Loic Remy

Mourinho suggested Remy had a chance of playing last weekend against Manchester United, however he was not even on the bench, leading to uncertainty over his availability.

Getty Images

2/3

The summer signing from Atletico Madrid has not played since the start of the month when he featured for 12 minutes against Stoke. Whilst there were fears he may not feature again this season, the Spaniard is understood to have returned to training and could even make a surprise outing at the Emirates.

AFP

3/3 Didier Drogba

Played last weekend in the win over Manchester United, however he pulled out of a charity match this week with an ankle injury, putting his participation against Arsenal in doubt.

Getty Images
"I don't know how much better this team can get — we will see. Now we are first in the table and I hope we can stay there until the end of the season. I hope we can win a lot of trophies this season, one, two or three. Why not?"
A whopping £62million was spent on Costa and Fabregas but they have proved their worth by helping Chelsea beat the kind of unfashionable sides they struggled against last term. Jose Mourinho's men dropped points against Crystal Palace, Aston Villa, West Ham, West Brom, Newcastle, Southampton and Norwich.
This season, only late equalisers by the two Manchester clubs have prevented Chelsea from recording a 100 per cent record.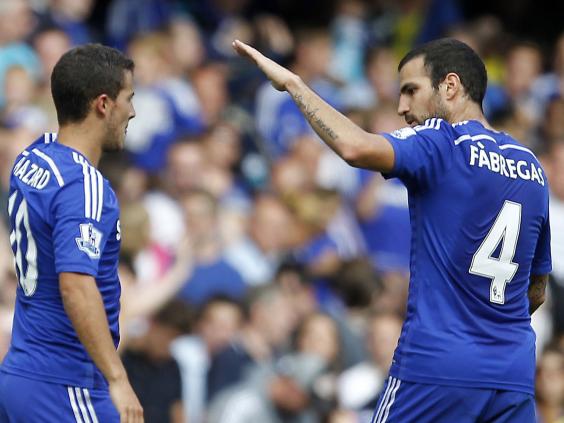 QPR coach Harry Redknapp knows all about Hazard having come very close to signing him for Tottenham in 2012. He missed out when Chelsea won the Champions League and were able to offer a much bigger salary, plus games in Europe's premier club competition.
Hazard has had to cope with the expectation that comes with a £32m transfer fee ever since. Even though he has moved to a club that demands silverware every season, he is more than happy with his decision to move to west London.
He added: "I would never say I don't feel pressure — pressure is always here at Chelsea. I know in football you can be one of the best and maybe two weeks later one of the worst. It's why you can never say 'I am the best'. It's an education.
"That is why John Terry is very important, not just for me but for the young players. He is a legend here, but is a big brother to all the younger guys.
"It's always good when I speak with him. He gives me a lot of confidence because he is the captain. We are happy to have this guy in the team.
"When I joined he just told me to enjoy myself on the pitch and try to score goals for Chelsea. For me everything is good here."
Chelsea are also expected to welcome back midfielder Ramires after a groin problem but former QPR striker Loic Remy is still ruled out with the same type of injury.
Reuse content