Asked afterwards about a penalty that was denied Branislav Ivanovic in the first half, Jose Mourinho turned to his press officer in the post-match briefing and muttered with his usual stage whisper, "You will have to control me" before declining to elaborate on his feelings.
The Chelsea manager has been busy fighting the world all week but this time he just looked battle-weary.
There was another token dig at the Sky Sports pundit Graeme Souness but it was not delivered with the usual assassin's cold-bloodedness that Mourinho ordinarily summons for his adversaries.
If anything he looked as tired with the whole thing as his team had done at times in the first half against Southampton.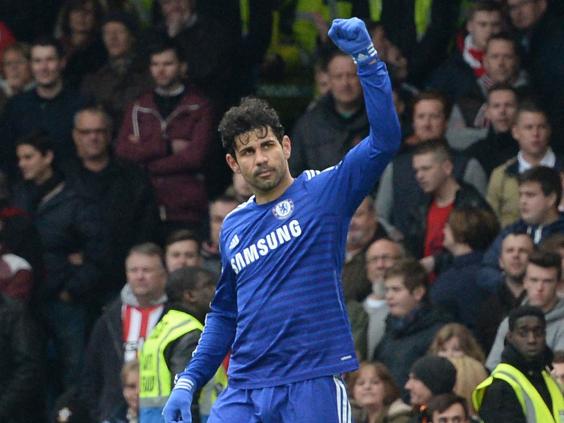 With Manchester City's defeat at Burnley it had been a profitable weekend for Chelsea but the lingering feeling is that it could have been a great weekend for the club who lead the Premier League by six points and a game in hand over their nearest faltering rival.
The title race is starting to resemble a car chase on the M25 in rush hour – insomuch as no-one is getting anywhere fast.
In fact the top two have slowed to the extent that the A-word was mentioned in relation to the title race for the first time since before Christmas.
Did Arsenal, seven points behind Chelsea, really have a chance of joining the party? Mourinho did not deny that they might but he was careful to add an extra jibe for good measure when asked about Arsene Wenger's team's potential "momentum" from Saturday's win over West Ham.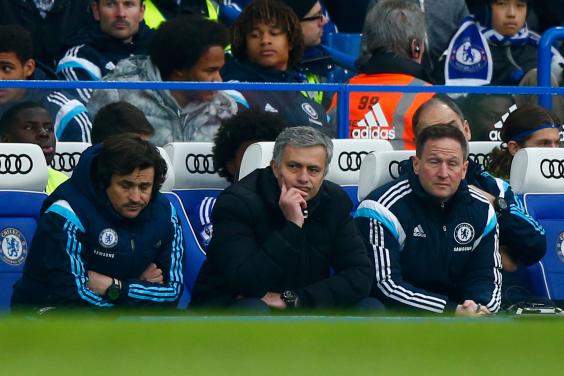 "Which momentum?" he shot back. "Three-one against Monaco or 3-0 against West Ham? It depends on the momentum."
He was right in suggesting that Ivanovic might have had a penalty on 23 minutes when Dusan Tadic appeared to catch his compatriot's heel in the box.
Nevertheless, Nemanja Matic should also have been sent off for a second yellow card for a foul on Sadio Mane in the second half, with Southampton's Senegal international leading Chelsea's defence a merry dance all afternoon.
Perhaps that was why Mourinho chose not to call it on with referee Mike Dean. By contrast, the permanently cheerful Ronald Koeman spoke with great approval about the referee and his own team's performance which once again demonstrated how comfortable they are at this standard.
Mane was, with Hazard, the best player on the pitch and there were times in the first half when Southampton looked as if they might even win the game.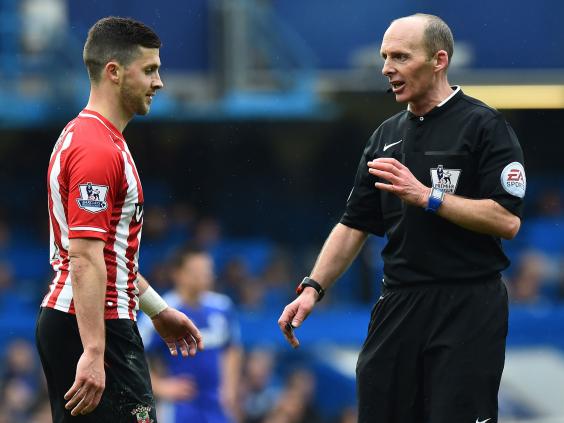 In attack, Koeman selected Shane Long ahead of Graziano Pelle and picked Mane behind the Irish striker, giving his team the kind of pace that John Terry and Gary Cahill struggled to handle at times.
Koeman acknowledged that, to get a result at Stamford Bridge, one required luck as well as a great goalkeeping performance.
In Fraser Forster the Southampton manager certainly had just that and one sequence of saves had his goalkeeping coach for club and country, Dave Watson, off his bench and celebrating as if the team had scored the winner.
The mini-break in the snow in Switzerland that Koeman took his players on over the FA Cup weekend has had a restorative effect on his players.
As for Chelsea, four days on from the draw at home to Paris Saint Germain that saw them eliminated from the Champions League, there are still some individuals like Matic and Cesc Fabregas who seem stuck in a rut.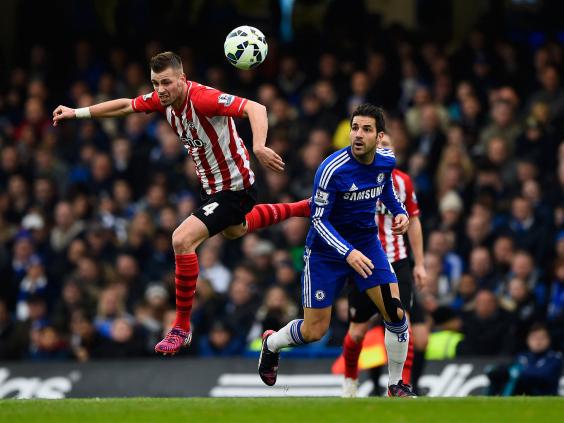 Mourinho's side had begun the game as if they were determined to make amends for Wednesday night with immediate effect, but the good spell last about as long as it took for Diego Costa to score the first goal.
They slowed down quickly afterwards and if the intention was to blow Southampton away early on then frankly they were not even close.
Costa had a part in the early stage of the move for the goal, and from Hazard it went right for Ivanovic to cross. Southampton had got themselves in a mess in the centre and Costa had picked his spot before he even connected.
Chelsea 1 Southampton 1 player ratings
Chelsea 1 Southampton 1 player ratings
1/23 Thibaut Courtois

Made a brilliant save to deny Mane from taking the lead for Southampton. Stopped Alderweireld's free-kick superbly too. 8

GETTY IMAGES

2/23 Branislav Ivanovic

Played in a perfectly weighted ball for Costa to head past Forster. Was a catalyst however for Southampton's first half penalty. 6

GETTY IMAGES

3/23 Gary Cahill

The industrious nature of Long seemed to unsettle the central defender. His lack of pace also meant he had to concede free kicks because he couldn't cope with the nature of Southampton's play. 6

GETTY IMAGES

4/23 John Terry

With those around him panicking, it was up to the Chelsea captain to restore order. He made sure Mane wasn't able to enjoy too much success on the counter attack. 6

GETTY IMAGES

5/23 Cesar Azpiliqueta

Not known for his pace, he found himself exposed when Mane burst forward. Did not link up particularly well with Willian either. 6

GETTY IMAGES

6/23 Cesc Fabregas

Didn't demonstrate the creativity that he is best known for and that meant the service to the forward line was poor. 5

GETTY IMAGES

7/23 Nemanja Matic

He was replaced by Ramires on 53 minutes. He looked to be carrying the injury he sustained in the Capital One Cup celebrations and was a after he was booked early in the first half. 5

GETTY IMAGES

8/23 Willian

Back in the starting line up, the Brazilian offered a different dimension to the Chelsea attack but didn't push forward enough towards the end and as a result he made no significant impact. Replaced by Cuadrado on 83 minutes after he pulled up. 6

GETTY IMAGES

9/23 Oscar

Played a large part in most of Chelsea's attacking play but wasn't quick enough to pick up loose passes by Southampton's defence. He struggled to break past Fonte too. Replaced by Remy on 81 minutes. 5

GETTY IMAGES

10/23 Eden Hazard

A constant danger to the Southampton defence. He was involved in some fantastic link up play with Costa before the Spanish striker scored Chelsea's opener. 7

GETTY IMAGES

11/23 Diego Costa

He took the lead for Chelsea after steering his header past Forster early in the match but he found himself having to drop deep to collect the ball due to the poor service he was receiving. Blazed over towards the end. A frustrating afternoon for the Spanish striker. 7

GETTY IMAGES

12/23 Off the Bench: Ramires

Replaced Matic after 53 minutes. He helped to protect Chelsea's defensive line but contributed very little in the quest for all three points. 6

GETTY IMAGES

13/23 Fraser Forster

An excellent performance from the English goalkeeper. His save to deny Hazard in particular helped to keep his side level. 8

GETTY IMAGES

14/23 Nathaniel Clyne

He handled the pace and endeavour of Hazard relatively well but didn't get forward enough to help his attacking teammates. 6

GETTY IMAGES

15/23 Jose Fonte

An outstanding display from the Saints' captain. Rarely phased by Costa or Hazard, he defended superbly and was hardly ever caught out of position. 7

GETTY IMAGES

16/23 Toby Alderweireld

Forced Courtois to make an outstanding save following the defender's stinging free-kick from long range. Matched Costa well. 7

GETTY IMAGES

17/23 Ryan Bertrand

Had a very difficult time against Ivanovic and Hazard but he did improve as the match went on and was one of Southampton's main outlets on the left. 6

GETTY IMAGES

18/23 Victor Wanyama

He lost his drive a little after being booked with 30 minutes to go but he will be pleased with his defensive contribution. 7

GETTY IMAGES

19/23 Morgan Schneiderlin

Showed good initiative to drive forward when he had the chance. His runs forced gaps in the Chelsea defence but his teammates couldn't always take advantage. 7

GETTY IMAGES

20/23 Sadio Mane

A real livewire in the Southampton midfielder. He interchanged with Long well and never stopped looking for paths through to the Chelsea goal. 7

GETTY IMAGES

21/23 Steven Davis

Too many misplaced passes and he was replaced by Ward-Prowse on 71 minutes. 5

GETTY IMAGES

22/23 Dusan Tadic

Always dangerous when penetrating the left flank and several times he was able to run into Chelsea before testing Courtois. Scored the penalty to level the game at 1-1. Replaced on 71 minutes by Djuricic. 7

GETTY IMAGES

23/23 Shane Long

Strong performance before he came off and despite not scoring he can be satisfied with the way he caused ample of problems for Terry and Cahill. Substituted in the second half. 7

GETTY IMAGES
A goal to the good but not for long, and the equaliser came from the penalty spot after Mane cut down the left channel and into the area.
Ivanovic had tackled from behind, Matic from the side. It looked like the first contact might even have been from the full-back Ivanovic while Matic's intervention seemed to come as Mane was on his way down.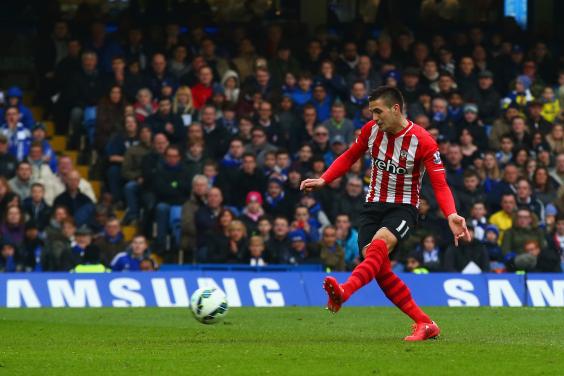 Either way it was Matic who referee Mike Dean identified as responsible, booking him for the challenge.
Tadic waited for Thibaut Courtois to dive before dispatching the penalty down the centre of the goal and after that Southampton had their best period of the game. Chelsea went off at the end of the first half to worried glances and a hushed concern in the stands.
The second half did not much begin much better when Ivanovic took a throw-in and presented the ball to Mane in midfield who had to be stopped by a crude foul from Matic.
It should been the second yellow card of the Serb midfielder's game – and imagine the uproar that would have brought – but referee Dean decided against it.
Why? It was just one of those moments when a referee is desperately looking for the reasons not to book a player rather than the more obvious factors that dictate he should.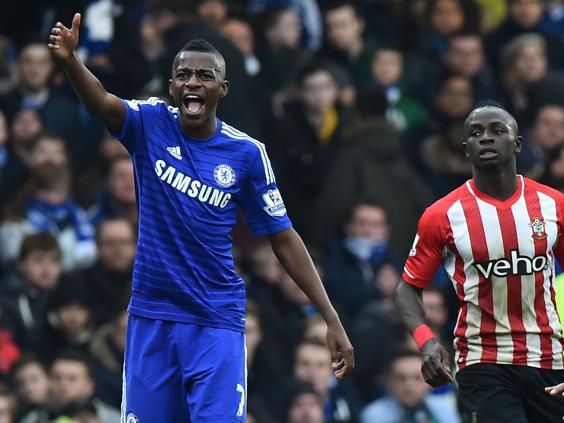 Perhaps Dean did not fancy a part of the inevitable storm that would follow another red card for Matic. Either way, he later gave Morgan Schneiderlin a free pass for clattering Fabregas which might have been related.
Mourinho soon withdrew Matic on 53 minutes, some acknowledgement that his midfielder was sailing close to the wind. Ramires came on instead, Chelsea clicked into gear and finally found the intensity they had been missing. Costa hit the post having got a foot to Willian's drive but still the breakthrough did not come.
There were not as many clear sights of goal as Chelsea would have liked, with Southampton comfortable sitting deep in the second half and challenging the home team to pass through them.
This was the time that Forster came into his own, saving from Fabregas, Hazard and then Oscar. Mourinho threw on Loic Remy and Juan Cuadrado but still no goal came.
Forster saved from Cesar Azpilicueta and then, from the resulting corner, stopped shots from Costa and Terry. Another ten minutes and Chelsea might have got their winner, but not for the first time in the last four days, they ran out of time.
Reuse content