After a season that has so often seen Antonio Conte turn negatives into positives, and been a victory for pure coaching, the title itself was so fittingly won by one more moment of inspiration; one more brave decision.
Michu Batshuayi has barely got a look-in for Chelsea this season, and the manager has often expressed frustration in his development, but it was Conte's faith in the 23-year-old that ended his side's frustration at the Hawthorns and ensured the Belgian will be front of centre of every image of celebration.
The Italian took a gamble by bringing on Batshuayi in the 76th minute of what had been an immensely trying 0-0 draw with West Brom, and the striker then took the gamble of a run to score. His effort won the game, and won the title.
It is the sixth of Chelsea's history, the fourth of Conte's career, and his first in England in what was his debut season.
The 5 key moments that won Chelsea the title
The 5 key moments that won Chelsea the title
1/5 1. The second half of Arsenal 3-0 Chelsea, 24 September

The biggest defeat of Chelsea's season, but also one of the biggest reasons they have won the title. It brought an epiphany. The way that Arsenal simply tore at Antonio Conte's defence to go 3-0 up by half-time made the Italian realise something was fundamentally wrong with his team. There were huge gaps in the team structure, and it looked at that point like there was still a huge gap between Chelsea and even challenging for the title. That instantly changed, because Conte changed the formation. In that second half, he went to a three-at-the-back that had been on his mind but hadn't yet been tried on a pitch. Chelsea immediately went on that 13-game winning run, never really looking back.

Getty Images

2/5 2. Chelsea 4-0 Manchester United, 23 October

Chelsea had at this point impressively won two games in a row, and looked like they were building, but this match showed there was so much more to it than just a temporary transformation from the change in formation. It showed the quantum leap they had already made. There was of course much more to this match than just winning a big game, too, given that the players were up against their old manager Jose Mourinho just 10 months after he had been sacked following a sensational team collapse in 2015-16. They performed like they had a point to prove, and made an utterly compelling argument from the very start, when Pedro scored after mere seconds. It felt like many ghosts from the previous campaign had been banished, as well as any lingering doubts. They were on another level.

Getty Images

3/5 3. Manchester City 1-3 Chelsea, 3 December

Arguably the Premier League game of the season in terms of excitement, but also the game when Chelsea's winning run became an exhilarating title surge; when momentum really picked up - and that despite City doing so much to try and stop it. This was just another case of turning a negative into a positive, as they completely turned a game. Determined to get their top spot back, Pep Guardiola's City absolutely battered Chelsea in the first half, and could have been out of sight. Conte's side just about held firm despite Gary Cahill's own goal, though, tightened up at half-time and then responded with a series of rapid attacks City simply couldn't handle. Really, it was the response of champions, and the moment when Chelsea properly emerged as the obvious next champions. That's how significant the win felt. That's how much confidence Conte said they gleaned from it.

AFP/Getty Images

4/5 4. Leicester City 0-3 Chelsea, 14 January

If the defeat at Arsenal was a defining moment for Conte's tactics, this win at the former champions was the defining moment in terms of everything else to do with the team. Sure, the final score may make it look elementary, but the week had been anything but. It was maybe the most challenging. Chelsea's 13-game winning streak had just come ended at Tottenham and their top scorer's Blues career was coming to an end, after Diego Costa got into an altercation at training following speculation he might be on the move to China. It really looked like it could all cave in, when Chelsea would lose their edge, and their nerve. Instead, it brought more progress. The team killed Leicester 3-0 thanks to two goals from Marcos Alonso and one from Pedro, before Conte completely killed the controversy by stonewalling it in his press conference. It sent a statement to Costa to get back in line, and a statement to the rest of the Premier League that there was so much more to this team than one scorer.

AFP/Getty Images

5/5 5. Chelsea 4-2 Tottenham Hotspur, 22 April

This may have been an FA Cup semi-final, but it was one with a significance far beyond making the final. It was really the final test in the title race, a referendum on which of the two sides was actually better. That may seem ridiculous now, but that was very much the feel that of week. A stuttering Chelsea had been resoundingly beaten 2-0 at Manchester United, allowing a surging Spurs to cut the lead to four points. It seemed like it was all only going in one direction, but that a Tottenham win could completely divert the destination of the title. There was instead only ever one winner. Conte's side simply cut Spurs' legs away. Every time Tottenham responded, Chelsea just showed they had that bit more, they were that bit better. The impressive high quality of the two clinching goals from Eden Hazard and Nemanja Matic only emphasised it all. It was the story of the season. Every setback only brought another surge.

AFP/Getty Images
The wonder was whether West Brom were going to be mere witnesses to a procession, or proper participants in a battle that was going to make Chelsea have to do that bit more to earn this title.
That was because, since claiming 40 points on 25 February, their record from the next nine games read: five points, six defeats, seven games where they failed to score… but with four of those points and three of those goals coming in two games against Arsenal and Manchester United.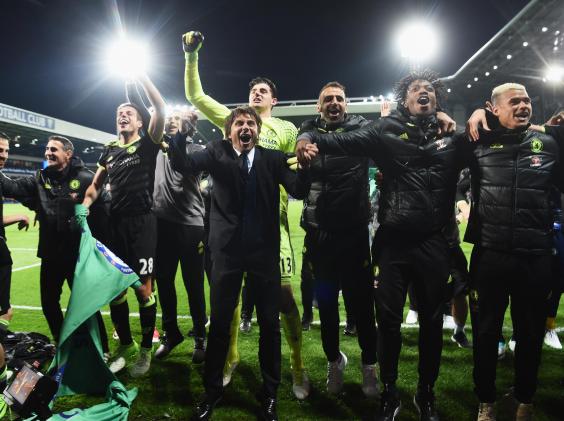 The big sides still get a big response out of Tony Pulis sides, regardless of what stage of the season it is.
That was signalled as early as the opening minute of the game, when Salomon Rondon finished off a sweeping attack with thrusting header. There was similar aggression and energy to every West Brom challenge, leaving many Chelsea players - and especially Eden Hazard - on their back on the rain-sodden pitch. Sam Field was soon booked for one scything tackle from behind on Pedro, that left the winger in a heap, and the young West Brom lad somewhat brazenly protesting his innocence.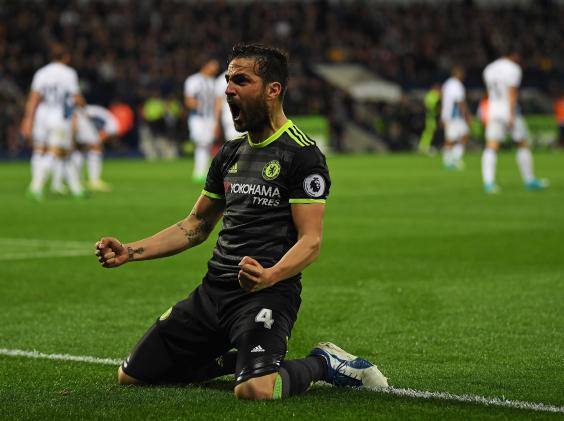 Chelsea were indeed being made to work, and fight, and really eke out their chances.
The West Brom supporters did ironically celebrate when a decision went their way on 40 minutes, but they might well have been fortunate that referee Michael Oliver didn't point to the spot when the ball appeared to strike Chris Brunt's arm earlier in the game.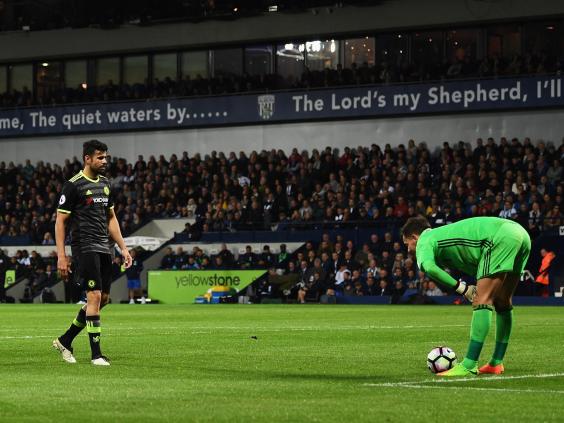 They weren't fortunate to be level, though, given they had so limited to Chelsea to scrapping for chances and long shots.
The spectacularly-on-form Cesc Fabregas was naturally finding space where others couldn't, and flashed one 33rd-minute effort wide. It was the closest they'd come in the first half.
Victor Moses went even closer at the start of the second half, bringing a fine low save from Ben Foster as he tried another shot from distance. It did look like it was going to take something inspired, or bit different, to break West Brom down - put David Luiz's attempted bicycle kick from the resulting corner was probably a bit too different.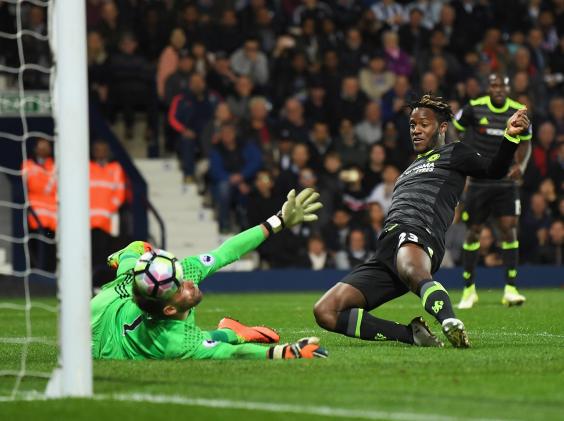 It looked like Eden Hazard had finally got behind the defence on 52 minutes, but he delayed his shot when forced wide, and West Brom just about managed to scramble the ball away.
That chance inevitably came from an inspired Fabregas floated ball, and he was the Chelsea player most probing, most likely to produce something that opened West Brom.
It said a lot for how much West Brom were frustrating Conte's side that when Diego Costa got the ball in the box on the hour, and looked set to turn, he rather easily went down. That was how difficult Pulis's well-drilled defence were making it.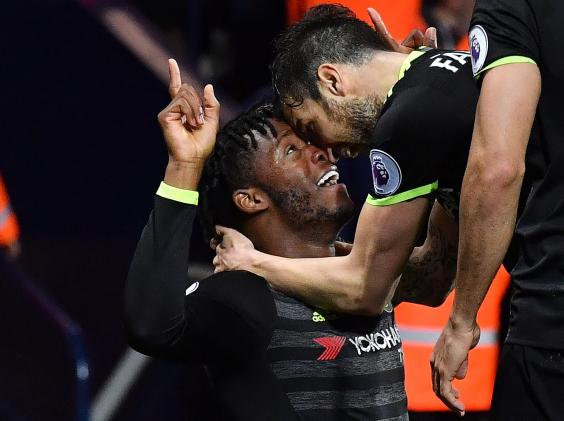 They were not going to willingly be anyone's patsy.
Conte realised something big needed to change, so made a big decision: he took off Chelsea's most vibrant attacking player this season, removing Hazard for Willian, and introduced Batshuayi for Pedro.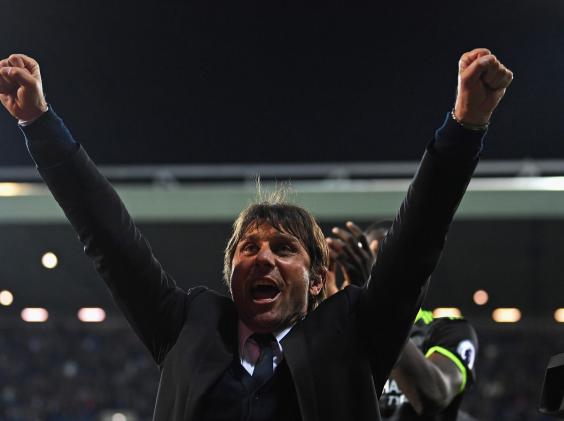 It had a big effect, an inspired effect.
On 84 minutes, just when West Brom seemed to be getting comfortable in their ability to keep Chelsea out, Batshuayi finally stood out.
Cesar Azpilicueta got behind the backline to square, and the young Belgian got the goal that he and his club had been waiting for.
Reuse content