The choreography preceding the introduction of Britain's most expensive footballer was less than ideal. Security staff in front of Old Trafford hastily moved on the owners of a van used to parade an image of David Moyes, beside the message "Bring back the Messiah" in an advertising stunt, late on Wednesday. The soundtrack playing in the Europa Suite before Angel Di Maria's arrival was Stones Roses' "Where Angels Play". It doesn't presently feel that way.
He stepped out from a side door framed by an image of Wayne Rooney lifting the 2008 Champions League trophy and Ryan Giggs carrying the same jug-eared pot was in his eye-line after he had taken a seat. When Di Maria's parting love letter to Real Madrid fans, declaring that he had not wanted to leave them, was ruled out of the conversation – "all questions are looking forward rather than back," was the instruction – he spoke of how Real's Cristiano Ronaldo had told him of the significance of the No 7 shirt he once wore. "He told me how important it was. I wanted to wear this shirt and do as much for the club as Ronaldo. The club also wanted me to wear it. I want to live up to it." But Ronaldo stepped into something immeasurably more comfortable than the blizzard of unknowing which awaits this 26-year-old.
The Portuguese was rather less assured than the Argentine now looks, when the shirt was put his way, it should be said. Ronaldo suggested that he would rather take 28, his Sporting Lisbon number, if Sir Alex Ferguson so pleased, but the Scot insisted. United were defending champions, parading Roy Keane, Nicky Butt, Paul Scholes and Ruud van Nistelrooy in their ranks, and a goal ahead at Bolton when 18-year-old Ronaldo made his bow. It will be Lancashire opposition for Di Maria, too, on Saturday: a rarefied environment at Burnley where United may justifiably fear to tread.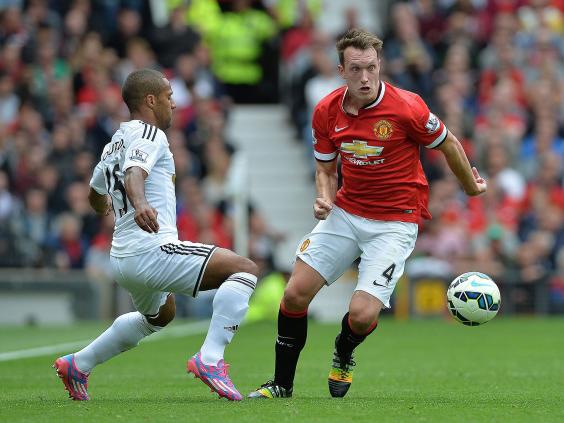 Di Maria said all the right things, as £200,000-a-week players are inclined to do when sitting beside the man who has just sanctioned their signing: very pleased to be here; like the club; transfer fee does not bother me; want to help. But that dig at the club which had let him go – off limits though United had deemed it – was the message which should most fortify the spirits of his new club's fans. Good that he had the guts to have a dig at Madrid for letting him go after all he delivered last season. Most of that club's stars just shuffle off in silence when they are dispensed with.
A man who has given his all for a team, as Di Maria did in the Spanish capital, can afford that kind of public indignation and the work ethic was one of the two characteristics in the Argentine that Louis van Gaal fastened on to in his first proper, public assessment of him. "When you see his answers, he is a very modest guy and he wants to work," Van Gaal said. "In every sentence, he is coming with this. He showed that also last year. He played 52 matches and gave 22 assists. How many players can say that? Twenty-two assists. Then you are also a very social being and in the football world that is also the case." The Independent columnist Paul Scholes wrote that Di Maria is overpriced but this correspondent begs to differ.
The man they call El Fideo (The Noodle) – because he is all skin and bones – is worth every penny United have paid for him. He plays 40 games a season, no injuries, no bookings, runs for everything, plays anywhere. If you wanted to split hairs you would say that his versatility does not stretch to a decent right foot. He has fixed that by becoming the world's greatest exponent of the rabona. Many in Madrid are baffled that the standout player from last season's Champions League final has been allowed to leave.
Van Gaal suggested that his 3-4-1-2 structure could be sacrificed to build a team around what Di Maria offers. "I can change the system for him and maybe I shall do that," he said. "He played in Real Madrid not only as a wide wing player but also in midfield."
The other characteristic Van Gaal wanted to discuss was Di Maria's ability to "accelerate our play". That quality was written through the video footage of him working United's defence in last year's Champions League round of 16, being screened before the press conference in a continuous loop. In a word, Di Maria v Phil Jones was "slaughter". It is a slender frame United are pinning their hopes to but Van Gaal's observation felt like more than the customary crisis management propaganda. "We are convinced he shall succeed," he said.
Reuse content