Cristiano Ronaldo is in line to play former club Manchester United on Saturday as he steps up his return from a knee injury.
Speaking after Real Madrid's 1-0 defeat to Roma, coach Carlo Ancelotti said: "He [Ronaldo] did two sessions today and he is working well on his own.
"Let's see if in the next few days he can train with the team and can play against Manchester," added the Italian. "We have to be careful, right now we have to be calm."
Should Ronaldo be ready to feature in the match in Detroit it will be just the third time he has faced his former club since leaving for Real Madrid in 2009.
The previous two occasions came during the 2012/13 Champions League when Ronaldo scored in both legs of the Last-16 knock-out match as Real Madrid won 3-2 on aggregate.
Video: The latest transfer news

Those games would be the last European matches of Sir Alex Ferguson's tenure and the reunion of the former Manchester United manager and probably the greatest talent to play under him during his 27-year Old Trafford reign was an emotional occasion for both of them. Ferguson would go on to describe Ronaldo as "the most gifted player I managed" in his autobiography.
The second-leg at Old Trafford saw Ronaldo welcomed back by fans who gave him a rapturous reception and also re-united with numerous former team-mates.
However, this Saturday's reunion will be a very different affair. Whilst some former team-mates, including Wayne Rooney, Ryan Giggs (now in a coaching role), Michael Carrick, Nani, Danny Welbeck, Rafael and Darren Fletcher remain at the club from Ronaldo's time - many more have since left.
Sir Alex Ferguson has been replaced, twice, and Ronaldo will now find Louis van Gaal sitting in the opposition dug-out.
When he last played Manchester United, Patrice Evra, Rio Ferdinand, Dimitar Berbatov, Nemanja Vidic and Paul Scholes were among the opposition squad but have all since now departed. Since he left for £80m in 2009, there are many more who have exited Old Trafford - Edwin van der Sar, Gary Neville, Louis Saha, Park Ji-Sung and Carlos Tevez to name but a few.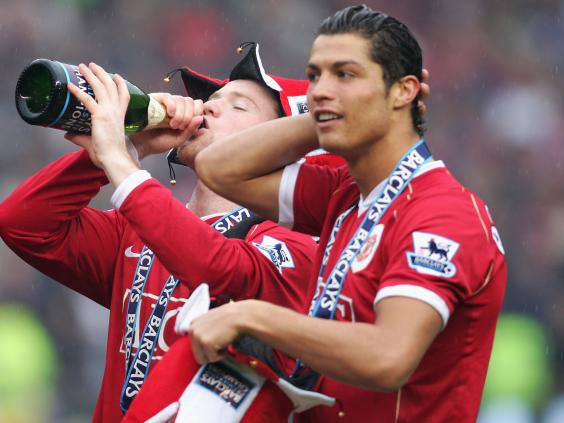 Further up stairs the man who sanctioned his sale, David Gill, has been replaced by Ed Woodward and not even the shirt sponsors are the same.
Ronaldo, the current Fifa Ballon d'Or holder, will be sure to receive a warm reception from those that remain, but there will be far fewer shared memories.
Reuse content