On Crystal Palace's training pitch, between the mannequins, goals and cones, two men are knocking a ball about. There are smiles and laughter. Then they reluctantly leave the ball alone and return to their work: one climbs aboard a bulldozer, the other heads for a digger.
The builders are in at Copers Cope Road, and for once they are not engaged on a flat conversion or roof extension in a part of the suburbs where Kent meets south east London and a two-bedroom flat costs £400,000. The men in hard hats are upgrading Palace's Beckenham base to one befitting a club with ambition.
In the pavilion overlooking the training pitches, Alan Pardew says: "We couldn't have brought Yohan Cabaye to this training ground last year. It wouldn't be fair on him, and I said that to the chairman. And so the chairman had not only to pay for the player, but he had to pay for a new training ground as well."
Pardew's personal connection with Cabaye, who played for him at Newcastle United, helped land the French international, but Cabaye would not have forsaken Paris St- Germain for Palace if he did not think the club had aspirations to match his own.
So far the £13m midfielder will be thinking he made the right choice. Palace go to Stamford Bridge on Saturday fifth in the table and feeling confident. I asked Pardew whether the match simply represented the chance to win three points, the means to measure his team's progress, or the opportunity to make a statement of intent.
"The answer is yes to all three of them. I think my group – because we haven't made too many changes from last year – tactically, we are not far away from where we finished [10th, Palace's best since 1992] and the results prove that. We performed last year [at Chelsea] almost to our maximum and still got beat. Maybe we are a little bit ahead of Chelsea in terms of where we were in relationship to  that game, so maybe we have got a better chance this time. I hope so."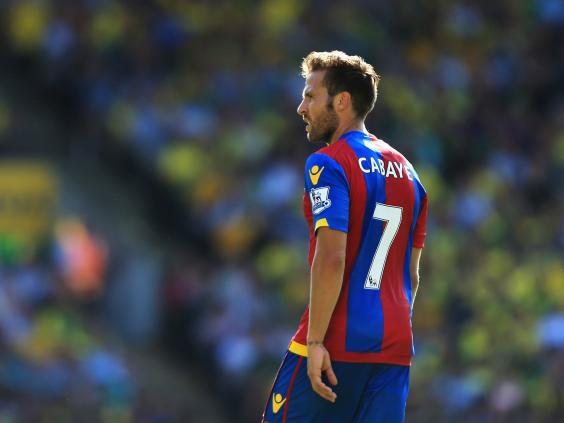 Cabaye's arrival has not only enhanced Pardew's team, adding guile to the pace and organisation already present, but it has also changed perceptions of a club that has long been talked about as a sleeping giant, but often in a mocking tone.
Rivals may deride the notion but in 1979 Terry Venables' 'Team of the 80s' attracted more than 50,000 to Selhurst Park for a Second Division match, and in the early 1990s Palace hinted at their potential by reaching the 1990 FA Cup final and followed that by coming third in the top flight. Owner Ron Noades' dream of a "south London superclub" to rival the north London giants seemed feasible. Yet Palace continued to be a yo-yo club, rising into the top flight for a year or two before dropping down again. Indeed, it is only five years since they were in administration and escaped relegation to League One by winning at Hillsborough on the last day of the season.
New owners, led by chairman Steve Parish, arrived and, despite a high turnover of managers, the club has flourished. This is Palace's third successive season in the top tier, their longest run in the elite since being relegated in 1993 at the end of the first Premier League season. And now, as Stoke City and  Swansea City have shown, if a club stays up, it can make quick strides.
"The stability of the club has been enhanced by that second term in the Premier League, and now a third term, which I don't think we have ever done before," says Pardew. "And, of course, it gives you the funds – the improvements have been huge."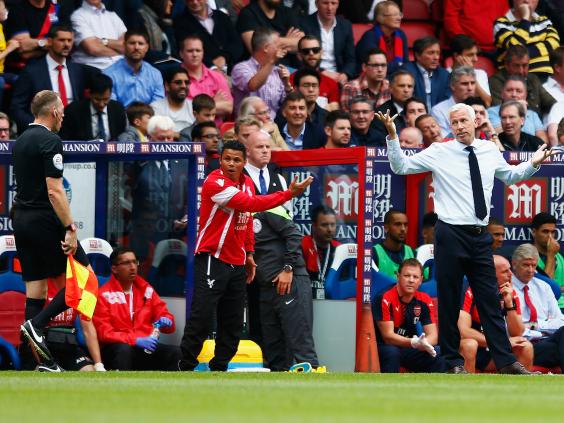 That applies on the pitch as well as off it. Two years ago, having been promoted, Palace smashed their transfer record, signing Dwight Gayle for £6m from Peterborough, and increased their total wage bill from £19m to £46m. But, according to the Global Sports Salaries Survey, they were still the lowest payers in the Premier League, with first-team squad members earning an average £998,632.
That wage bill has since multiplied exponentially as James McArthur, Cabaye  and Connor Wickham have all exceeded the old transfer record. Suddenly, instead of looking down at the relegation zone, Palace are looking up – and abroad. The target is Europe, an adventure only once previously undertaken, in 1998, when they lost home and away to Turkey's Samsunspor in the Intertoto Cup.
"We can't win the league, I don't think we can get in the Champions League, but I think we can really push for a Europa League spot this year," Pardew adds. "And why not? We should have that ambition. That might change halfway through. It might be just making sure you survive. That agenda can change. But as we sit here now, that is  our agenda."
Pardew arrived at Palace in January. It was a homecoming for the 54-year-old south Londoner, especially after a difficult time at Newcastle United when he became a scapegoat for fans' dissatisfaction with owner Mike Ashley.
Newcastle attract twice as many fans as Palace, have a stadium twice the size, and a much more glittering past, but the last in that list is increasingly distant and, odd though it may seem, Pardew looks to have traded up – in terms of his own ambitions, at least.
For a man with designs on being manager of England (and as the only experienced native manager in the Premier League, aside from Steve McClaren, he is a prime contender), Palace currently represent the better platform.
Pardew has made a point of not criticising Newcastle, and simply describes the clubs as "different", but he adds of Palace: 'What we are doing is going quickly. The team is evolving quickly. The only teams beyond us really are Spurs, Liverpool and the four above them. I think we can compete with Everton and everybody else and that's what we are going to do.
 "We have a huge catchment area. There are a couple of things important for us. First, the upscaling of the stadium, which I think is on the chairman's agenda. Then we have a fantastic environment for a fan. You can't help but enjoy the game. People who have come to my games, who are not Palace fans, are amazed at the atmosphere that is created. Away teams talk about it. My guys at Newcastle used to talk about it on the way home. It is one of those places at the moment which has just got that feel. Places get it from time to time."
Premier League Power Rankings - Game Week 4
Premier League Power Rankings - Game Week 4
1/17 17) Petr Cech (Arsenal) - new entry

The Arsenal goalkeeper has atoned from his dreadful first Premier League match for the Gunners and with it returns to our Power Rankings. His first half performance in the 0-0 draw with Liverpool was brilliant and arguably earned his new side a point. With Arsenal's defence looking uncertain so far this term, Arsenal need Cech to maintain that form. Last fixture: D - 0-0 - Liverpool Next fixture: Newcastle (a)

GETTY IMAGES

2/17 16) Callum Wilson (Bournemouth) - new entry

Wilson was an early entry on our Power Rankings but dropped out after failing to score in his first couple of games. We got it wrong. The Bournemouth striker announced himself to the Premier League last weekend with a hat-trick in the 4-3 win over West Ham. Leicester at home presents Eddie Howe's team with a decent opportunity to get a run together. Last fixture: W - 3-4 - West Ham Next fixture: Leicester (h)

Getty Images

3/17 15) Jefferson Montero (Swansea City) - up 2

Branislav Ivanovic then Daryl Janmaat felt the full force of the Ecuadorian's devastating start to the season and he played his role in ensuring Swansea kept up their unbeaten start to the campaign in the 1-1 draw with Sunderland. This weekend he'll be taking on Matteo Darmian of Manchester United - a player picking up many plaudits as well. So who will come out on top? Last fixture: D - 1-1 - Sunderland Next fixture: Manchester United (h)

AFP/Getty

4/17 14) Salomon Rondon (West Brom) - down 1

A club record price-tag will come with hefty expectations but in the defeat to Chelsea Rondon showed enough to suggest he'll cause defences a few problems this season. Tony Pulis will certainly be hoping so considering his side are currently propping up the table. Last fixture: L - 2-3 - Chelsea Next fixture: Stoke (a)

5/17 13) Yohan Cabaye (Crystal Palace) - up 2

Crystal Palace have made an excellent start to the season, winning two and narrowly losing to Arsenal. Cabaye has played a massive role in that and if they are to put Chelsea back into a 'crisis', then the Frenchman will be key. Without the suspended John Terry marshalling the defence this weekend, there could be a few gaps for Cabaye to find. Last fixture: W - 2-1 - Aston Villa Next fixture: Chelsea (a)

Getty Images

6/17 12) Romelu Lukaku (Everton) - down 6

When you pay £28m for a striker you expect something special and that was the exact performance Lukaku delivered against Southampton. But the Everton striker was again drawing blanks in the defeat to Manchester City. A game against Spurs sees two teams with ambitions of being the best of the rest - can Lukaku be the difference at White Hart Lane? Last fixture: L - 0-2 - Manchester City Next fixture: Tottenham (a)

7/17 11) Pedro (Chelsea) - new entry

The former Barcelona man hit the ground running at Chelsea, playing an integral role in Chelsea's first victory of the season, a 3-2 win over West Brom. Having scored the first, the Spaniard set up the second and despite Chelsea having their backs to the wall after John Terry's red card, Jose Mourinho showed enough faith in him to keep him on the pitch until the 84th minute. With his home debut this weekend, expect Pedro to star. Last fixture: W - 2-3 - West Brom Next fixture: Crystal Palace (h)

GETTY IMAGES

8/17 10) Harry Kane (Tottenham Hotspur) - down 1

Saido Berahino won't be going to Tottenham this summer, although the arrival of South Korean Hueng-Min Son in a £22m deal from Bayer Leverkusen has gone some way to alleviating the concerns about a lack of attacking threat at White Hart Lane. That said, Kane remains top dog but must start scoring if he's to justify that position. Last fixture: D - 1-1 - Leicester Next fixture: Everton (h)

Reuters

9/17 9) John Stones (Everton) - up 3

Stones has been told he's going nowhere this summer, despite a massive bid of £38m for his services from Chelsea. The England international is said to be devastated at the Toffees' refusal to do business. But Roberto Martinez is expected to keep picking him so how he performs at the weekend will be fascinating. Last fixture: L - 0-2 - Manchester City Next fixture: Tottenham (a)

GETTY IMAGES

10/17 8) Wayne Rooney (Manchester United) - up 2

After his hat-trick against Club Brugge in midweek after a 10 game goal drought, there is a feeling that Rooney is back. But now he must convert it to the Premier League and with Louis van Gaal's side scoring just two Premier League goals in three games, the pressure is back on the skipper. Last fixture: D - 0-0 - Newcastle Next fixture: Swansea (a)

Getty Images

11/17 7) Eden Hazard (Chelsea) - down 2

Like the rest of the Chelsea team, Eden Hazard has looked out of sorts in the opening couple of weeks of the season. The arrival of Pedro could spark a revival in his form with the pair linking up dangerously in the 3-2 win over West Brom. Last fixture: W - 2-3 - West Brom Next fixture: Crystal Palace (h)

Getty

12/17 6) Sergio Aguero (Manchester City) - down 3

As long as Sergio Aguero stays fit, Manchester City will be among the favourites for the title. There is no other striker like him in world football - so adept with his movement in and around the box that he makes world class defenders look like Sunday league players. At home to Watford, he'll be hoping to add to the goal he scored against Chelsea last time out at the Etihad. Last fixture: W - 0-2 - Everton Next fixture: Watford (h)

13/17 5) Riyad Mahrez (Leicester City) - up 3

What a start for the Algerian, who has scored in every game for Claudio Ranieri's surprise package. The latest came against Tottenham and it would be unwise to back the current Premier League top scorer not to add to his tally at Bournemouth. Last fixture: D - 1-1 - Tottenham Next fixture: Bournemouth (a)

Getty Images

14/17 4) Jermain Defoe (Sunderland) - up 3

By scoring the equaliser in last weekend's 1-1 draw with Swansea, Defoe went some way to calming what has been turning into something of an early crisis at the Stadium of Light. The Black Cats remain among many people's favourites for the drop but if Defoe can keep on scoring - he has two in three PL matches and scored a hat-trick in the Capital One Cup in midweek - there's a glimmer of hope. Last fixture: D - 1-1 - Swansea Next fixture: Aston Villa (a)

PA

15/17 3) Alexis Sanchez (Arsenal) - down 1

The Chilean is just so crucial to any hopes Arsenal have at the title this season. The Gunner failed to score against Liverpool on Monday night and if they are to seriously challenge, they must add to their solitary win this season. Sanchez will be central to that happening. Last fixture: D - 0-0 - Liverpool Next fixture: Newcastle (a)

GETTY IMAGES

16/17 2) David Silva (Manchester City) - down 1

Silva is a singular talent in the Premier League. There are others like him - Juan Mata, Mesut Ozil - but neither of those two players has matched the level that Silva can reach when he is on form. Was again excellent in the most recent Manchester City win as Manuel Pellegrini's side maintained their 100 per cent start to the season with victory over Everton. At home to promoted Watford, expect Silva to excel. Last fixture: W - 0-2 - Everton Next fixture: Watford (h)

Getty

17/17 1) Christian Benteke (Liverpool) - up 3

He might not have scored at the Emirates on Monday night, but Benteke continued to show that he brings a different dimension to Liverpool's strike force. A home game against West Ham's leaky defence presents an excellent opportunity to add to his only goal of the season so far, which came at Anfield against Bournemouth. Last fixture: D - 0-0 - Arsenal Next fixture: West Ham (h)

PA
There is, indeed, a sense of a club – and a manager – on the move. Pardew played in Palace's 1990 FA Cup final team, having fought his way into the professional game from non-League. The former glazier, at a club once known at the Glaziers, is a good fit. Both have known hard times, both have been sneered at for their ambition, but both are now prospering.
Saturday will be a test. Pardew, who gets on well with Jose Mourinho, is pleased John Terry is suspended. "He gives them that leadership," says Pardew. "Whenever I see Chelsea I always think he is a lieutenant on the pitch for Jose. Whatever the game-plan, John will remember it and remind one or two. Players forget the game-plan quite easily. I think they will miss that, which is a bonus for us."
Though a Fulham fan as a boy, Pardew used to watch Chelsea as a teenager. They were a sleeping giant back then, too. It has taken a Russian billionaire to revive Chelsea, but Palace, whose owners have flirted with a US consortium already, look increasingly like being a good prospect too, especially when the builders have finished.
Reuse content