Given his history, Alan Pardew can hardly claim to be a man who keeps his emotions under control. Yet if there is a desire within him to put up two figurative fingers when his detractors from Newcastle visit Selhurst Park on Wednesday, the Crystal Palace manager is so far making sure it is a matter for others to speculate about rather than for him to admit.
He says the reunion, coming little more than a month after a Palace welcome mat persuaded him finally to leave all the vitriol behind, will be "emotional", although for meeting friends rather than confronting enemies.
"I've still got all my staff there and my players, and they're close to my heart," he said. "It will be strange because after four years of living every part of that football club and that city it is kind of emotional, so it will be a slightly different game for me.
"I am not expecting or hoping for any reaction from the fans. We had some great times together. It was not so great the last year, but on the whole my experience there was great. I thought I did a good job and I can walk out there with my head held high."
It helps that Pardew will walk out with a record of five wins from six matches since taking charge at Palace, the latest – a 1-0 victory coming through Joe Ledley's header 10 minutes into the second half and secured by goalkeeper Julian Speroni's heroics – leaving Leicester City in deepening peril at the foot of the Premier League.
With only 17 points from 24 matches and perhaps 20 more needed from the final 14, Leicester's survival chances look slim, although manager Nigel Pearson insists his side's fate is far from decided. "You can spend a lot of time worrying about the maths," he said. "Some people look at where we are and say there is no way back. We don't see it that way."
Pearson appears likely to escape sanction after his bizarre clash with Palace's James McArthur, when what began as a friendly tangle following an accidental touchline collision ended with the fourth official intervening when Pearson – responding, he said later, to "something said" by the player – momentarily prevented McArthur from returning to the field.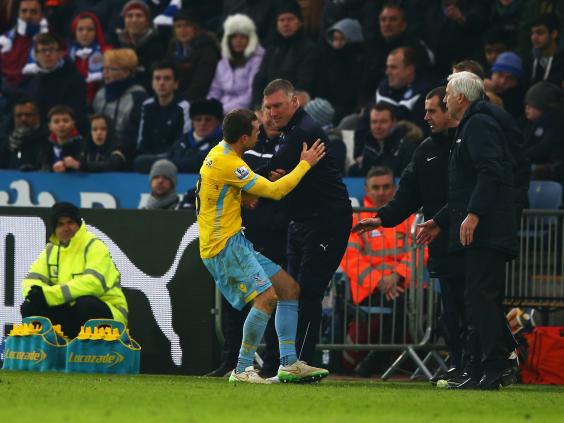 Pearson was warned in December about his conduct after an altercation with a fan landed him a £10,000 fine and a one-match ban. An FA spokesman said no further action will be taken this time unless referee Lee Mason feels the matter was not dealt with sufficiently.
Reuse content