David Fairclough tells a story about a Liverpool reserve team match against Manchester United which puts those little Premier League training ground controversies – Oscar versus Diego Costa, Mario Balotelli versus pretty much anyone – into perspective. 
He was an 18-year-old clambering through the foothills of a career that would one day assign him a place in Liverpool legend, while Tommy Smith, dropped to the second string, appeared to be heading in the opposite direction when they faced the old enemy together. Smith gave him dog's abuse that day in October 1975. 
"If I was up against you today, I'd be able to bring a bloody deckchair on to the pitch and sun myself," he told Fairclough, and it was after the game that the teenager overheard the revered former captain, whom he had idolised as a boy, talking about him to Roy Evans, then reserve team coach. "Little bastard with the red hair" and "deserved a kick up the backside" were the fragments he caught. 
FACT FILE: David Fairclough
Date of Birth: 5th January 1957
Place of Birth: Liverpool, England
Liverpool debut: 01.11.1975
Last appearance: 16.04.1983
Fairclough made his Liverpool debut on the 1st November 1975 against Middlesbrough in the old First Division.
He made a total of 154 appearances for Liverpool, starting his career during the Bill Shankly era, but showed his true worth during Bob Paisley's management reign.
During his time at Liverpool he scored 55 goals, 18 of were as substitute, which famously saw him become 'Supersub'.   
Fairclough scored his first goal for Liverpool against Real Sociedad in a 6-0 win in the UEFA Cup 2nd Round, 2nd leg.
Arguably his most famous goal came against St Etienne in the European Cup Quarter-Final at Anfield. The 20-year-old came on as sub, and scored the goal in front of the Kop, which saw Liverpool progress.
But, England's prototype 'Supersub' never made a senior appearance for the country of his birth, only a single U-21 appearance in 1976.
The red-haired striker scored his one and only hat-trick for Liverpool against Norwich City at Carrow Road in 1990.
In his eight years at Anfield, Fairclough had a trophy-laden career- winning the then old First Division on six occasions, including three League Cups, and five FA Charity Shields.
He started in the winning 1978 European Cup Final team, one of three European Cup trophies to his name, including the UEFA Cup and UEFA Super Cup- all of which came during the 1970's and 80's.
Fairclough went on to represent seven other clubs in countries such as Switzerland and Belgium, before ending his career at non-league Knowsley.
Fairclough, who scored in the match, will tell you in retrospect that the abuse was worth it – even though it felt personal when they shared a pitch at Ayresome Park as he made his first-team debut a few weeks later. Smith was not best pleased when the young forward did not chase a hopeful long ball he had punted. It was Kevin Keegan who jumped to his defence. "Fucking hell, Smithy. Give the kid a chance," he shouted. 
And was there any intervention from the management to prevent a player's self-confidence being shot to pieces? Most certainly not. The point of the story – one of many told by Fairclough in an excellent autobiography which reveals his extraordinary memory for the small details of those great Liverpool days – is that the team policed and ran itself. 
Bob Paisley – with his eye for a player and an opponent's weakness which no manager has come close to matching – pretty much left them to it. The roll-call of arguments and punch-ups is consequently a long and colourful one. Alan Kennedy and Graeme Souness were involved in several. Fists featured. Then everyone moved on. 
It was a British game with a distinctly British culture back then – in Liverpool's case a northern and Scottish game because Paisley's mistrust of southerners meant that he signed none of them. That goes some way to telling us why encounters with United, Liverpool's opposition on Sunday, had something visceral and personal which will be alien to this weekend's sides – Wayne Rooney apart. 
Note there was no question of Smith, who had lifted the League Championship and Uefa Cup just two years before that Central League appearance, treating the reserve team with anything less than deference. "I had been brought up by Shanks to give my all for any Liverpool team," he has since reflected on that game and Bill Shankly.
The encounters with United were fierce, despite the fact that there was "never a fear factor about them", as Fairclough tells it, when we meet at a busy coffee house near his Merseyside home in Formby, where the warmth of the greetings from the clientele, including Everton's Leighton Baines, reveal the obvious respect he commands. 
"They were not one of our strongest rivals but there was always an added competitive edge to this fixture. I don't think we were ever universally hated in those days, except maybe in Manchester…" 
His own career was measured out with big moments against United. The exquisite solo goal which made a fool out of Gordon McQueen in a 3-0 win on Boxing Day 1978; the gilt-edged chance he missed – to his eternal regret – in the victorious 1983 League Cup final which was his Wembley swansong. And the searing disappointment of not featuring in the losing 1977 FA Cup final against Tommy Docherty's United side.
What makes Fairclough's memoir – Supersub – most vivid is its depiction of how it feels to be the perennial substitute. In eight years as a first-team player at Anfield, he played 154 times, and 62 of those appearances came as a substitute. On a further 76 occasions – the equivalent of two modern league seasons – Liverpool's most famous  No 12 sat on the bench and never came on.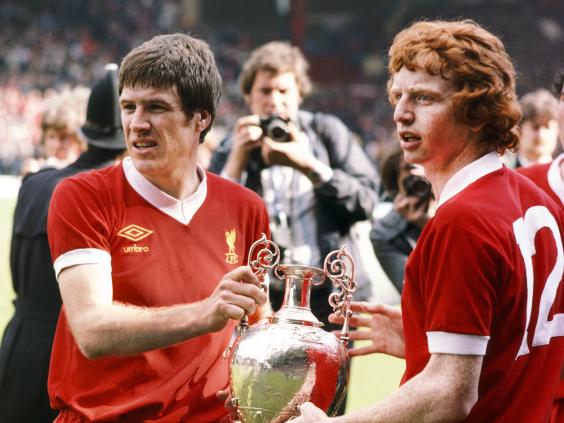 The 1977 final seemed like a big opportunity. He was flying at that time, with the blistering pace which was always his big asset, and Paisley's way of disclosing that he would be missing out was unusual. Fairclough answered a knock at the team's Sopwell House hotel in Hertfordshire and found the manager loitering outside and beckoning him up the corridor to his own room. They had walked three or four paces around the corner and were just over the threshold of the boss's room when he came out with it. "You won't be playing tomorrow. But I will need you in Rome," he said, offering the devastated young man the carrot of a place in the European Cup final against Borussia Mönchengladbach. 
Fairclough had substantially helped put Liverpool there, with his iconic winning goal against St Etienne six minutes from the end of the quarter-final at Anfield.
There would be no place in the Rome squad either – an outcome which, to Fairclough's mind, reflected Paisley's unimpressive way of dissembling when it came to his selection. The prospect of being omitted again from the 1978 European Cup final side against Bruges at Wembley – despite his 19 goals in 29 games that campaign – led Fairclough to write out a transfer request in his Holiday Inn hotel room at Swiss Cottage. He planned to hand it to Paisley if not selected and it was actually in his pocket as he went through his warm-up. 
Liverpool 3 Arsenal 3 player ratings
Liverpool 3 Arsenal 3 player ratings
1/22 Liverpool: Mignolet 5 out of 10

Calamitous as he so often is in the most important games. Could have done much better with the first two goals and rarely seemed to inspire confidence.

2/22 Clyne 4 out of 10

Theo Walcott was invariably going to cut in from the left, so why did Clyne so rarely follow him? A good defender would look to cut off that option but surely even an adequate one might try to stick with him? Not Clyne though.

2016 Liverpool FC

3/22 Toure 5 out of 10

Time and again he was outmuscled by the effervescent Giroud, on whom he simply could not lay a finger. The way in which the Arsenal striker turned him for his side's third typified his display.

2015 Getty Images

4/22 Sakho 5 out of 10

Sakho managed to produce his best and worst moments in a Liverpool shirt throughout this game, sometimes even in the same minute. Seconds after clearing the ball off the line he was easily outmuscled by Giroud, who made it 2-2.

5/22 Moreno 5 out of 10

In an attacking sense there was much to like about Moreno's energy and drive but he failed to get to grips with Campbell, who rarely seemed under any pressure when he had the ball.

2016 Getty Images

6/22 Henderson 6 out of 10

One of the Liverpool players for whom this game came too soon in terms of fitness. He was unable to stamp any authority on the game in an attacking sense though he may well have been his side's best defender by virtue of actually making a tackle.

2016 Liverpool FC

7/22 Milner 6 out of 10

A perfectly acceptable display from Milner, who fulfilled his role of moving the ball on to the attacking players quickly and accurately. The two occasions the midfielder were dispossessed, though, were critical for his side.

2016 Liverpool FC

8/22 Ibe 7 out of 10

Few players have given Monreal, the league's best left-back, the marmalising Ibe inflicted. Time and again he got beyond his man and delivered tempting crosses. He did not have it quite as much his own way in the second period but he had already made a big impression.

2016 Getty Images

9/22 Milner 6 out of 10

A perfectly acceptable display from Milner, who fulfilled his role of moving the ball on to the attacking players quickly and accurately. The two occasions the midfielder were dispossessed, though, were critical for his side.

10/22 Firmino 7 out of 10

He certainly raises his game for the big teams. His first was a poacher's finish Benteke would have done well to reproduce, his gorgeous curling second few could have. He could have had a third in the first half and faded in the second, but he'd already made an excellent impression. Like Lallana though, he must make it last 90 minutes.

2016 Liverpool FC

11/22 Lallana 6 out of 10

Certainly looks a much better player under Klopp than he did with the previous regime and some of his touches, particularly a gorgeous backheel to Milner, brought beautiful flashes to the contest. But it was just flashes; yet again he failed to define the game.

2016 Liverpool FC

12/22 Arsenal: Cech 6 out of 10

A keeper of his quality could, and should, have done much better with Can's early effort. It rasped Cech's palms but did not need to go straight to Firmino. The keeper could of course do nothing about the second and after the opener was as reliable as ever.

13/22 Bellerin 6 out of 10

A quiet first half that was mostly spent trying to repel but his attacking drive got Arsenal's third almost out of nothing. Too often the likes of Lallana managed to exploit space behind him.

2016 Liverpool FC

14/22 Mertesacker 6 out of 10

For 75 minutes Mertesacker struggled to make an impact on the game but in the driving rain of the final minutes he was a colossus, diving in to stop chance after chance.

2016 Getty Images

15/22 Koscielny 6 out of 10

For 75 minutes Mertesacker struggled to make an impact on the game but in the driving rain of the final minutes he was a colossus, diving in to stop chance after chance. Koscielny: 6

2016 Liverpool FC

16/22 Monreal 6 out of 10

Struggled for much of the match with the excellent Ibe, but never stopped competing for the ball, making several crucial interventions at the back post.

2015 The Arsenal Football Club Plc

17/22 Ramsey 6 out of 10

In an attacking sense this was an exemplary performance, grabbing a goal and an assist – and it could have been more. Too often he was careless and unreliable defensively, giving the ball away in his own half or clearing to no-one.

18/22 Flamini 4 out of 10

As Liverpool broke time and again with pace and drive one kept thinking 'where is Flamini'? Nowhere to be found. He may have made his fair share of tackles but he was still far too often at fault with Firmino and company found space outside the area. In the 50th minute he was spotted pressing Simon Mignolet. Is that what he's in the side for?

2016 Getty Images

19/22 Campbell 7 out of 10

Wenger backed his winger as a man for the critical occasions ahead of the game, and he proved just why tonight. A magnificent assist for Ramsey and a crucial role in the third were the key moments in another superb display.

2016 Liverpool FC

20/22 Ozil 6 out of 10

How bizarre that in a game defined by attacking brilliance he was so peripheral for so long. There were of course brilliant touches and the odd pass that nearly paid off but nothing to change the course of the match.

21/22 Walcott 6 out of 10

Really should have booted the ball away in the buildup to Liverpool's first but things got much better after his calamitous start, with his direct running at his opponents creating plenty of chances, particularly in the second period.

2016 Getty Images

22/22 Giroud 8 outof 10

Showed remarkable gumption to not just continue after what seemed a worrying early head injury but to keep competing for balls. Converted with ease to make it 2-2 and scored a goal as great as Firmino's to make it 3-2. We'll just forget that missed sitter shall we?

2016 Getty Images
Fairclough featured, though, and he would not leave Anfield until 1983, when Paisley offered him a new contract on reduced pay, from £600-a-week down to £425. He was still only 26 and his career took him to Canada and Switzerland before he returned home for less successful times with Norwich and Wigan.
In the decades since, there have been players who have reminded him of the Liverpool culture of those days. Luis Suarez – not an individual who is beloved to supporters of this weekend's opponents – is among them, with his refusal to accept substandard contributions on the pitch. 
"If you lost the ball you had to get behind the ball," says Fairclough, who is now 59.  "It used to scare you stiff. You were scared you were going to lose because of the bollocking you used to get off the players. I lose it and I'm here and Ray Kennedy is there and it's: 'What the fuck are you doing?' The players around you were policing it as much as the staff. Getting the bollocking from your team-mates dragged up your level."
Those days feel like an eternity ago. Liverpool and United – who in more recent years have obsessed over the stats and the philosophies, hired managers and then sacked them – could learn something from that beautiful, sometimes brutal, simplicity.
Supersub: The Story of Football's Most Famous Number 12, by David Fairclough. De Coubertin Books. RRP: £18.99
Reuse content