David Moyes' sacking by Manchester United inspired the club's share price on the New York Stock Exchange to climb sharply to its highest point since Sir Alex Ferguson's retirement last May.
The shares had slumped in value on Monday when reports started surfacing that Moyes was set to be axed.
But the official confirmation of his departure was followed by a spike in share price up from 17.72 US dollars to 18.60 dollars in the first two hours of trading.
Analysts believe United's owners, the Glazer family, had reached a point where the team's poor performances were threatening to impact on the club's finances - the anticipated new deal with Nike has been much-delayed.
The decision to axe Moyes and appoint a new manager appears to have won the confidence of investors - perhaps in the belief that the Nike deal will now be confirmed.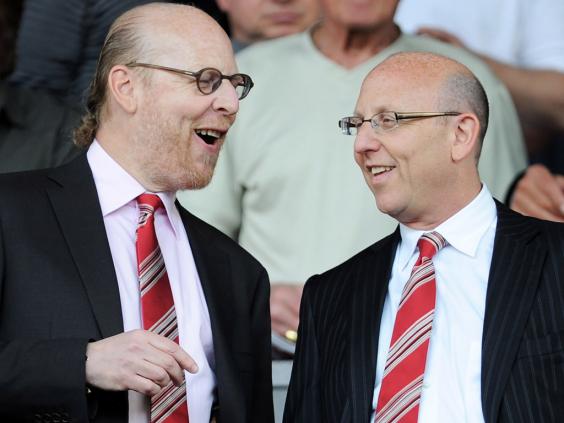 London-based financial analyst Andy Green, who writes a blog on football finance and advises the Manchester United Supporters' Trust, said: "It's telling that there was a level of underperformance the owners could tolerate and a level they couldn't and it's interesting where that level was.
"You can have transition but decline is a different thing entirely and Nike would have not wanted to announce a huge new sponsorship deal while the situation - and the football - has been so dire."
The next Manchester United manager: Those linked with the Old Trafford hot seat
The next Manchester United manager: Those linked with the Old Trafford hot seat
1/10 Jurgen Klopp

Currently the manager of Borussia Dortmund, Klopp coached his team to the Champions League final in 2013. He also delivered back-to-back Bundesliga titles in 2010/11 and 2011/12, despite Dortmund being in the financial shadow of Bayern Munich. All of that was achieved while playing a distinctive attractive style of football. After six years at the club, it could be time for the 46-year-old German to move on, however he has already said he is happy to stay.

GETTY IMAGES

2/10 Fabio Capello

The former England manager has coached the likes of Real Madrid, AC Milan, Juventus and Roma. He now resides over the Russian national team who topped their group in qualification for the 2014 World Cup in Brazil to ensure they are at the biggest tournament of them all for the first time since 2002.

Getty Images

3/10 Louis van Gaal

Dutchman Van Gaal will be leading his national side at this year's World Cup in Brazil. He has taken charge of both Barcelona and Bayern Munich in the past and won the Champions League in 1995 with Ajax. In total, he has won over 60 per cent of his 780 games in management and he's made it very clear he covets a position in the Premier League. Heavily linked with Tottenham prior to David Moyes' sacking.

GETTY IMAGES

4/10 Sir Alex Ferguson

Considering he's at every game anyway, a switch from the stands back to the dug-out doesn't seem inconceivable for Sir Alex Ferguson. It'd certainly be a popular choice among fans having achieved so much success in his long time in charge. The winner of 13 Premier League titles, five FA Cups and two Champions League titles, if there's anyone who can succeed Ferguson, it's Ferguson.

GETTY IMAGES

5/10 Frank De Boer

Although his managerial experience is relatively small in comparison to other potentials, he has already shown he can win domestically. Since taking over at Ajax in 2010, in his first job as manager, De Boer has won the Eredivisie in three consecutive attempts, with his team currently well clear at the top of the league this season. Has been regularly linked with the biggest vacancies in Europe.

6/10 Antonio Conte

Winner of the Serie A manager of the year in 2011-12 and 2012-13 after leading Juventus to the title in those seasons, as well as a Champions League winners medal to his name as a player, Conte has pedigree. Since taking charge in Turin three years ago, the Italian has returned Juventus to the dominant force in Italy, with the club destined to win their third title in a row this term. That kind of dominance is exactly what United crave.

GETTY IMAGES

7/10 Diego Simeone

Simeone has been enjoying much success since taking over at Atletico Madrid. His excellent win rate has seen the club win the Europa League and Super Cup, and against all odds challenge Real Madrid and Barcelona for La Liga title this season. He'd have to hope his history with David Beckham didn't count against him if Manchester United came calling.

GETTY IMAGES

8/10 Michael Laudrup

Despite a rather sudden and messy divorce from Swansea City earlier this year, Laudrup did show he was capable of managing at the highest level. He won the League Cup with the Welsh club, the first major trophy in the club's history, and he did it with a brand of football that won many plaudits. A legend as a player, the Dane has the gravitas for such a huge position as Manchester United manager.

AP

9/10 Harry Redknapp

Currently manager of QPR, Redknapp has often been a fan favourite across English football, winning manager of the year in 2009/10 as well as the FA Cup with Portsmouth in 2008. At one stage he looked a certainty to be the next England manager, only to lose out to Roy Hodgson.

GETTY IMAGES

10/10 Ex-United players

If Manchester United were to choose from one of their own, they would have plenty of ex-players to pick from. Ryan Giggs is the most obvious choice after being installed on a temporary basis after Moyes' departure. Others in management who served as a player under Sir Alex Ferguson include Roy Keane, Ole Gunnar Solskjaer, both Neville brothers and Steve Bruce. Mark Hughes played for United along with Gordon Strachan and Laurent Blanc. While none of them have particularly overachieved in any of their positions, a former player tends to be popular with fans, and can be rewarded with success.

AP
More than half of the United shares on the NYSE - though only 5.5% of the club - are owned by one American investment firm. It was revealed in March that Baron Capital had acquired 57% of the shares - a good investment strategy in the light of the recent surge in value.
United's debt was reported by the club in September as being £389.2million, costing £71million last year in debt servicing. According to Green, the £71million costs means that the total cost to United in interest, fees, bank charges and debt repayments since the Glazers' 2005 takeover of the club now stands at £680million.
PA