Chelsea manager Jose Mourinho has confirmed that star striker Diego Costa will start at the Etihad on Sunday.
Chelsea face Premier League rivals Manchester City in a clash that could eventually play a big part in the race for the title. The Blues beat Manuel Pellegrini's side both times in the league last season, though they lost in the cup, but could still only finish third, stuttering against smaller teams as City went on to win the League.
After Costa did not start in the 1-1 draw with Schalke on Wednesday night, the Portuguese manager revealed that the £32m Spaniard was not yet fully fit and is unable to play more than one game a week.
Costa has an ongoing problem with his hamstring dating back to the end of last season; he came on for the final 20 minutes against the Germans and Mourinho confirmed he will start at the Etihad.
"Everybody is ready to play, Diego is not in the best condition but he will start," Mourinho said at a press conference. "If he plays he won't play against Bolton [in the Capital One Cup next week].
"I know clearly that we have to try to protect him until he gets completely fit."
The City trip is the first of four key domestic fixtures in Champions League weeks for the Blues, who will hope to swiftly find a solution to Costa's niggle.
The trip to Sporting Lisbon is followed by a home clash with Arsenal, Manchester United away follows the Maribor home tie and a date at Liverpool is immediately after the trip to Slovenia.
"In this moment I don't have this problem," Mourinho said.
"He plays Sunday, doesn't play against Bolton (in the Capital One Cup next Wednesday). He plays against Aston Villa Saturday (September 27).
"In this moment decision made. Let's see his evolution, let's hope he comes in the right direction and becomes available to play every game."
Mourinho is preparing for this game no differently than any other but says he has looked at last season's matches at the Etihad – a 1-0 win in the League and a 2-1 loss in the FA Cup.
"It's one more game and three more points but when matches are between title contenders, every point makes a difference," he added.
"We know what it's like to win there and lose there. I watched last season's games to identify the differences."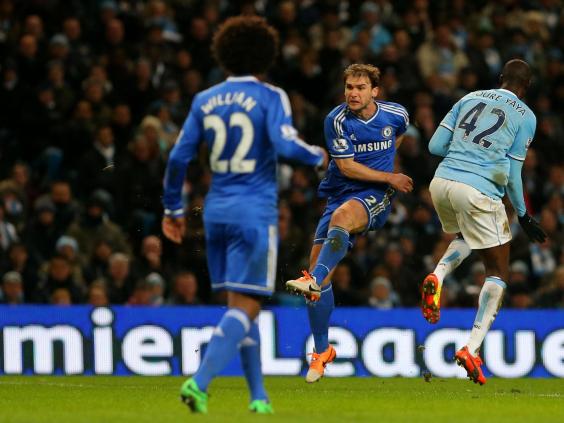 Costa has started this campaign in stunning form, with seven goals in four matches already. Another new signing, Cesc Fabregas, has been earning similar rave reviews with six assists in the Premier League and a goal on Wednesday night.
There is a sense at the moment that Chelsea are the team to beat, although of the four teams they have played two clubs were promoted and only Everton finished in the top half last season.
Mourinho added: "I don't want to compare squads but ours is better than it was last season, we have more solutions. We have a good balance."
"It's always a good time to play against big teams because it makes my job easy. We respect City totally because they deserve it, but we believe in ourselves.
"The perfect situation is to score a lot of goals and not concede, and we have to chase that perfection."
Additional reporting by PA
Reuse content