Emblazoned on the side of the Milburn Stand at St James' Park, at around half past seven on Wednesday night, was a projected advert for Paddy Power. "Kinnear out on a free," it read. "Who said he couldn't do good business?"
Joe Kinnear was pictured in a dunce's hat. Self-mockery. It is leading to fear and self-loathing. Everything is for sale at Newcastle United.
As the advert correctly asserted, Newcastle no longer have a director of football. On Wednesday, as Tottenham tore the heart out of a tired club with a 4-0 win, there was no visible show of power. Mike Ashley, the owner, was, once again, absent. There is still no managing director, following the resignation of Derek Llambias last summer. Graham Carr, the chief scout and second highest-ranking member of current staff, was also not in attendance. There is no suggestion of boardroom fight to turn round their worst run at St James' since 1978.
Newcastle were relegated when they last lost four successive home games. That seems impossible now, despite a run of nine games that have brought seven defeats and seven games in which they have not scored. In November, Kinnear revealed that a controversial bonus scheme had been implemented at the club which would reward every member of staff if Newcastle finished in the top 10. On Boxing Day they demolished Stoke 5-1 and marched into the Premier League top six, six points behind leaders Arsenal. "People keep talking about the Champions League, and there's always no mention of us," said manager Alan Pardew. "I have a wry smile. Great, write us off."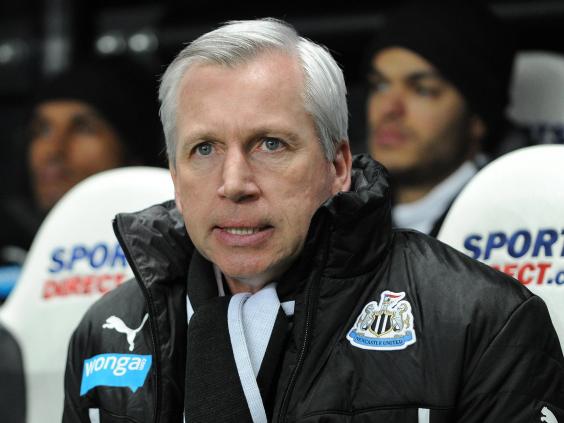 There was no smile late on Wednesday night, wry or otherwise. "Of course I'm not happy," he said. "This is a game where you, as a manager, expect life and limb on the football pitch. I made my views very clear in the dressing room. That's where they will stay. I'm not really going to say too much other than to give a message to our fans to say that wasn't good enough."
The demise has taken only six weeks. Just over a month after talking of the Champions League, Pardew is fighting for his footballing life. In six weeks momentum has halted. Yohan Cabaye, the side's best player has gone, undersold to Paris Saint-Germain, but there is far more than just the sale of one player. There is no trust, no desire nor, because of a power vacuum, accountability. There has been no meaningful domestic cup run for Newcastle in the seven years that Ashley has been in power. Worse, there came the admission from Pardew before another ill-fated derby with Sunderland, with the transfer window still to close, that in eighth place Newcastle were top of their league.
It reinforced a barely hidden desire to avoid the Europa League, which was blamed, rightly or wrongly, for much of last season's woes, when the club was nearly relegated. For the second successive transfer window Newcastle failed to make a permanent signing. It was a statement of non-intent.
The contrast to two years ago remains relevant. Two weeks into 2012, Newcastle were seventh, three points behind fifth-placed Arsenal and three points above eighth-placed Stoke. After heavy persuasion from Llambias, Pardew and Carr, Ashley agreed to sanction the £9m signing of Papiss Cissé from SC Freiburg. Cissé was a revelation, scoring 13 times in the 14 Premier League games he played that season.
By 6 May, with two games of the season to go, Newcastle, who had won seven of their previous eight, were level with fourth-placed Tottenham and one point behind third-place Arsenal. They finished the season fifth. From the outside it looked like a good news story. On the inside, Ashley fumed. Players wanted pay rises. Additional prize-money from the Premier League for moving up two places was just £1.6m. It had cost Ashley £9m. He was out of pocket. The figures did not add up. There was a row with Llambias. Gradual growth and profit, this is the Ashley mantra. With dissenting voices removed, this will be the Newcastle way from now on.
Pardew must rise once more. He cannot question Ashley. He will forfeit his job if he does. But the current loss of form cannot continue. One of the biggest failings this season has been the erosion of relationships with fringe players such as Hatem Ben Arfa and Sylvain Marveaux, who because of injury, suspension and sale the manager has reluctantly turned to. His lot has perhaps never been so low with supporters.
There remain positives for Pardew. He has toed the party line. It is highly unlikely there will be a Europa League campaign to worry about. Cabaye left and the manager did not complain, and, as was the case when Kinnear was parachuted into the club last summer, there is a substantial pay-off on his lengthy contract that Ashley is not keen to hand over to change manager.
It is football as a business, as Paddy Power – who have Kinnear as 9-1 to be the next Newcastle manager – know all too well.