On Sunday afternoon, the men of Manchester City face a test of nerve and resolve with a Premier League trophy at stake. Next month, the club's next generation of footballers will endure examinations of their own. Their prize, however, is far greater.
Charlie Oliver is 16 and plays centre-half for Manchester City's academy but, rather more importantly, he is taking the seven GCSEs which could shape his future should it lie outside football.
Even those footballers who have scaled the very peaks of the sport look back on their education with a wistful sense of opportunities missed. Wayne Rooney published his school reports from the De La Salle Comprehensive in Liverpool. His general target in 1999 was "to get to class without any distractions, ie gambling". The young Wayne achieved zero per cent in his Spanish exam which may have been one of the reasons he never did move to Real Madrid.
Roy Keane, growing up in the bleak northern suburbs of Cork, found himself on a course for those without school qualifications where the prize was a rare semi-skilled job in a tanking Irish economy. Keane ended up walking his dog and watching Neighbours before the big break with Nottingham Forest came.
Keane now regards his schooldays as one of his deepest regrets. "Today, kids are smarter – or they should be," he wrote in his autobiography. "An education and a career in football are not mutually exclusive options."
Keane has close links with a school behind whose red-brick walls lies what could be the best school football team in the world if it were ever allowed to play as one.
He has hosted charity events at St Bede's College, where Manchester City educate their academy players and to boys like Charlie entering it for the first time must have been intimidating. The entrance hall has a mosaic floor on which is entwined a Latin greeting. Victorian paintings gaze down from the walls and at the heart of the school is an ornate Catholic chapel, where Roberto Mancini prayed before City won the title with the final kick of the season. It is a place where education and history matter.
In one respect, St Bede's was less forbidding than City's training ground at Carrington. The 18 boys whom the club had pre-selected to be educated here came as a group. For their first visit to Carrington, they came alone.
"We were told straight away that we might not make it as footballers and that the education we would get here might be our lifeline," says Charlie. "I was eight when I first came to City. I have been at the club half my life.
"When you are eight you are told that you are only coming to play football; you don't think about the implications. It's fine; they don't talk to you about education, they just want you to play. It was when I was old enough to go to secondary school that the club talked to me about education."
Dr Andrew Dando, St Bede's director of studies, was the man City approached when they decided that all their academy players would be educated in one place. "Because we are an independent school we are just that little bit more flexible," he says. "We start relatively late and we finish relatively late and we are perhaps a bit more used to dealing with the unusual.
"But, educationally, we live and die by our statistics, so it is crucial that these lads get good results because they will affect our league table. But we know what course work they miss and we can plan around it. When the boys had to go to a tournament in Qatar, the club paid for a teacher to go with them."
At a time when City are being castigated for "buying the league" and are under investigation by Uefa for breaking Financial Fair Play rules, this is the other side of a club that are investing heavily in education both here at St Bede's and in a purpose-built Sixth Form College close to the Etihad Stadium as part of the regeneration of the area.
Initially, there was some resistance from parents of existing pupils at St Bede's who wondered what benefits 18 young footballers might bring to a highly-academic college. "We had some baseline tests done on pupils when they first came in and the first cohort City sent to us was above average intelligence," Dr Dando adds. "A Norwegian university did a study that found that professional footballers in that country were more intelligent than the average member of the population.
"If you think about it, it's not surprising. Their spatial awareness had better be pretty good, they have to make rapid decisions and analyse huge amounts of data. You may have some who don't show a great deal of sense off the pitch but, essentially, they are pretty sharp."
When the England Under-21 manager, Gareth Southgate, was growing up, he chose not to do A-levels, although they were well within his compass. He reasoned that the boys in Crystal Palace's youth teams who were doing A-levels "had an out". If they did not make it as professionals they would probably have a reasonably well-paid career. Subconsciously they knew it and the coaches knew it and when it came to dropping a player, Southgate felt it was invariably the A-level students who suffered, perhaps because Palace's coaches knew they did not need football quite so much.
"We are much more aware of keeping young footballers' minds active than we were then," says Mark Adams, City's head of education. "If their minds are active, they are more likely to make the right decisions when under pressure. The average age for a Premier League debut is now 21. So they might have a career in the game but they might need to be more patient.
"We have always had boys that studied A-levels – Micah Richards was one. Boys used to come to us on a day-release but that was quite disruptive because they would all be missing different subjects. With the boys in a full-time programme, we can manage what they do and when they do it."
Of the intake of 18 who came to St Bede's three years ago, 12 have been offered scholarships by City. Charlie's scholarship will involve two years of playing for City's Under-18s combined with A-levels or, more probably, B-Techs. "When I first came here I was going home shattered," he adds. "Now I've got into the rhythm of it. I have thought about what happens if I don't make it as a professional and I'd like to be a physio. My brother is studying to do that at university. Sport is what I've known all my life and doing that would keep me in it."
They are not, incidentally, allowed to play for the St Bede's football team. "It would be lovely to have them," says Dr Dando. "But I think, having invested so much in these boys, City wouldn't want us to muck it up – and I'm sure other schools might object."
How City reject Mike went back to school and qualified for the law
It was a good time to think about quitting football. Adie Mike's club, Doncaster Rovers, had just finished bottom of the Football League and their chairman, Ken Richardson, had responded by trying to burn down the main stand of the very inaptly-named Belle Vue to collect on the stadium's insurance. Richardson would soon need a lawyer, which curiously enough is what Adie Mike became.
It was May 1998, three years after he had left Manchester City and Mike, still only 24, had been drifting down through the divisions, Stockport, Hartlepool, Northwich Victoria (below) and now he had hit bottom. He was one of those generations of footballers for whom qualifications only mattered when it was too late.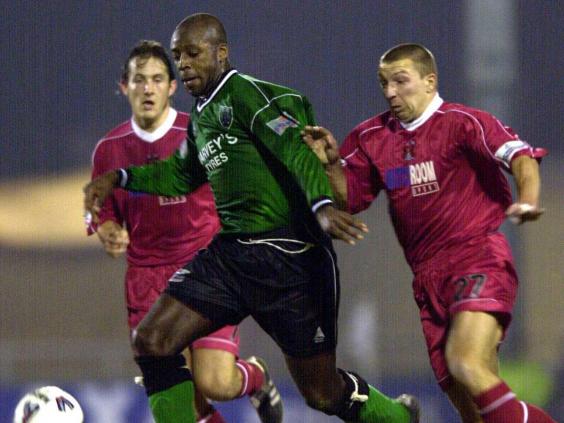 "It had been the last thing on my mind," he says. "You go through the youth team at 16, you get your first professional contract and, though you do a day-release at college; that is it.
"You just think you are going to have a great career and that things will happen for you. Money was just starting to come into football. I'm the same age as Ryan Giggs, so if I had made that breakthrough, you do wonder what might have happened. But I think any footballer in League One or below should ask himself very early on what he's going to do when it's all over."
Even with the money, life after sport is problematic. A survey by Sports Illustrated revealed that three-quarters of former NFL players are "financially stressed" two years after retirement. The Premier League does better – the figures are three in five.
Mike began doing the kind of job that part-time footballers are supposed to do – working as a fitness instructor at Club Motivation in Wilmslow. "I was so used to people shouting at me from my days in professional football but I went the other way as a personal trainer – I was far too gentle." he says. "In football, then, there was very little sports psychology. You just shouted at people."
Then, Mike became involved in another business that had footballing connections – hiring out private jets, something he still does. "I always wanted to work for myself. My dad was self-employed; he worked as a welder in Harphurey [one of Manchester's most unforgiving districts].
"I don't own the jets, I just act as broker. I have quite a few clients, some who play for City and a few local businessmen. It's mainly Spain – Malaga, Tenerife or golf at La Manga. I source the plane, the flights and the accommodation, meet them at Manchester Airport and wave them off, thinking that one day this will be me getting on board."
A chance meeting with Colin Murdock, once on Manchester United's books but now a sports lawyer, ended with some advice to study law. Mike enrolled with BPP, the country's largest private law school. He graduated last summer.
"It was tough, a condensed course crammed into two years," he says. "Two years of study, exams, study, more exams. In the second year I had a hip operation, so I had to study from home. It was wear and tear from football. I had a hip replacement and I wasn't even 40.
"I specialised in contract and intellectual property with BPP. The hard part is getting a training contract or pupillage. I know it is hard work but there is a part of me that would really fancy being a barrister. You have to perform in public, like you do as a footballer."
Tim Rich