The older brother of Emmanuel Adebayor has claimed that "Muslim spiritual men" have "brainwashed" the Tottenham striker into thinking that their mother put a curse on him.
Last month Adebayor, who has scored just two goals in 12 matches this season, claimed that he cut ties with his mother, Alice, because she was using Juju - a form of African witchcraft - on him.
But older brother Kola, 42, says he has left his mother heartbroken.
"[Emmanuel] has been brainwashed by these Muslim alfas - spiritual men - who prophesise when he scores goals and why he is not playing well," Kola told the Sun on Sunday.
"They have convinced him his sister and mother put juju curses on him. My mother is very sad. Every day she is crying. I just talked to her on the phone and she was crying again."
Adebayor was accused by his sister Maggie of kicking Alice out of her house in Africa because she was using Juju; Maggie claimed that Alice was selling "polythene bags, padlocks and other things" to provide for her family.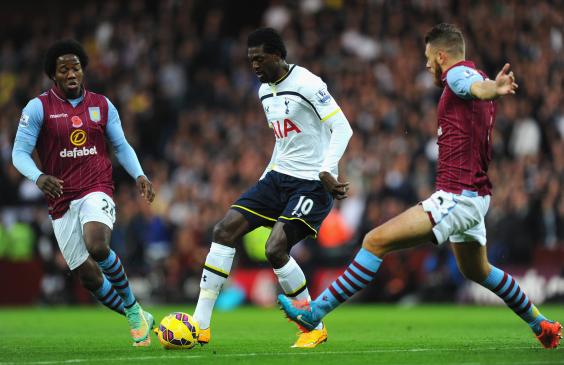 The Tottenham striker refuted the claims, telling Ghanaian radio station Peace FM: "I never sacked my mum from the house. She decided to leave the house.
"How am I going to be in touch with my mum if my mum is the one telling everyone that my work will not go forward, so I will just be on my side and do my thing.
"They should stop talking, they should stop doing Juju on me, they should leave me alone. I bought a $1.2m house in East Legon for the one talking and calling herself my sister. Can you imagine that sister went to rent the house without my knowledge?"
Kola, a truck driver in Germany, told the paper that he sends his mother €400 a month to sustain her. He claims that the striker cutting ties has "left our family in poverty".
"If you are really a man of God then you have to catch our mother and prove she is a witch,' he added. "Otherwise you are just lying to Emmanuel and taking his money."
Reuse content