Dangling above Neil Robinson on a telephone wire, a pair of Rockport boots are tied together by their laces next to some Crocs fastened by straps. To his side, rows of neatly appointed terraced houses face each other. Just behind him, as he stares in the direction of Walton Lane from Diana Street, is Goodison Park's ancient Bullens Road stand.
If asked to describe a classic image from one of Liverpool's inner city boroughs, many would surely think of this. Not much has changed here since Everton moved in 124 years ago and when Liverpool supporters turn up on Monday night, entering through the narrow Bullens Road turnstiles, it is likely that old jokes will be made about it being like going back in time. Jegsy Dodd, the performance poet and Anfield season ticket holder, once compared the Bullens, with its obstructed views, to a 'pirate ship's galleon,' because of the timber and wood features that have helped tape the structure in place since 1892.
Soon, though, the moment will arrive for Everton to go elsewhere. The Independent understands it is likely an announcement will be made about that in the next three to four months, with building work on a new site expected to start before the end of 2017.
The spot at the Bramley Moore dock on the banks of the Mersey where the river oozes out into the Irish Sea, is favoured over Stonebridge Cross in Croxteth where there is a concern that Everton might end up feeling left hidden on the edge of the city boundaries, despite the extra room.
It seems lessons have been learned following the collapse of an unpopular switch even further away to Kirkby in 2009. It is significant that despite the transport challenges posed at Bramley Moore, the location potentially rejuvenates an impoverished but once proud working-class waterfront quarter and subsequently a new landmark would rise across Liverpool's skyline, enhancing Everton's brand identity.
Everton's departure from Walton, however, would be of deep consequence for many and in a sporting sense, no-one more so than Robinson, whose name will be inscribed into the history books forever as the Everton footballer who lived closest to Goodison Park as a child.
Robinson spent the first four years of his life with six brothers, a sister and as many as five other relatives in a rented four bedroomed terrace at 45 Spellow Lane, pronounced locally as 'Spella,' which is well known for its pub where Evertonians still spill out of on match-days.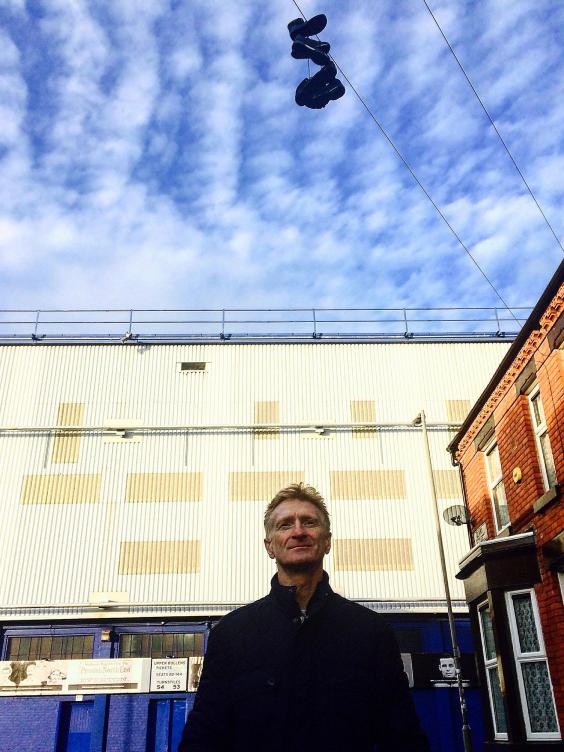 Today, Neil lives in Widnes but it does not take much for the memories to flood back as we walk together with John, one of his brothers, around the surrounding streets on Wednesday morning, hours after Everton's spectacular late victory over Arsenal.
"I love this place," Neil says, pointing upwards at Goodison's three-tier main stand, which stoops over the smaller terraces like a grandfather shielding three innocents. Neil and John speak proudly about another sibling, Sir Ken Robinson, the world renowned author and voice on education, who lives in Los Angeles now.  "I reckon we were all inspired by Everton in some way, living here, how couldn't you be?" Neil continues. "We went to Gwladys Street Primary School, on other side of the ground. We had everything we wanted in the world in one place as kids."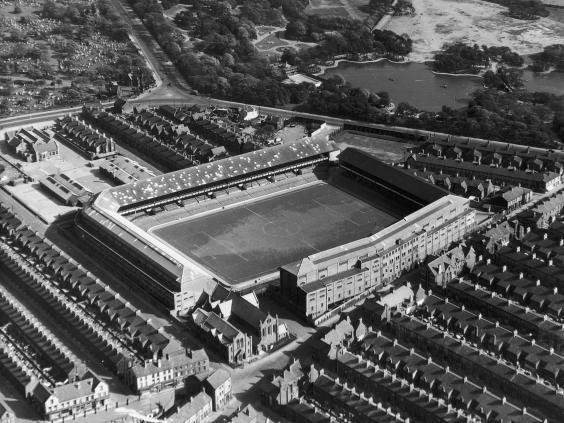 Life was not easy for the boys' father Jim, though. Neil was two-years-old when an industrial accident saw him confined to the lower floor of Spellow Lane as a quadriplegic. This happened in the early 1950s just a few years after he missed out on a job as permanent pub manager of the famous Winslow Hotel, just over the road from the main stand, because Norman Greenhalgh, Everton's left back, had retired, the club had contacts at the brewery and this was not an era where football created a nest egg.
"Norman was appointed instead. My dad worked in different places but a few years down the line he was at the Kodak factory in Kirkby and that's where the accident happened," Robinson recalls. "It was very difficult for him at Spellow Lane. All his mates used to walk past on their way to the game. They'd knock on the window. 'Alright Jim…' But he was stuck there…"
Considering too that Jim Robinson saw his son play just one Everton reserve game live because there was only provision for five disabled people at Goodison Park when he broke into the first team and spaces then were filled by season ticket holders, there is no sense of resentment from Neil at all.
"It was his dream for one of us to play for Everton," he reasons, recounting the moment he signed his first professional contract. "The club sold Colin Harvey to Sheffield Wednesday on the same afternoon. We were all such huge Evertonians that I told my dad the news about Colin before my own. He was devastated and overjoyed – we both were…"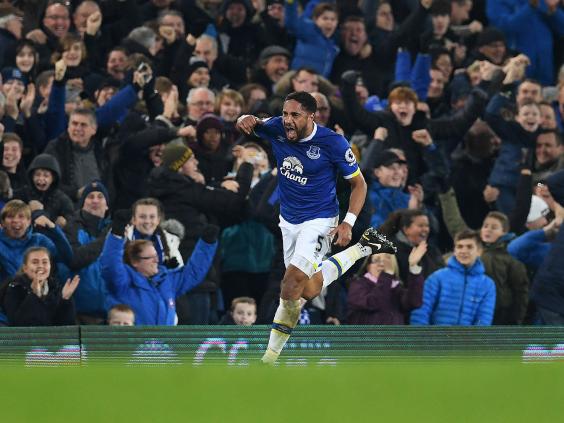 By the time we reach the end of the stadium where Robinson – a right-back – scored the only goal of his 17 game Everton career (the achievement was eclipsed that day in 1977 because Bob Latchford took his tally to 30 for the season during a 6-0 victory over Chelsea), he is thinking about the future and what leaving Goodison means both for the club he loves and for thoroughfares like County Road, where the survival of the shops and the pubs are linked to the existence of a major football team being based nearby.
In front of him, there is rust on the corrugated metal that protects the brickwork on the back of the Gwladys Street stand. He wonders whether Everton could rebuild, like their closest rivals have done.
From the vast windows on the top tier concourse of Anfield's new main stand, the views stretch across Merseyside and out as far as the wind turbines in Liverpool Bay. Goodison is much closer, less than a mile away: across Stanley Park, gently down the hill. When seen from here, Goodison appears tiny. When seen from Goodison, Anfield appears enormous.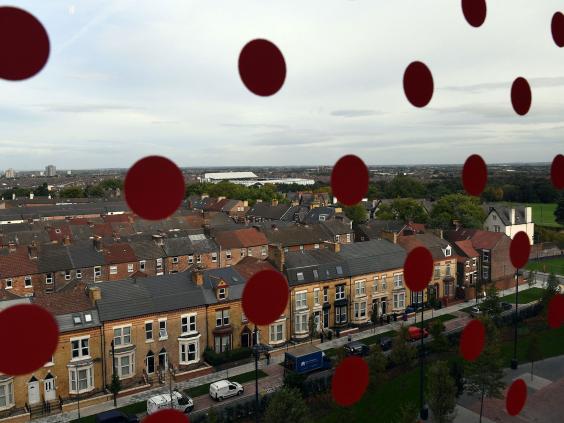 The redevelopment of Anfield, however, has arrived at a considerable social cost. Two decades of delay has led to a wider decay. David Fairclough, who like Robinson, grew up closest to the ground of the team he supported and ended up representing, tells stories about his early teenage years; hanging out at the petrol garage owned by Gordon Wallace and Peter Thompson – Liverpool first team players, where Bobby Graham, the Scottish forward, once handed him a match programme. That land is flattened now and sadly, in keeping with much of the waste ground nearby. Many of the roads around Anfield have simply been wiped off the map. "Maybe the area can recover now they've finally got the main stand built," Fairclough speculates. "It was very important, though, that Liverpool stayed. Aside from all of the famous moments, the ashes of lots of people are buried underneath the pitch. Some things are sacred."
Robinson, similarly, would like Everton to remain where they are.
"I'd take that option if it was there, oh, that'd make me very happy…" he says. "All that history is going to be lost otherwise. The record books will say what Goodison was and memories would still be there for a while but over time, they'll fade.
"It'd be great if they somehow kept it as a museum or a place for the reserves to play. It's such a shame it will probably get knocked down."
Reuse content