Behind his surface optimism about a side who have at least rediscovered the concept of the clean sheet, Phil Jagielka must have wondered how on earth it came to be that today's Merseyside derby conversation contains the words "Everton" and "relegation zone".
Last season Everton were entertaining talk of the Champions League. Now they are in the bottom half of the Premier League table, six points off 10th and 12 behind Liverpool. "No, it's not make or break," Jagielka insists. "As far as the points situation and where we are in the league, if we get a win it won't change that much."
That is an optimistic interpretation, with trips to Chelsea and Arsenal two of their next three Premier League games. Lose all three and Everton could be back in the relegation mire they were flirting with before last weekend's win at Crystal Palace – only their second in 14 games in all competitions.
The progression of both sides since last season, when their managers looked the epitome of modernity, has been disappointing but Liverpool have rallied in the past few months. Everton have, frankly, been found out; the intricate, possession-based build-up which damaged teams last season is something opponents are now willing to let Roberto Martinez's players try to their hearts' content. Sides sit back and hit Everton on the counter-attack. It has felt like second-season syndrome for the manager.
Everton vs Liverpool combined XI
Everton vs Liverpool combined XI
1/10 GK: Simon Mignolet

This isn't exactly a vintage tie for goalkeepers with the Belgian struggling this season, though he has been much improved in recent weeks. Tim Howard, out through injury, would run him close despite a poor season of his own, while Joel Robles is a weak link for the Toffees.

Getty

2/10 DEF: John Stones

The demise of Sylvain Distin has been sad to see but Stones has all the tools to be a top-class defender in the future, for club and country. He is a little over-confident in possession sometimes and can get caught on the ball. Mamadou Sakho has all the physical tools to succeed in the Premier League but is too prone to lapses in concentration.

Getty Images

3/10 DEF: Martin Skrtel

Phil Jagielka's poor form is one of the biggest reasons Everton have slipped so far this season, the England man was a rock last year but has really struggled this term. Skrtel has his critics – he's slow and not the most comfortable on the ball – but he is a solid defender.

Getty Images

4/10 DEF: Leighton Baines

The England left-back is probably Everton's biggest attacking threat, with great set-piece delivery and an unbridled willingness to get forward. Defensively he is suspect, however, but his eight assists push him past the improving Alberto Moreno.

GETTY IMAGES

5/10 MID: Lucas

The Brazilian holding midfielder is not quite back to his very, very best, but he is close. Lucas has been pivotal in Liverpool's return to form, providing the perfect screen for the defence and allowing their other players to push forward without hesitation. Besic has improved as the season has gone on – and out-performed Gareth Barry - but is not quite up to Lucas' level.

Getty Images

6/10 MID: Steven Gerrard

In the battle of the geriatric former England midfielders, Gerrard edges past Barry. Back when these teams met in September Barry would have been picked but he has regressed hugely this season after his brilliant loan spell last year. Gerrard was suffering at the start of the season but has improved since being pushed slightly further forward by Rodgers.

Getty Images

7/10 MID: Jordan Henderson

Another anomaly sees central midfielder/jack of all trades Jordan Henderson face-off with out-and-out winger Kevin Mirallas. Lazar Markovic might have battled Mirallas but he has been ruled out of the game. The Belgian Mirallas has been seemingly trying to find a way out of Goodison Park in the last month and needs to show the form and goals to match his clear talent. Jordan Henderson is one of Liverpool's most important players, providing drive and energy from midfield, as well as filling in as a wing-back when needed.

Getty Images

8/10 FW: Philippe Coutinho

Since suffering the injury that kept him out of the World Cup in the summer, Ross Barkley has unfortunately not been the same player. Where he scored six goals last season he has just one so far this term. Coutinho can drift in and out of games but has undoubtable match-winning talent; as shown by the fantastic goal he scored against Bolton in midweek.

PA

9/10 FW: Raheem Sterling

In Daniel Sturridge's absence Sterling, still only 20, became Liverpool's most important player. He has six goals in his last 11 in all competitions and provides a direct, lightning fast threat that defenders hate to deal with. Steven Naismith is an important player for Roberto Martinez, and can be a match-winner, but even the most blue-nosed Everton fan would gladly swap him for Sterling.

EPA

10/10 FW: Romelu Lukaku

Picking the Belgian ahead of the England striker was easily the hardest decision to make and could go either way. Lukaku has not played like the £28m striker Everton thought they were getting in the summer, with just 10 goals in 31 matches so far this season. But Daniel Sturridge, as good as he has looked on his return, has played just 50 minutes of football since his return. Lukaku needs to live up to his hefty price-tag if Everton are to win this game and improve during the rest of the season.

Getty
He has varied the approach on occasions, most notably by using the long diagonal ball to good effect in the 1-1 draw at Anfield in September. But there have not been a great many adaptations to the type of football he likes to play.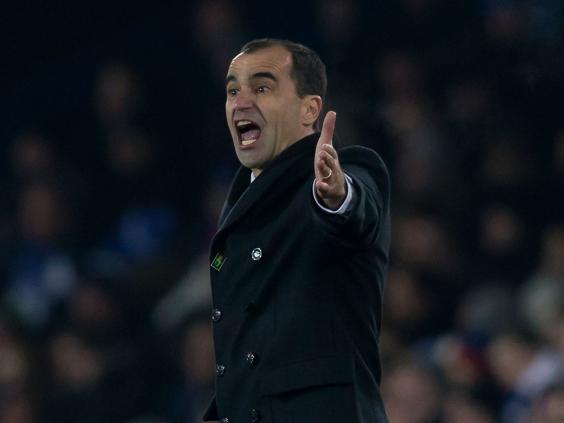 Brendan Rodgers, for whom today will be his 100th Premier League game in charge at Liverpool, has shown greater flexibility. His side's 3-1 defeat at Crystal Palace in November left him looking devastated and it was the following week, at Old Trafford, that he first employed the new 3-4-3 system which has turned the team around.
Rodgers can reflect, heading into the weekend, on that new system. "I had to arrest the [negative] momentum," he says. "I had to find a way that was going to provide the identity and restore the principles of the team… It was looking at each individual player and looking at where I can get a way of working how we want to work with [each one]. It is not a simple system but, once the players understand it, we have good balance in the team. Offensively, we are creating chances. We can be more clinical. But we don't look like conceding many."
It is a variation on an idea he once tried at Swansea, where he described it as a "three-diamond-three" – though now the central shape is a square. The Swansea formula featured a three-man front line, with Danny Graham playing in between Scott Sinclair and Kieron Dyer, both of whom were pinned to the wings. On Merseyside, Philippe Coutinho and Adam Lallana are encouraged to operate as inside forwards, with Raheem Sterling central. But it is in the muscular defensive addition of Lucas Leiva that Rodgers has gone most against his instincts. Martinez has been slower to accept that the same pragmatism is necessary.
Rodgers has also shown adaptability by returning to Mamadou Sakho,  who walked out of Anfield before September's derby after he was not named in the squad but is now one of the three central defenders made to look far more secure by the new 3-4-3 system.
"We spoke about it," said Rodgers. "Listen, I'm a coach that never turns his back on a player, especially when the player is committed. Everyone will make mistakes. We all do in life. But if people show me they care enough [it's different]. I knew that he cared."
Everton could have midfielder James McCarthy and goalkeeper Tim Howard back in contention for today, while Rodgers deliberates over whether to start with Daniel Sturridge in the derby or against Tottenham on Tuesday, with the latter seeming to be his preference. Lazar Markovic and Lucas face late fitness tests.
Liverpool require a win to maintain their push for "not just fourth, but beyond that", as Rodgers puts it. Everton require a win to stop looking over their shoulders. Their needs are laced with the greater anxiety. "No matter how the season is going, when these games come, if you can pick up a win it spreads a lot of cheer throughout the supporters," says Jagielka. "They've not had too much to get excited about in the league. We're desperate to give them something to cling on to."
Reuse content