Gary Neville has risked infuriating the Football Association by defending Jack Wilshere's foul-mouthed chanting during Arsenal's FA Cup victory parade.
Following the Gunners' victory over Aston Villa at Wembley last May, the Arsenal players took to the streets of north London to celebrate. Wilshere in particular looked worse for wear after a heavy night out and when handed the microphone to address supporters, used the opportunity to goad rivals Tottenham with the help of some fruity language.
The England midfielder's actions landed him in hot water with the FA, who fined Wilshere £40,000 and gave him a severe warning as to his future conduct after the 23-year-old admitted a charge of misconduct.
The statement from the FA read: "Wilshere was found guilty of making and/or inciting certain comments during the club's open bus trophy tour after their FA Cup Final victory, with his conduct deemed to be improper and bringing the game into disrepute."
Arsenal FA Cup victory parade
Arsenal FA Cup victory parade
1/9

Jack Wilshere and Theo Walcott

GETTY IMAGES

2/9

Arsene Wenger with the trophy - the 12th in Arsenal's history

GETTY IMAGES

3/9

The Arsenal players aboard the bus

GETTY IMAGES

4/9

Fans brave the weather to take part in the parade

GETTY IMAGES

5/9

Fans brave the weather to take part in the parade

GETTY IMAGES

6/9

Arsenal with the trophy

GETTY IMAGES

7/9

Mikel Arteta addresses the crowd

GETTY IMAGES

8/9

Aaron Ramsey aboard the bus

GETTY IMAGES

9/9

Jack Wilshere puts the trophy on his head

GETTY IMAGES
However, it appears Neville disagrees with the ruling, a position that considering his role as assistant England manager could lead to friction between the former Manchester United captain and his employers.
"When Jack Wilshere swore on a bus ride, I actually thought it was one of the best things I've seen from a football player in the last five or 10 years," he told Sport magazine.
"If I was a manager of players that all had that passion... Alright, they'd obviously been out the night before.
"But the reality of it is we cry out for players to have passion, and yet we are quite critical of them when they display passion."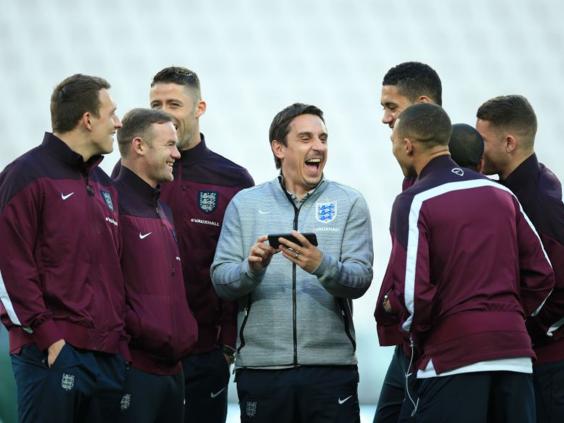 Neville often found himself in trouble during his career, memorably for goading Liverpool supporters.
Reuse content