Gary Neville has lamented the lost art of defending in the Premier League - and believes it's not coming back.
Writing in his column for the Daily Telegraph, the long-time England and Manchester United right-back says that there has been a "permanent change" in the sport that points to more attacking play and worse defenders.
Neville also points to the way coaching has changed from a defensive mindset to a technical one.
"With old school coaches, 60-70 per cent of your training ground work would be defensive," he writes. "Where your foot would be, the position of your hips, how often you would have to turn your head to avoid ball-watching. I compare it to a musician stripping a song back to its elements.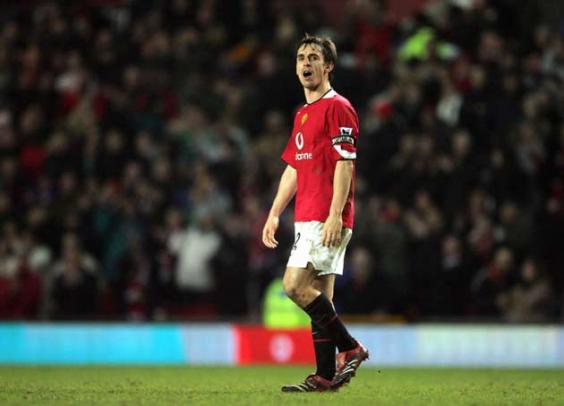 "I started off with a high defensive base. Players now are starting out with a high technical grounding and learn the defending later."
Neville, explaining various techniques his coaches at Manchester United and England would employ, says the approach is that of "apples and pears" compared to what he experienced as a player.
"My era of men who retired around 2009-2010 were the last crop of predominantly defensively-trained players. Coaching has shot off in another direction, towards the technical. I've had that confirmed by people at academies. The technical and attacking work is now around 80 per cent with 20 per cent reserved for defensive skills.
"Plainly the rule changes have contributed. Constraints on tackling have made it tougher for defenders. Grappling in the penalty area is hot news this week so you can expect that to be stamped out.
"The minimum standards have dropped sharply. When I was brought through from 1991-94, if a full-back allowed a cross it was a crime. Nowadays it barely seems to register."
Neville, now a coach in Roy Hodgson's England set up, continues: "I look at some teams and feel: they don't know how to defend. They struggle with crosses, they don't deal with set-pieces, they don't know how to work one on one. They have a weak understanding of the game."
However, the pundit does argue that the lack of defending has led to more exciting football.
"The speed of the game is so much greater. The technical level is fantastic. It's electrifying. And perhaps the very bold formations and big scorelines of the 1940s and 50s are what we are heading back to.
"Maybe attacking football was in hibernation during the 70s, 80s and 90s, when organisation and structure prevailed. Maybe now we are seeing football as it was intended."
Reuse content