The Glazer family has been accused of draining £1billion from Manchester United and wrecking the club's chances of dominating Europe.
The Manchester United Supporters Trust (MUST) chose the 10-year anniversary of the Glazers' takeover to launch a fresh attack on the American family.
The Glazers' £790million leveraged buyout of United in 2005 caused uproar among the club's fans and sparked the creation of breakaway club FC United.
Ten years on, MUST is still unhappy about the way the family borrowed against the club to finance their takeover.
"Not investing a single penny might be considered an 'ownership crime' by fans at most clubs but far worse than that they (the Glazers) have actually extracted colossal sums from Manchester United," MUST said in a press release.
"When all interest and charges on their leveraged buyout is added up, plus money they've paid themselves, plus related debt still on the club, they've taken more than £1 BILLION and it's still rising.
"No owner in the history of football in any country, ever, has taken so much money from a club."
Manchester United signings made in the Glazer years
Manchester United signings made in the Glazer years
1/18 Summer 2005

Edwin van der Sar - Fulham - £1m Park Ji-Sung - PSV - £4m Ben Foster - Stoke - £1m

GETTY IMAGES

2/18 January 2006

Nemanja Vidic - Spartak Moscow - £7m Patrice Evra - Monaco - £5.5m

GETTY IMAGES

3/18 Summer 2006

Michael Carrick - Tottenham - £18.6m

GETTY IMAGES

4/18 Summer 2007

Owen Hargreaves - Bayern Munich - £17m Anderson - Porto - £27m Tomasz Kuszczak - West Brom - £2.1m Nani - Sporting Lisbon - £25.5m Carlos Tevez - West Ham

GETTY IMAGES

5/18 January 2008

Manucho - Petro Atletico

GETTY IMAGES

6/18 Summer 2008

Rafael Da Silva - Fluminense Fabio Da Silva - Fluminense Dimitar Berbatov - Tottenham - £30.75m

GETTY IMAGES

7/18 January 2009

Zoran Tosic - Partizan Ritchie de Laet - Stoke

GETTY IMAGES

8/18 Summer 2009

Luis Antonio Valencia - Wigan - £16m Michael Owen - Newcastle Gabriel Obertain - Bordeaux - £3m Mame Biram Diouf - Molde

GETTY IMAGES

9/18 Summer 2010

Chris Smalling - Fulham - £10m Javier Hernandez - Guadalajara Bebe - Vitoria - £7.4m

GETTY IMAGES

10/18 Summer 2011

Phil Jones - Blackburn - £16.5m Ashley Young - Aston Villa - £17m David de Gea - Atletico Madrid - £18.9m

Getty Images

11/18

Frederic Veseli - Manchester City

12/18 Summer 2012

Nick Powell - Crewe - £4m Shinji Kagawa - Borussia Dortmund - £12m Robin van Persie - Arsenal - £24m Alexander Buttner- Vitesse Arnhem

GETTY IMAGES

13/18 January 2013

Wilfried Zaha - Crystal Palace - £15m

GETTY IMAGES

14/18 Summer 2013

Guillermo Varela - Penarol - £2.4m Marouane Fellaini - Everton - £27.5m

EPA

15/18 January 2014

Juan Mata - Chelsea - £37.1m

GETTY IMAGES

16/18 Summer 2014

Ander Herrera - Athletic Bilbao - £29m Luke Shaw - £27m Andreas Pereira - PSV Eindhoven Marcos Rojo - Sporting Lisbon - £16m Angel Di Maria - Real Madrid - £59.7m Daley Blind - Ajax - £13.8m

GETTY IMAGES

17/18 January 2015

Victor Valdes - Barcelona

GETTY IMAGES

18/18 Summer 2015

Memphis Depay - PSV Eindhoven - £25m

GETTY IMAGES
Despite the controversy surrounding the Glazers, United have enjoyed success on the pitch under their stewardship.
In the last 10 years they have won the Barclays Premier League five times and in 2008 they lifted the Champions League for the third time in the club's history.
MUST says had it not been for mismanagement from the Glazers, United would have eclipsed Liverpool's British record of winning the competition five times.
"When the Glazers took over in 2005 we already had an exciting young squad including Cristiano Ronaldo and Wayne Rooney," the MUST statement added.
"With continued investment that squad should have gone on to dominate Europe for years but the Glazer era squandered that golden chance and although still successful on the pitch it has to go down, in Europe in particular, as a decade of wasted opportunity.
"United should have knocked Liverpool off their European perch too by surpassing their five European Cups.
"It seems very likely we would have done had it not been for financial austerity imposed by the Glazers' ownership."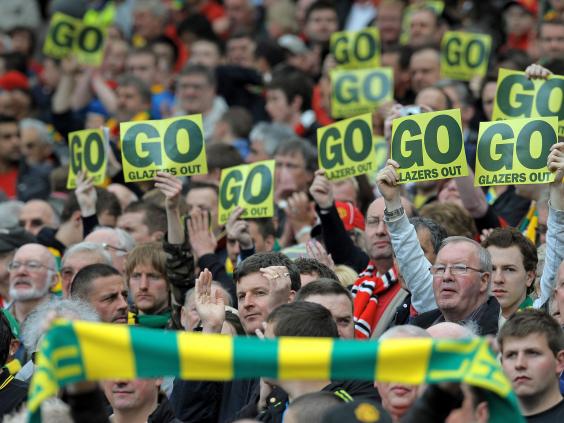 MUST said the Glazers had "botched" the appointment of Sir Alex Ferguson's successor and that of chief executive David Gill.
The fans' group did admit its relationship with the club had improved over the last two years, though.
"Despite the huge damage inflicted over the last 10 years things are undoubtedly beginning to look positive again in 2015," MUST said.
"Relations between fans and the senior management team have improved vastly in the last two years with genuine dialogue and regular meetings established.
"The costs of servicing the remaining debt are now down to manageable levels and Manchester United is climbing back to the position of financial superiority it occupied for nine years prior to the Glazers arrival.
"It's just a shame we had to go through all the pain and waste of the last decade simply to allow a family with no connection to Manchester United to enrich themselves at the expense of our club and fans."
Manchester United refused to comment on MUST's statement.
Reuse content