Guus Hiddink spoke with such admiration about John Terry that it only raised more questions about why the Chelsea captain has not been offered a new contract. Hiddink said that Terry had been playing "perfectly" and that he was "not normal" for a 35-year-old player, but in fact better.
The interim Chelsea manager repeated the club's position made on Sunday night in the aftermath of Terry's revelation, that "it is not a closed door" regarding an extended deal for Terry, but that is not how the player sees it. There is a sense with Terry that if the club were going to offer him a new deal they would have done it last month, as they did with Branislav Ivanovic.
Hiddink has picked Terry for every league match since he took charge of the team just before Christmas, and will do so again for the Watford match at Vicarage Road, where Terry is certain to be vocally supported by the travelling Chelsea fans. 
At his press conference on Tuersday Hiddink spoke very positively about his captain's recent displays. "I like very much the way he is playing, and that he is committed to the team," Hiddink said. "John is doing perfectly in his performances,  he can carry on [playing], of course. He is fit, his ambition is enough to carry on."
After restating that the club had not decided on Terry's future yet, Hiddink added that he was performing above the level expected of a player of his age. "The door is not shut, dialogue is always possible," Hiddink said. "But John's statistics, and not just that but also the view I have on him [show] that he is very fit. 
"He is not what you normally see in a 35-year-old player, that you feel you are getting a bit slower, and cannot accept that you are in a danger zone for red cards. 
"But none of that for John. He is fit and is performing as [well as] he has been while I have been here. And he will do. We have spoken about that, and he will be professional, but also work hard as well."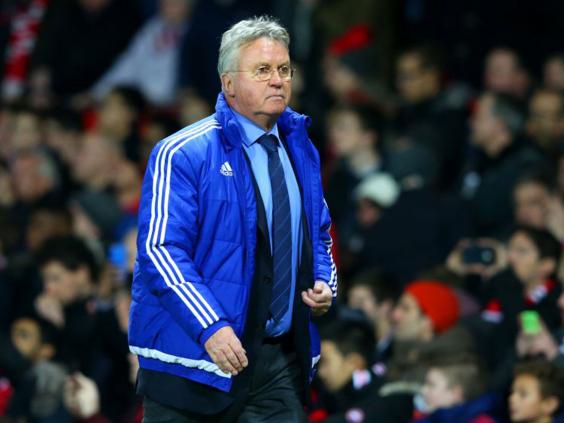 It sounded more like a reason to keep Terry than to release him. 
When asked why the club could offer Ivanovic a new contract but could not do the same for his fellow defender, Hiddink replied: "You have to see every issue in this as individual cases."
Hiddink will not be at Chelsea for the post-Terry era but admitted how difficult it would be to replace a player with 16 years of experience in the Chelsea first team.
"I can say, theoretically, that no one is irreplaceable," he said. "But he has been of huge impact, has been and will be in the upcoming games, in the dressing room but also on the pitch. He has this presence, a very good presence, with the group in the dressing room. 
"It will be a new situation, if it happens. But let's see what will happen in the short future. There are new leaders coming up in the group."
Hiddink has spoken with Terry about his situation and acknowledged how difficult it is for players when they have to stop playing at the top level. 
"For every player or manager, the age comes when you have to say goodbye to people," Hiddink said. "It is difficult. I can help him prepare. I had the same experience because I loved the game so much and quitting is difficult."
Chelsea travel to Watford but Alexandre Pato, the new loan signing from Corinthians in Brazil, is unlikely to feature as he is "some way off fitness", according to Hiddink. 
Pato's last match was in November, for Sao Paulo where he was also on loan, and the 26-year-old forward will have to recover his sharpness before he can take part in the Premier League.
"He has worked for a few training sessions," Hiddink said. "He is in preparation, if not fully fit to act. Formally, he is available. 
"But it is another thing whether he is ready physically or mentally to be part of the team. We have to prepare him very well."
Reuse content