Harry Kane will look back on 2015 as the year which launched his career, but 2016 is likely to be the one which defines it. How, and where, he finds himself at the beginning of 2017 will ultimately be decided by what happens in the next six months and, crucially, how he performs at Euro 2016 with England.
There is nothing quite like a major tournament when it comes to mapping out a footballer's destiny and the Tottenham forward will travel to France aware of the life-changing possibilities that lie in front of him in Marseilles, Lens, Saint-Etienne and beyond.
The ambition and growth of Spurs will be inextricably linked to Kane's progress between now and the end of Euro 2016 and this will be as important a year for the White Hart Lane club as it is for their most prized asset.
When an 18-year-old Michael Owen raced through Argentina's defence to score the goal which instantly transformed him from teenage prodigy to global superstar at France '98, Liverpool, at the time, were a club capable of holding on to their top talent and the England forward remained at Anfield for another six years.
Whether Tottenham can persuade Kane that they are able to provide the platform worthy of his growing stature is a question which is already being raised, but it is one that will become so much more difficult to answer if the 22-year-old is the latest England player to reach for the stars at a major tournament.
In 1986, Gary Lineker travelled to the World Cup in Mexico having finished as a runner-up in the league and FA Cup with Everton, but he returned as the winner of the Golden Boot, with a move to Barcelona secured by his six goals in the tournament.
Four years later, David Platt made a late surge into Bobby Robson's World Cup squad, just two years after leaving Crewe Alexandra for Aston Villa, and travelled to Italia '90 as no more than cover for Bryan Robson and Steve McMahon.
But a winner in the last minute of extra time against Belgium in the second round, after he had started the game as a substitute, was the transformative moment which made Platt's career. From that point on, the midfielder became an integral part of the team and earned a move to Serie A with Bari, then Juventus and Sampdoria, to become one of English football's most successful foreign exports.
Paul Gascoigne was another who took his career to a new level at Italia '90, Alan Shearer became the world's most expensive player when Newcastle fended off Manchester United to sign the Blackburn forward for £15m following his heroics at Euro '96 and both Rio Ferdinand and Wayne Rooney earned record-breaking moves to Old Trafford after emerging as England's outstanding players at the 2002 World Cup and Euro 2004 respectively.
Rooney, having chosen to leave his boyhood club Everton for the lure of glory at United, took the cool-headed decision that is likely to await Kane at Spurs.
The road map is already laid out for Kane. It just depends on which direction he chooses if, or when, the fork in the road approaches. United, Chelsea and Manchester City would already think nothing of breaking the British transfer record in an effort to persuade the Tottenham chairman, Daniel Levy, to sell, regardless of Kane's performances in the coming months.
Tottenham: Players linked with January transfers
Tottenham: Players linked with January transfers
1/20 INS: Jackson Martinez (Atletico Madrid)

According to reports a bid of £22.8m has been rejected for the Atletico Madrid striker. The 29-year-old has failed to make much of an impression since joining from Porto in the summer, but apparently his current club aren't keen to do business. If claims he has a release clause of £26.6m are true, Spurs could be tempted to up their offer and give Atletico no option.

2/20 Sandro Ramirez (Barcelona)

Spurs have been offered the although it is not clear whether Barca would want to sell or loan him - either way, any deal would include a buy-back clause. The Spaniard is capable of playing up front or on the wing, although he finds his path to the first team blocked by Messi, Suarez and Neymar.

Getty Images

3/20 Ezequiel Lavezzi (Paris Saint-Germain)

In the last year of his deal with the Ligue 1 champions, the Argentinian could provide an explosive forward presence for Tottenham and add experience to a young squad.

4/20 Adrien Rabiot (PSG)

The attacking midfielder, 20, has been linked with a number of clubs including Chelsea and Arsenal, with Spurs now joining the race for the Frenchman's services. He would add another dimension to Mauricio Pochettino's offence, however he has recently made his way back into Laurent Blanc's plans and PSG would be foolish to allow such a prospect to leave.

5/20 Timo Werner (Stuttgart)

Spurs were reported to have tried to sign the striker in the summer, and could return with another bid in January. He would act as an excellent foil to Harry Kane, although he can play behind the striker or on the left wing. The 19-year-old has three Bundesliga goals this season.

2015 Getty Images

6/20 Franco Vazquez (Palermo)

The Italian playmaker could fit into any of the three attacking midfield slots behind Harry Kane, and his cultured left foot has carved out many defences in Serie A, notching a goal and four assists so far this season. However, Palermo president Maurizio Zamparini has stated that the 26-year-old will not depart the club in January.

2015 Getty Images

7/20 Moussa Dembele (Fulham)

The striker, 19, is a raw talent blessed with pace and strength, and he has displayed excellent potential in the Championship for Fulham this season. He could act as a viable replacement for Harry Kane from the bench, with Spurs lacking depth up front. Fulham are said to want a Spurs youngster in return.

2015 Getty Images

8/20 Saido Berahino (West Bromwich Albion)

The obvious choice to become Kane's back-up would be the England Under-21 international Berahino, given he has Premier League experience and has proven his calibre at this level. Berahino has be reintegrated back into the West Brom side by manager Tony Pulis, but he has made his intentions perfectly clear that he wants out, and another pursuit from Spurs could trigger his tendency to tweet before he thinks.

2015 Getty Images

9/20 Michy Batshuayi (Marseille)

The Belgian, 22, has been hugely impressive in Ligue 1 this season and is drawing interest from elite clubs across Europe. The striker, who can also play out wide, is valued at around £24m. However, Marseille are desperate to keep him during this window and will offer an improved contract to keep him at the Stade Velodrome.

10/20 Axel Witsel (Zenit St Petersburg)

The Belgian attacking midfielder, 26, is rated at around £25m. He has long been linked with a move out of Russia, although the highly rated former Standard Liege man is keen to play Champions League football. Chelsea are also interested having been close to completing a deal in the summer.

11/20 Rico Henry (Walsall)

The Walsall left-back is attracting mass attention across the Premier League's top teams after being touted as the 'next Ashley Cole'. Despite his tender age of 18 years old, Henry looks set for a Premier League move in the near future, and with Arsenal, Liverpool and Manchester City also linked, Spurs could look to gain a march on their rivals with a January bid.

2015 Getty Images

12/20 Amadou Diawara (Bologna)

Chelsea have been linked with an agreement to sign teenager Diawara from Bologna, although reports elsewhere suggest Spurs are still in the hunt for the talented midfielder. However, interest is also coming from Italian heavyweight Juventus and Inter Milan, and with his contract running until 2020, he could stay at Bologna for quite some time.

2015 Getty Images

13/20 Wissam Ben Yedder (Toulouse)

The striker is reportedly at the centre of a £7.5m deal. Already in double figures for the season, the 25-year-old is being considered by various clubs, although prising him away from his Toulouse might be difficult with the French outfit fighting a relegation battle.

GETTY IMAGES

14/20 Alexandre Pato (Sao Paulo)

The former Brazil international is currently plying his trade in his homeland with Corinthians, but he is keen on a return to European football and the Premier League has been touted as a likely destination with Spurs, Liverpool and Chelsea all linked. It may take an £8m bid to sign him and he would not be a guaranteed success, but if he can rekindle the form he showed to win Europe's Golden Boy award in 2009 then the deal would prove a coup.

2015 Getty Images

15/20 Simone Zaza (Juventus)

The 24-year-old looks to be on his way out of Juventus – by either transfer or loan – given that manager Massimo Allegri has the likes of Alvaro Morata, Paulo Dybala and Mario Mandzukic available to him. A permanent move could cost as much as £22m, but Spurs might have to make a decision quicker than they will have wished after Norwich emerged as shock leaders in the race to sign him.

2015 Getty Images

16/20 Sofiane Boufal (Lille)

The 22-year-old midfielder has made his intentions clear after admitting he would like to leave the club, but only to one competing in the Champions League. Should Spurs follow up their interest with a £21.6m offer as is being reported, Boufal would likely spend the rest of the season on loan with the Ligue 1 side – although that would be putting a lot of faith in to Spurs to finish in the top four this season.

2015 Getty Images

17/20 Adalberto Penaranda (Granada)

The 18-year-old Venezuelan has impressed for Granada since making his debut in November. Liverpool have also been linked with the youngster.

18/20 OUTS: Andros Townsend (Tottenham)

A number of clubs are interested in Townsend after he was exiled from the Spurs squad following a training ground bust-up with fitness coach Nathan Gardiner. However, the player has indicated he wants to remain at White Hart Lane and fight for his place.

2015 Getty Images

19/20 Milos Veljkovic (Tottenham)

As The Independent revealed, the highly-rated young defensive midfielder looks to be on the verge of a White Hart Lane exit in January with Germany a likely destination. With his contract set to expire at the end of the season, Spurs look likely to cash in while they can in January.

2015 Getty Images

20/20 Federico Fazio (Tottenham)

Having failed to make an impact since his £8m arrival in the summer of 2015, Mauricio Pochettino is prepared to sell the defender. His former club Sevilla are reportedly in talks.

GETTY IMAGES
There were doubts over his true quality at the end of last season, when he finished second, behind Sergio Aguero, in the Premier League goalscorers' chart with 21 goals.
It was as though Kane's campaign was simply too good to be true and that, like many before him, he would find it more demanding trying to repeat his feats and therefore fall victim to the dreaded second-season syndrome.
With his 2015-16 beginning with an eight-game Premier League goal drought, the sceptics began to believe that, although Kane was good, he was not the long-awaited successor to Shearer as a truly world-class English centre-forward.
Kane now has 11 Premier League goals to his name this season, two more for England, and his performance at Everton on Sunday, while failing to score, was a masterclass in centre-forward play. He has become the focal point of Mauricio Pochettino's team, a striker with the ability not only to score goals, but also to link play and hold the ball up, as Shearer once did for club and country. And he is not even 23 until the end of July.
By then, he may well be playing in Guangzhou or Shanghai on his first pre-season tour with United, or even working on a partnership with Diego Costa at Chelsea, but such has been Tottenham's progress under Pochettino and the uncertainty surrounding the future at both Old Trafford and Stamford Bridge, who is to say that sticking with Spurs will not be Kane's best option this summer?
Even if City come calling, would playing second fiddle to Aguero be more appealing than having a team built around him in north London?
It is a dilemma that Kane is likely to have to address, however, because English football's superpowers, and maybe even those from Spain and Germany, like what they see in a player who has benefited from the hard knocks of loan spells at Leicester, Norwich, Millwall and Leyton Orient.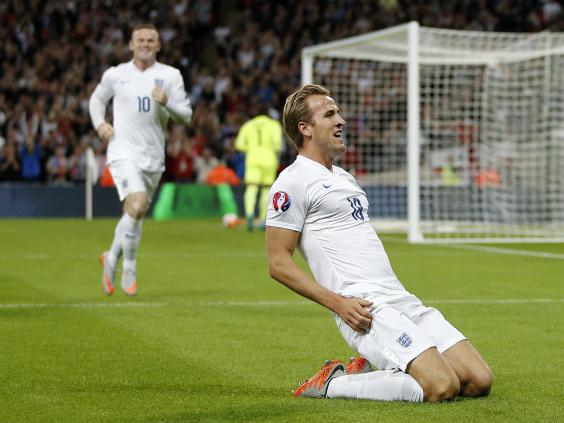 They will like it even more if he emerges as one of the stars of France 2016 and that is when Kane and Spurs will face that fork in the road.
Matt Le Tissier happily spent a career at Southampton, rejecting offers from bigger and more successful clubs, to remain with one that could not realistically offer him the prospect of silverware or eye-watering wages.
Spurs may be able to provide the trophies – with Kane, they will certainly have a better chance – but the likes of United, Chelsea and City will always blow them out of the water when it comes to the number of noughts on a weekly salary.
Having signed a contract in February last year which ties him to Spurs until 2020, Kane will not be easy to prise away, but the top players will always go where the trophies are, regardless of the fine print on a piece of paper.
So it will say a lot of about Tottenham, and Kane, if he continues to play with a cockerel on his chest next season.
Young's creative revival at United should nudge England
Ashley Young has not played for England since winning the last of his 30 caps against Ukraine in September 2013, so the 30-year-old would appear to have disappeared off Roy Hodgson's radar ahead of Euro 2016.
But the Manchester United winger has been one of the few positives in recent weeks at Old Trafford and, against Swansea at the weekend, delivered a stream of quality crosses for Wayne Rooney and Anthony Martial. Service is crucial for strikers and, after deploying Young as a full-back, Louis van Gaal now appears to have discovered the value of a player who can actually create chances for his forwards.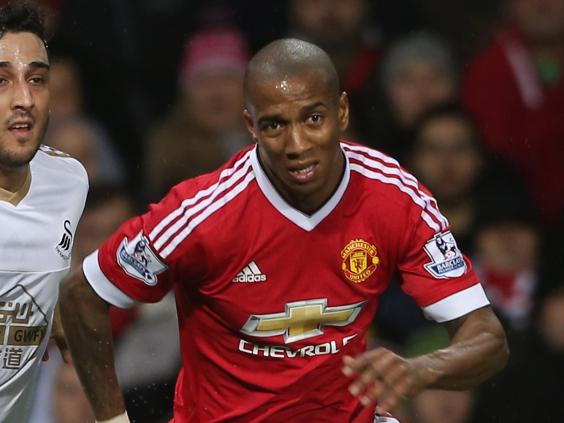 It is an ill wind that will blow Klopp to Stoke
In an interview with Bild last week, Jürgen Klopp gave a novel reason for Liverpool's stop-start progress since his arrival as manager in October.
"The wind can be quite extreme in England," Klopp said. "We are not familiar with that in Germany and players who are not from the UK have to get used to the winds."
Looking forward to your Capital One Cup semi-final at Stoke tonight then, Jürgen?