It was the look on Hugo Lloris' face last September, as much as his words, which revealed the doubts he had been harbouring about staying with Tottenham and Mauricio Pochettino, rather than leaving for what at the time looked like the greener grass of Manchester United. 
"All the ingredients were not there for me to go, so I had to stay," he said on the eve of France's match with Portugal in Lisbon's Jose Alvalade Stadium, two days after the transfer window had shut. "There could have been a development there but the desired movement didn't happen."
His candid observations that night were considered by French journalists to be by far Lloris' most significant public discussion of the past year – a discussion in which he admitted a yearning for the Champions League football that United dangled before him throughout last summer. 
"You find the top level in all competitions, even though it's of course exciting and important to play in the Champions League," Lloris said. Though a senior source at Tottenham told this newspaper last August that Lloris was not leaving, it is understood there was a verbal agreement that he would go if a £25m bid came in and Spurs had not qualified for Europe's elite competition.
Machinations proved to be the impediment, not least the way that David de Gea's agent Jorge Mendes – who has a big foot in United's camp – told that club to delay negotiations with Real Madrid for the player to drive up the price, to the astonishment of coach Rafael Benitez. But what has happened in the subsequent five months – during which the Lloris and Pochettino relationship has become the closest between a current Premier League manager and captain – reveals the occasional serendipity of a road not taken.
When Pochettino arrived at White Hart Lane in 2014, he found Lloris was already set on leaving the club. He rang him and asked him to stay at least for a season. "Give me a chance. Stay for one season and make an assessment," went the Argentine's pitch, according to friends of Lloris. 
The call did its job, though a substantial change to Spurs' way of working was to follow. Pochettino's requirement for greater fitness meant that double training sessions – a rarity – continued for months. The players were not immediately sure where the change of manager was taking them.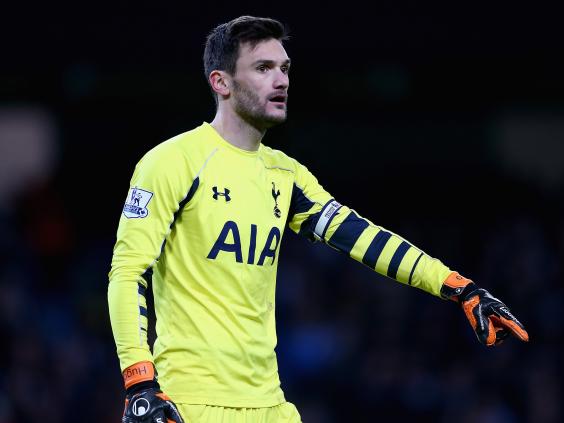 For Lloris, Pochettino's decision to make Younes Kaboul captain contributed to the general uncertainty about the future. To those on the outside, it seemed to be a remarkably poor decision from the start and evidence that Pochettino had not established a full grasp on where the quality at his disposal actually lay. 
It took half a season for Lloris' compatriot to disappear out of the frame and for the goalkeeper to become the ad-hoc captain, a role he was formally handed last summer when Kaboul departed.
It is the development of Lloris' aerial game – not always a strong point for him – which has most impressed French football analysts who have observed him down the years. But the way of goalkeeping which Pochettino has encouraged him to pursue is what has fostered the mutual trust between the two of them. 
 "I'm the man who makes the first pass in an attack, because I have the ability to catch the ball, stop the action and after that you can build up from the back," Lloris said recently. "I can make decisions – if we have to play quick, if we have to play calm. Then I have to manage the gap between me and my defenders." 
The Independent's analyst Danny Higginbotham observed recently on these pages that Lloris keeps the second highest line in the Premier League as a "sweeper-keeper"and that no keeper has played more short passes than him this season. Everything flows from Lloris. This is not unfamiliar to him. There have been shades of the same philosophy with Nice and Lyon.
Fiorentina 1 Tottenham 1 player ratings
Fiorentina 1 Tottenham 1 player ratings
1/14 Michel Vorm: 6 out of 10

Provided a safe pair of hands in the absence of Hugo Lloris. Could do little abut the goal due to a huge deflection.

2016 Getty Images

2/14 Kieran Trippier: 6 out of 10

The full-back is brimming with confidence and bombed forward at every opportunity.

3/14 Toby Alderweireld: 7 out of 10

The Belgian passed superbly and continues to be the glue which holds the entire defence together.

4/14 Kevin Wimmer: 6 out of 10

The Austrian defender looks at home alongside Alderweireld but needs to reign in the needless fouls, which he commits too many of.

2016 Getty Images

5/14 Ben Davies: 6 out of 10

Pushed forward constantly and had his opposite number on the back foot during the first half but his attacking influence waned during the second. Booked.

2016 Getty Images

6/14 Ryan Mason: 6 out of 10

The midfielder was made skipper for the evening and marked his first start since November with an assured display, bar the deflection which caused the goal.

2015 Getty Images

7/14 Christian Eriksen: 6 out of 10

Stung the goalkeeper's fingertips with a dipping drive as his rich vein of form continued.

8/14 Tom Carroll: 5 out of 10

Endured a quiet and ineffective night. Withdrawn for Mousa Dembele at the interval.

2015 Getty Images

9/14 Dele Alli: 7 out of 10

Fortunate not to see red for a petulant kick out at Tomovic in the first-half. Booked for his troubles but still played with a real swagger throughout.

2016 Getty Images

10/14 Nacer Chadli: 7 out of 10

Led the line well and tucked his penalty home confidently in the absence of Kane.

2016 Getty Images

11/14 Heung-min Son: 6 out of 10

Had the ball in the back of the net in the second half but his header was ruled out for offside.

12/14 Substitute: Harry Kane: 6 out of 10

Introduced with 20 minutes to go but the game had turned against Spurs by that point and he failed to make a significant impact. Starved of chances.

GETTY IMAGES

13/14 Substitute: Mousa Dembele: 6 out of 10

Brought on for Carroll at the break and provided a much-needed physical presence in the centre of the park. Booked for a high foot.

14/14 Substitute: Eric Dier: 6 out of 10

Called upon during the closing stages to shore things up and did so. Reliable as ever.
The relationship with defenders Toby Alderweireld and Jan Vertonghen helps, of course. What is impressive about that French-speaking triumvirate is how anglicised and steeped in the English game they have become. 
Petr Cech recently revealed that he speaks to his Arsenal defenders in three languages. "I don't need that," Lloris said. "It's true I could use French, because Toby Alderweireld and Jan Vertonghen both understand it, so it would easy for us. But we communicate in English." Vertonghen hopes to be back from injury by early next month.
 Against Crystal Palace in the FA Cup tomorrow Spurs face the anxiety of attempting to achieve things without Lloris – he sustained a shoulder injury in the win at Manchester City last weekend. Michel Vorm, who will deputise, has done so on seven occasions this season and Spurs have won only twice. The Lloris win ratio is close to 60 per cent. "[An injury to him] will always impact," Pochettino said. "Hugo is our captain." He is a lot more besides.
Reuse content