Brendan Rodgers has launched a trenchant defence of his decision to field a weakened side against Real Madrid, pointing out that he is managing a Liverpool squad through a tough season, not playing "fantasy football" on a computer.
Rodgers said he was paid well to make big calls like Wednesday night's starting XI and would be sacked if more of them were wrong than right. "You have to be bold enough to make the decisions as a manager and that is why you are paid the money you are paid," Rodgers said, in response to the substantial criticism which has followed the seven changes in a Bernabeu side that excluded Steven Gerrard, Raheem Sterling and Jordan Henderson.
"If you make more wrong ones than right ones you will be out of work, it's as simple as that. It's a big risk but for me I'm happy with the decisions I make. It can be a big call and people might think 'you took a massive risk there' but you weigh up the risk and reward."
Rodgers said that Gerrard's complaint of a hamstring pull on the day the side flew to the Spain capital demonstrated that his critics had not known the full story. Though he said he had not read reports questioning his judgement, he was clearly piqued. "I think for managers up and down the country, we are dealing in the reality of being [in the job]," he said.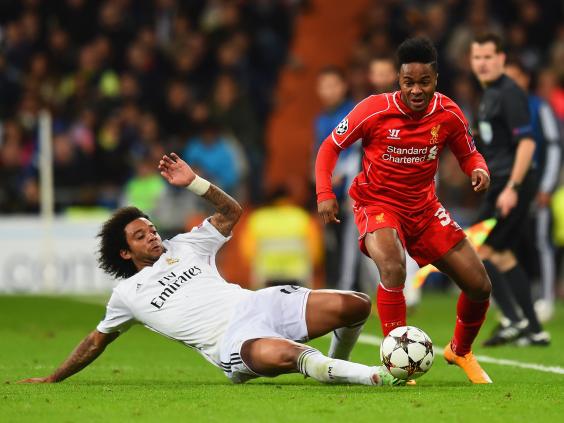 "It's not fantasy football. It's not sentiment. It's not on a computer you are picking teams. You are looking at [real] physical conditions."
Rodgers said that he had been in contact with his chairman, Tom Werner, since he made the decision which proved so controversial – and found support from him. "I [haven't] read so much [about what has been said about the selection] but I have been made aware of it mostly by other people," he said. "Tom spoke to me and straight away they see the courage in playing a different team and younger players and how I have dealt with my situation here."
Rodgers insisted he would never pick a team with any objective but to win a game. "The pressure for us in every game is to win and I think… the team I picked the other night may have drawn criticism from a lot of people but that is not a concern for me," he said. "I will do what I have always done. I will pick the best team to win the game. To call Kolo Touré a reserve or Lucas Leiva or Adam Lallana a reserve player... I felt they deserved more praise."
He insisted that the decision to rest players in preparation for tomorrow lunchtime's match against Chelsea did not raise the stakes for that game – a reprise of the Anfield match in which a 2-0 defeat was a substantial factor in Liverpool losing their grip on the league title last spring.
Reuse content