Both Papiss Cisse and Jonny Evans have been given heavy bans after both were found guilty of spitting at each other during Manchester United's 1-0 victory over Newcastle on Wednesday night.
Cisse had admitted his charge by the FA and has been suspended for the next seven games, having received a ban one match longer than Evans due to a previous suspension this season for violent conduct.
Evans denied the charge though, with the news emerging on Friday night that the United defender would contest the FA's decision in a case hearing that evening.
Football's spitting controversies
Football's spitting controversies
1/10 Frank Rijkaard vs Rudi Voller, 1990

One of the most unsavoury moments in World Cup history, and perhaps football's most notorious spitting controversy of all. First, the Dutch legend followed up a strong tackle of the mulleted German striker with a subtle spit at his opponent - Voller was booked for his protestations. The pair were later embroiled in a fracas that led to both receiving their marching orders. Before leaving the pitch, Rijkaard aimed another, more substantial mouthful at Voller's inviting mane.

Getty Images

2/10 Patrick Vieira vs Neil Ruddock, 1999

Two of the Premier League era's most fearsome hard men had battled throughout a feisty encounter between Arsenal and West Ham until Vieira received his marching orders. Employing Frank Rijkaard's 'Well, I've been sent off already' logic, Viera spat at Razor, and earned himself a six-match ban.

3/10 El-Hadji Diouf vs Celtic fans, 2003

The first of two appearances on the list by the controversial Senegalese winger, Diouf was banned for two games and fined by both Glasgow Crown Court and his club Liverpool after spitting at a Celtic fan during their UEFA Cup quarter-final clash. Diouf would later sign for Rangers in a bid to further endear himself to the Parkhead faithful.

Getty Images

4/10 Francesco Totti vs Christian Poulsen, 2004

Totti has courted controversy throughout his illustrious career, never more so than when he was banned for three games after taking it upon himself to spit at sometime-Liverpool midfielder Christian Poulsen at Euro 2004. "The true Francesco Totti is not the one on the video," the Roma legend explained.

AFP/Getty Images

5/10 El-Hadji Diouf vs Arjan De Zeuuw, 2004

Diouf, showing a Louis Suarez-esque ability to learn from his own mistakes, was in in the dock again and earned a three-game ban after firing a mouth-missile towards Arjan de Zeeuw during Bolton's 1-0 defeat to Portsmouth. Afterwards, he admitted: "My behaviour showed a lack of moral responsibility to the public who support me and I'm deeply sorry."

Getty Images

6/10 Fabian Barthez vs Abdellah El Achiri (a referee), 2005

Barthez's crime is of particular note given that it occurred during a friendly, as Marseille met Morocco's WAC Casablanca. Despite having already been substituted, the goalkeeper took it upon himself to run onto the pitch, wade into a brawl and spit at the referee. "I'm not guilty because I didn't spit at his face," Barthez insisted. He was banned for six months.

AFP/Getty Images

7/10 John Terry vs Carlos Tevez, 2008

The 2008 Champions League final wasn't the best of nights for the Chelsea skipper. Not only did he miss the crucial penalty in the shoot-out that handed the trophy to Manchester United, he was also accused of wiping his nose before subtly transferring the contents onto Carlos Tevez's neck. Terry denied wrongdoing and escaped punishment with the evidence inconclusive.

Getty Images

8/10 Lionel Messi vs Duda, 2008

Proof that even the game's true superstars can occasionally lose their head, and control of their saliva. Messi took exception to a challenge from the Brazilian defender during Barcelona's victory over Malaga and was caught by TV cameras appearing to aim a sneaky spit at his opponent's back, but no action was taken.

AFP/Getty Images

9/10 Cristiano Ronaldo vs Robbie Savage, 2009

The Portuguese superstar was by no means the first to be riled by Robbie Savage when the pair tussled during Manchester United's 4-1 FA Cup victory over Derby. Photos seemed to show Ronaldo aiming some phlegm in the direction of the Welshman during the incident, but Savage graciously insisted that "nothing happened" and his opponent was cleared of any wrongdoing.

Manchester United/Getty Images

10/10 George Boyd vs Joe Hart, 2014

Hull's clash with Manchester City was already an ill-tempered affair before Joe Hart took exception to how George Boyd went down under the goalkeeper's challenge. As the pair squared up, Boyd appeared to spit as he delivered a (verbal) mouthful into his opponents' face. "He wouldn't do that, no chance," insisted Hull manager Steve Bruce. The FA disagreed, and banned the Scottish midfielder for three games.

Getty Images
However, both have been found guilty after video footage appeared to show both players spitting in the direction of one another, and it could have serious ramifications on their respective clubs' run-ins to the end of the season.
Crucially for United, it means that Evans will miss their FA Cup sixth round tie against Arsenal on Monday night, as well as Premier League games against top-four rivals Tottenham and Liverpool. The Northern Irishman will also miss the games against the top two, with the visit of fierce rivals Manchester City on 12 April swiftly followed by a trip to Stamford Bridge to take on Chelsea six days later.
Should United beat the Gunners on Monday, their match against the Blues will be postponed to make way for an FA Cup semi-final, but with Aston Villa facing United after the Liverpool match on 04 April, the final game of Evans' six-match ban would depend on when the match is rescheduled to.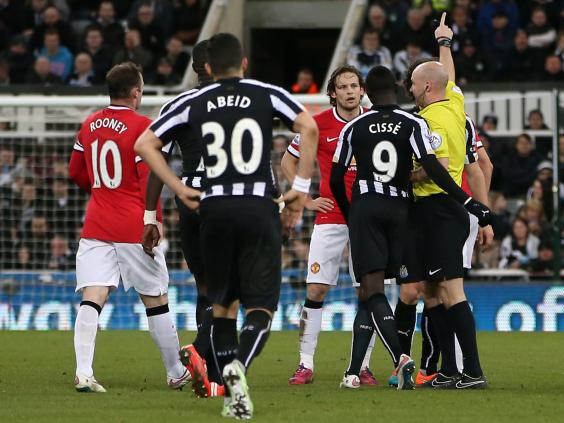 Should it come after the following Sunday on 26 April, Evans will miss the match against Everton, but would be available to face Jose Mourinho's side.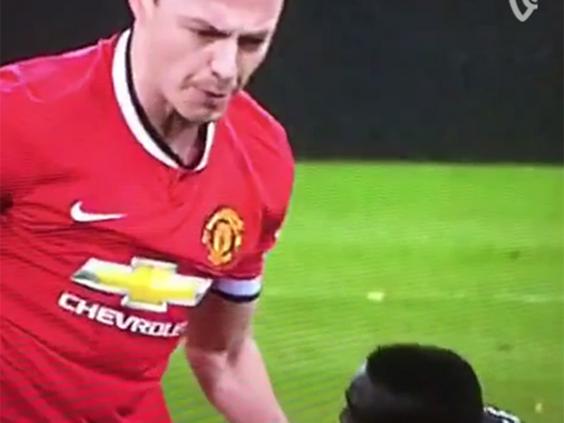 Cisse's seven-match ban rules him out for the majority of the season, and with Newcastle already out of the FA Cup, his ban is far more straight-forward. The Senegalese striker will miss games against Everton, Arsenal, Sunderland, Liverpool, Spurs, Swansea and Leicester, and would only be eligible to return for the final three games of the season against West Brom, QPR and West Ham.
Reuse content