Jordon Ibe does not mind remembering the afternoon when he failed to prepare quickly enough as a substitute and the subsequent scolding from Jürgen Klopp was delivered close enough to his face that he could feel the heat of the manager's fiery breath on his skin.
Ibe does not mind remembering too, the tingling on his cheek and then the surprise splashing over him like a cold wave when Klopp, knowing his first game in charge had ended in a draw, was still in the mood to impose authority, deciding it was necessary to apply palm to flesh. 
Ibe's grin is especially wide when his first goal for Liverpool is mentioned, what proved to be a winner in the Europa League; the time Klopp's bear hug generated warmth as the temperature in Kazan plummeted.
"I've not experienced any of this before…" Ibe says when we meet at Melwood this week, "it's all new for me.
"The shouting at Tottenham? It's not really a [big] thing. It happens to others. He wanted me to hurry up. The little slap on the head? He meant it in a good way, I think."
And then Ibe remembers something else, when Nathaniel Clyne received Klopp's force: carried out, as Ibe sees it, in the nicest possible way and with the best intentions.
Newcastle 2 Liverpool 0 player ratings
Newcastle 2 Liverpool 0 player ratings
1/22 Newcastle: Rob Elliot 6 out of 10

Didn't have to make a save until the 88th minute, and claimed a deserved clean sheet.

2/22 Daryl Janmaat 6 out of 10

A more composed performance from the Dutchman as he dealt with Milner and Moreno on the right.

2015 Liverpool FC

3/22 Fabricio Coloccini 7 out of 10

The much-maligned Newcastle captain led by example, remaining strong at the back and eager to get forward.

2015 Getty Images

4/22 Chancel Mbemba 7 out of 10

Kept Benteke quiet, and twice fancied his chances of opening the scoring.

Getty Images

5/22 Paul Dummett 7 out of 10

A steady performance summed up by an excellent second half challenge on Clyne.

2015 Getty Images

6/22 Moussa Sissoko 6 out of 10

Made questionable decisions at time, but was brilliant in setting up Wijnaldum's late goal.

2015 Liverpool FC

7/22 Jack Colback 7 out of 10

Continued his return from injury with a competitive display in which he picked up his customary booking.

2015 Liverpool FC

8/22 Vurnon Anita 6 out of 10

Protected his defence well on the rare occasions that Liverpool looked to attack.

2015 Liverpool FC

9/22 Georginio Wijnaldum 8 out of 10

Scored the second, and responsible for the first, the Dutchman was the reason this encounter didn't end goalless.

2015 Getty Images

10/22 Siem de Jong 5 out of 20

Looked off the pace on his first start of the season although had little in the way of service before his removal.

2015 Liverpool FC

11/22 Papiss Cisse 5 out of 10

Wayward with his shooting, he was also cautioned for an awful challenge on Lallana.

12/22 Liverpool: Simon Mignolet 5 out of 10

Had little chance in stopping either Newcastle goal on an otherwise quiet afternoon. 5

13/22 Nathaniel Clyne 5 out of 10

Unable to influence the game as much in the final third as he has in recent weeks.

2015 Liverpool FC

14/22 Martin Skrtel 5 out of 10

Another own-goal to add to his tally summed up a sloppy performance.

15/22 Dejan Lovren 5 out of 10

An attacking threat late on, the defender afforded Newcastle's forwards too much space at crucial moments.

2015 Liverpool FC

16/22 Alberto Moreno 7 out of 10

Unfortunate to have an excellent goal unfairly ruled out, the Spaniard was once again one of Liverpool's most impressive attackers

2015 Liverpool FC

17/22 Lucas Leiva 6 out of 10

May be lacking in pace, but his awareness of the game remains impressive in midfield.

2015 Liverpool FC

18/22 Joe Allen 5 out of 10

Unable to take advantage of his opportunity back in the side, he was off target at times with both his passing and shooting

2015 Liverpool FC

19/22 Jordon Ibe 5 out of 10

Always looked to be direct, he struggled to find a way beyond his marker on the right.

2015 Liverpool FC

20/22 Roberto Firmino 6 out of 10

Demonstrated a neat touch on the ball, he too failed to make inroads in attack.

2015 Liverpool FC

21/22 James Milner 7 out of 10

Thoroughly professional on his return to St James' Park, he looked the likeliest player to unlock the Newcastle defence.

2015 Liverpool FC

22/22 Christian Benteke 5 out of 10

Spooned the first half's best chance over the bar, and failed to make an impact before his substitution

2015 Liverpool FC
"He does it for encouragement: to get you going. He's slapped me three or four times now! I'm not the only one, though. Clyney too: I think he got it the worst after one game. There was a six-second Vine of it; you should have seen Clyney's face!"
At Melwood, Klopp offered Ibe his glasses after the winger misplaced a pass that rolled straight to the manager during a training session. The German's rule is a mix of discipline and humour. Ibe agrees with the suggestion that his tactile nature is a way of controlling things: to show who is in charge. "He told us at the beginning that he's got that in him – to be like a demon. That was the word he used, 'demon'."
Klopp has settled quickly into life in Formby, nine miles north of Anfield, where walks with his wife Ulla and their pet dog through the town's pinewoods, apparently, remind him of a childhood spent in the Black Forest. Fellow amblers have taken to him: the generous amount of time he gives during conversations, opening up about himself as well as asking lots of questions. He leaves an impression on those he meets and people cannot believe he gets so wound up, as he did on the touchline during last Sunday's 2-2 draw with West Bromwich Albion, when he celebrated Liverpool's late equalising goal in front of his counterpart Tony Pulis and did not shake his hand once the final whistle was blown.
Christian Benteke has described Klopp as being a friend but not quite a best friend. Ibe discloses he has held two private meetings with him so far, which have contributed towards a rise in confidence. Yet he appreciates where the frontier between player and manager lies.
"If there's a message he wants to get across, he'll let you know and it might be with swear words," Ibe continues. "There is a boundary. We know he's the boss. 
"One on one, he's really good. He's building relationships. The older players, you can see the respect [they have for him]. With the younger ones like me he's a father figure. He's cool, you know? He understands. On the pitch you don't feel any pressure.
"You can see he's wanted to use a lot of young players so far: like [Jordan] Rossiter [who has been unavailable through injury], Cam Brannagan, Connor [Randall] and Brad Smith. It's the freedom he gives you, letting you get on with what you need to do, just making sure you work hard at the same time."
Smith's re-emergence under Klopp is particularly remarkable. The Australian, who has four caps for his country, wanted to leave Liverpool in the summer because of a lack of opportunities under Brendan Rodgers, Klopp's predecessor. Smith's Liverpool career had amounted to one difficult substitute appearance during the 2013-14 season when they lost at Chelsea. The decision by Rodgers to use him seemed like a signal being sent out to the club's owners – Fenway Sports Group – that he needed a bigger squad because this was what he was left with: an untried teenager.
A trial spell at Barnsley in League One came to nothing in September and, with Liverpool demanding a considerable tribunal fee for someone out of contract, Smith was in limbo. Klopp's appointment has changed things. Last month, the left-back agreed a new deal. Against Southampton in the League Cup, he contributed an assist, crossing perfectly for Divock Origi's hat-trick goal. Away in Sion, Ibe believes Smith was Liverpool's man of the match.
"Brad's been out of the picture for quite a while. I don't think the manager's seen him play a lot. But maybe he's just seen a glimpse in training, something he likes. It might be enough for you to get a start or to come on and play; [it] sends out a message to everyone."
Ibe reveals that Klopp's clearest messages to the squad are very simple. He does not stop training every couple of minutes to outline exactly what he wants, preferring to let sessions flow: enabling lessons to be learned rather than taught. Demands are made clear at the start and then Klopp sees who picks them up the quickest, filling players with praise, especially when the intention is right but the execution not so.
"The thing that's in his heart is the work off the ball: winning tackles. From the youngest player to the oldest player in the team, he's given them freedom. Say I might lose the ball four times, I won't hear anything from him, unless I don't work to get it back.
"He says the last 10 minutes is the most crucial part of the game. Maybe that's why he's mentioned fans leaving. We need to build on the emotion and get them excited – get them to stay."
Gérard Houllier, Liverpool's former manager, used to tell his team that he expected them to perform with a warm heart and a cold head. A notion exists that Klopp acts like Tony D'Amato, the character played by Al Pacino in the 1999 American football film Any Given Sunday, demanding beforehand that players go out and claw for every inch.
Ibe details what he's really like. "We have a meeting in the hours before we go into the dressing room. There, he'll encourage us: make us feel good. Then in the dressing room, it's chillout time for a while. We have music on. I go into my own space with my headphones on. The manager, if he wants to speak to a player, will come, sit down next to you and talk quietly, running through things. Before we go out to play? That's when he builds everyone up…"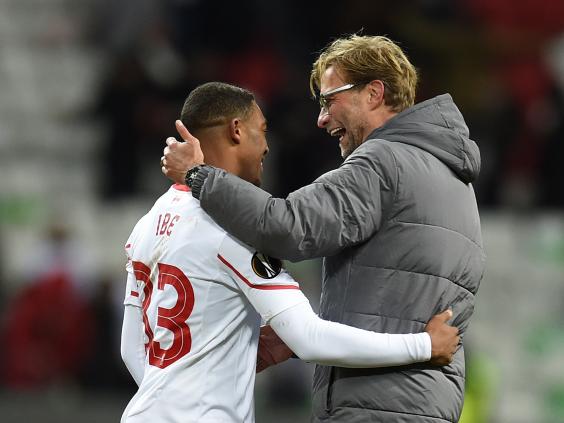 Ibe says in these moments, any lingering fear disappears. "Yeah, he likes us to put the fear into them [the opposition]. It could be Arsenal, it could be anyone; he just wants us to be determined – to be off the wall. When you win a tackle, you see how excited he gets – it's as if it's a goal. Every second matters if you want the result."
Ibe celebrated his 20th birthday on 8 December. He is growing into a man, although his barrel chest and those powerful thighs have existed for some time, which explains to some extent why Liverpool tried so hard to take him from Wycombe Wanderers. He admits being a bit tired of fielding questions about his rapid rise into professionalism: becoming the youngest scorer of a goal in the Football League when he was just 15 years old. "It was five years ago! I keep repeating the same thing…"
He appreciates that young, attacking players like him flourished the most under Klopp's guidance at Borussia Dortmund. "They were one of my favourite teams to watch; favourite players: Reus and Götze. They became world class." 
Ibe knows too that, despite the intrigue around Klopp, results – particularly at Anfield – must improve first if ambitions are to be realised. Tomorrow, Liverpool go to Watford, who are above them in the Premier League table.
"Before, I used to build up a lot of pressure inside myself but now I feel cool. I'd like to score more. But first and foremost, it's the team that matters. We can change things around – do better. We can make history. The manager, he helps make us believe."
Reuse content