Jose Mourinho's inability to develop young players into first-team regulars will cost him the chance of replacing Louis van Gaal as Manchester United manager at the expense of Ryan Giggs, the former Chelsea boss is believed to have accepted.
Van Gaal has been under enormous pressure this season to improve results at Old Trafford after over £250m of transfer spending in just two seasons, with United still in danger of missing out on the top four and a place in next season's Champions League.
With Mourinho available having been sacked by Chelsea in December, many fans called for the Portuguese to replace Van Gaal throughout the season, only for the club's executive vice-chairman Ed Woodward to keep faith with Van Gaal and show a clear determination to stick with the Dutchman until the end of the season at least.
Initial expectations were that Mourinho would replace Van Gaal in the summer, regardless of where they finish, but the Sunday Mirror claims that Mourinho himself has accepted that the club will stick with their original plan of succession to appoint former midfielder Giggs as manager after Van Gaals's contract expires at the end of the 2016/17 season.
The apparent "Manchester United way" has seen the club develop a preference to bringing young talent through from their academy into the first team, with the famed "Class of 92" – which featured Giggs along with the likes of David Beckham, Paul Scholes, Nicky Butt and the Neville brothers Gary and Phil – a mantra for how the club should be managed today.
Who might Mourinho try to sign at Man Utd?
Who might Mourinho try to sign at Man Utd?
1/11 John Stones

Mourinho's admiration for the Everton defender is well known with the Portuguese coach understood to have been behind Chelsea's bids for the England international last summer. Everton refused to relent back then but an offer of even more money from Manchester United might be too tempting to turn down.

Getty

2/11 Cesc Fabregas

Fabregas was understood to be on Manchester United's radar when he left Barcelona for Chelsea and the Spain international is of the quality that would improve United's current squad. Despite the reports that the former Arsenal player was among those who forced Mourinho out at Stamford Bridge, he was one of the few to speak publicly in glowing terms of Mourinho. "Thank you for all you have done for me," he wrote on Twitter. "I owe you a lot and we will all miss you. Good luck in the future."

Getty

3/11 Gareth Bale

Manchester United hold a long-term interest in Bale and Mourinho's arrival will only strengthen their determination to sign the Wales international. It's been suggested that the Real Madrid forward has been put off moving to Old Trafford due to the uncertainty surrounding the club, but the appointment of Mourinho would go a long way to dispelling fears that Manchester United are a club in flux.

Getty

4/11 Alvaro Morata

Alvaro Morata has caught the eye of Arsenal, Chelsea and United, but the appointment of Mourinho as manager could give the Manchester club the advantage. Any move for Morata is likely to involve Real Madrid, and Mourinho's good relationship with his former club would help smooth over negotiations.

Getty

5/11 Raphael Varane

Manchester United spent much of last summer pursuing Sergio Ramos, but a repeat attempt to sign the Real Madrid centre-back appears highly unlikely if Mourinho takes charge due to their tempestuous relationship during their shared time at the Bernabeu. A move for Ramos' fellow centre-back Varane does seem plausible though, with Mourinho signing the defender from Lens and giving him his opportunity at Real Madrid.

Getty

6/11 Paul Pogba

Who doesn't want Paul Pogba? Despite claims the midfielder will move to Barcelona in the summer, nothing has been confirmed and while that remains the case the France international will continue to be linked with big-money moves elsewhere, including a return to Manchester United. Chelsea reportedly made a huge bid for the 22-year-old last summer, confirming that Mourinho is a fan.

Getty

7/11 Andre Gomes

The Valencia midfielder emerged on United's radar before Mourinho was linked with the club, but he appears to be a fan of the 22-year-old. One problem will be Valencia's valuation, which currently sits in excess of £40m.

Getty

8/11 Luka Modric

Mourinho revealed that he tried to sign Modric for Chelsea in 2014, confirming that a reunion with the player he worked with at Real Madrid appeals. It was Mourinho who signed the Croatian from Tottenham in 2012 and with the 30-year-old still operating at the top level on a consistent basis, he would certainly have something to offer Manchester United.

Getty

9/11 Joao Mario

Joao Mario is wanted by Mourinho after the Sporting Lisbon midfielder impressed his compatriot. Valued at around £27m, the 23-year-old would be an expensive acquisition for United, but he could follow in the footsteps of Cristiano Ronaldo in heading to Old Trafford from the Portuguese club.

Getty

10/11 Ezequiel Garay

Garay worked under Mourinho at Real Madrid, but while he is being linked with a move to United, it's uncertain if he would be considered a first-team starter. Garay was sold by Mourinho to Benfica in 2011, having failed to impress the Portuguese, and he could be brought in to try and add the defensive depth that United are clearly lacking.

Getty

11/11 Mauro Icardi

The Inter Milan captain has reiterated his commitment to the Italian side, but offers are still expected to be made for the 23-year-old with both United and Arsenal linked with the striker as well as Chelsea.

Getty
Van Gaal has spoken of his happiness to give chances to young players, with Marcus Rashford the latest academy starlet to make his mark on the first team after scoring four goals in his first two appearances.
With Mourinho's track record going against him – the only youth player given a chance this season was midfielder Ruben Loftus-Cheek only to be told that he failed to impress – it's believed that the Old Trafford job will evade the former Real Madrid, Inter Milan and Porto manager once again.
Developing youth is known to be a big factor for Woodward, with Van Gaal revealing they spoke about it in his initial job interview when he succeeded David Moyes in 2014.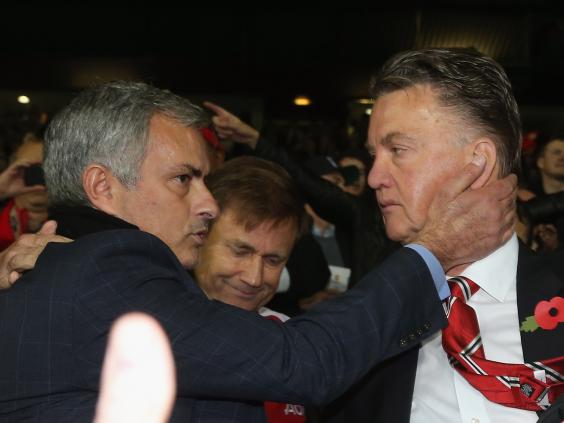 "We discussed young players in my interview," Van Gaal said this week. "We had two conversations, first with Ed Woodward and later with the owners.
"They said what the culture of Manchester United is and why they wanted me. One of the reasons was that I give young players a chance, as we are seeing.
"When you have me as a manager, you have a lot of chances."
Reuse content