Jose Mourinho is hopeful he can stay in charge at Stamford Bridge "for many years".
The Portuguese is in the second year of a four-year contract in his second spell in charge of Chelsea and has opened up a seven point gap ahead of rivals Manchester City in the race for the Premier League title.
Since first becoming a manager at Benfica in 2000, Mourinho has typically had short spells at his six clubs, with his three-year, 185-match spell at Chelsea between June 2004 and September 2007 his longest reign.
Back in west London for a second time, Mourinho has said he can see himself staying in charge at the club for a long time - even for the next 10 years.
Chelsea injury list and suspensions
Chelsea injury list and suspensions
1/3 Loic Remy

Mourinho suggested Remy had a chance of playing last weekend against Manchester United, however he was not even on the bench, leading to uncertainty over his availability.

Getty Images

2/3

The summer signing from Atletico Madrid has not played since the start of the month when he featured for 12 minutes against Stoke. Whilst there were fears he may not feature again this season, the Spaniard is understood to have returned to training and could even make a surprise outing at the Emirates.

AFP

3/3 Didier Drogba

Played last weekend in the win over Manchester United, however he pulled out of a charity match this week with an ankle injury, putting his participation against Arsenal in doubt.

Getty Images
"I would [like to be at Chelsea for the next 10 years], for me the most important thing is to be happy," said Mourinho, speaking exclusively to BT Sport ahead of Chelsea's game against Everton on the channel.
"I like the club, I like the players, I like the fans, I like the Premier League a lot.  In some moments I don't understand a few things, but that doesn't change my fantastic feeling about the Premier League. I'm very, very happy. If somebody tells me I'm going to make ten years at Chelsea, I would say yes."
He added: "I don't think leaving a big club like Real Madrid is an easy option. Normally people that leave Real Madrid because the club wants people to leave, not from their own initiative. 
"So for me to leave Real Madrid and the team that I was building there, only for a club like Chelsea with a  project that people explained to me, with that objective of going to the end of my four years contract and possibly go over the four years of my contract.
"I'm happy to be a part of this new Chelsea, and hopefully I can stay for many years."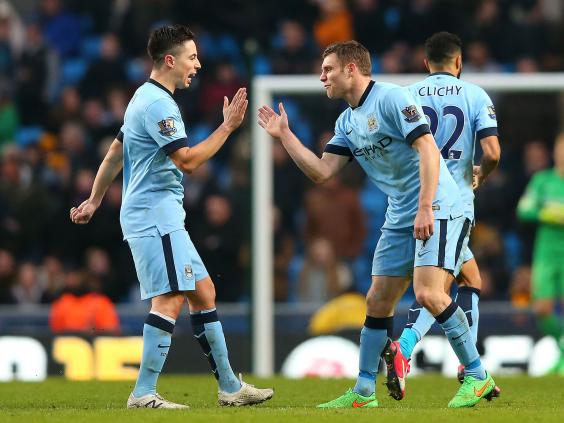 After Manchester City's surprising draw at home to Hull on Saturday, Chelsea have become firm favourites for the title, with some bookmakers offering odds as low as 1/8 for the Blues to win the Premier League for the first time since 2010.
But Mourinho, who has won seven league championships in four countries, says the title is "still too far".
"We are speaking about 42 points, that's a lot of points. But we know that we have seven points more than the second, ten to the third and 14 to the fourth. We depend upon ourselves, we don't have to be under pressure every weekend trying to know the results of Southampton or Manchester City or Manchester United or Liverpool.
"We simply don't care about it, we do our work and we try to win our matches. And in this moment every match we win, every point we get, we get a little bit closer, but it's still too far."
Mourinho also revealed something about the way he approaches games and how he is reliant on certain players.
"I try to read and to anticipate the game and the opponent. I try to read the condition of our players. I try to share information with my staff, with the medical staff, to try to feel if some players are in a risky situation, if some players need a rest, if some players need more minutes on the pitch, and it try to keep a little balance. As you know, at the moment our squad is a squad of 16 players and five very young players. Five kids that are under 19 and come from the academy and these kids are in a learning process.
"We have a very short squad, we don't have a squad like other teams in the Premier League with options. options, options. We rely a lot on this group of players which we have."
Cesc Fabregas is likely to return to the starting XI after he missed the last two with a hamstring injury - Mourinho says the Spaniard, as well as striker Diego Costa are two key reasons the Blues are so improved this season.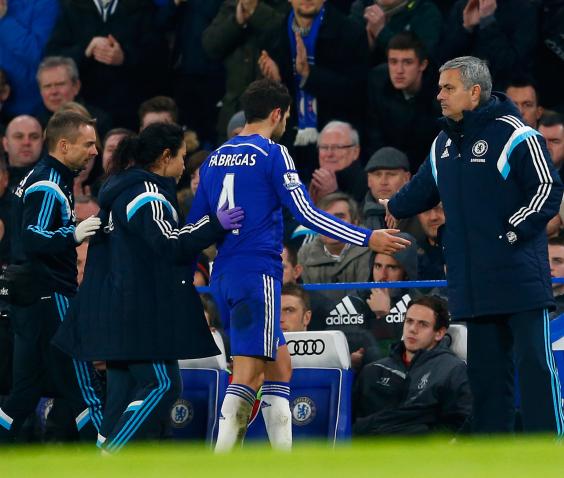 "The players that stay in the team from season to season give us the stability and the spine, the structure of what we want. In my opinion we did good work by bringing in a couple of players to improve the team and with more maturity, a little bit more solutions, the team had a revolution, not just in the results, because in the results I think we have a few more points than we had last season, but last season we had a good Premier League too.
"More than that is the identity of our game, the quality of our game, the beauty of our game. And this is a very important step, because as you know a winning team will be always a winning team, but the winning team with very good quality in its game is something more."
Jose Mourinho is an ambassador for BT Sport. Watch Chelsea vs Everton exclusively live on BT Sport 1 from 7pm tomorrow evening
Reuse content