Jose Mourinho and failure are not easy bedfellows. He has been known to hit out at everybody from referees to rival coaches to his own team doctor when things do not go his way – and Saturday at Goodison Park was no exception.
Chelsea have made their worst top-flight start since 1986 and Mourinho's spiky side resurfaced in a post-match exchange with Everton manager Roberto Martinez, which showed just how the champions' troubles are eating away at the Portuguese.
After Chelsea's 3-1 defeat, Mourinho, on his way to his post-match press conference, passed Martinez as the Spaniard was addressing a small group of reporters beneath Goodison's Main Stand and duly muttered a complaint about having had to wait his turn. "Roberto, next time tell me [to] go before you because we have to travel," he said. "I don't control that" was Martinez's reply, prompting Mourinho to utter an expletive – "F****** hell" – as he disappeared through a door.
Even before kick-off Mourinho had walked out of an interview with BT Sport when asked about John Stones, the Everton defender he failed to sign. The ensuing 90 minutes – with Chelsea outplayed by an impressively tenacious home side – did nothing to improve his mood.
Mourinho might have spoken afterwards about a shortage of confidence and luck – even the computer containing Chelsea's pre-match game plan did not work, apparently – yet the basic truth is the side who laboured to their third loss in five league fixtures looked a pale shadow of the one that blew Everton away in a 6-3 victory on the same ground during their storming start 12 months ago.
Chelsea are 11 points behind leaders Manchester City having lost as many league games as in the whole of 2014-15 and their goals against column shows a total (12) that they did not reach until December last year. At the other end, Diego Costa, with just one goal this term, looked more likely to get sent off than score.
Martinez quipped that he preferred Mourinho after the Portuguese had won – "When he beat us 6-3, he was such a nice man" – but did concur with his view that Everton had taken their chances when it mattered. "We were very clinical," said the Spaniard. Everton owed that precision to Steven Naismith, who stepped off the bench after Muhamed Besic's early injury and exploited the space granted by Chelsea's defence to score a terrific hat-trick.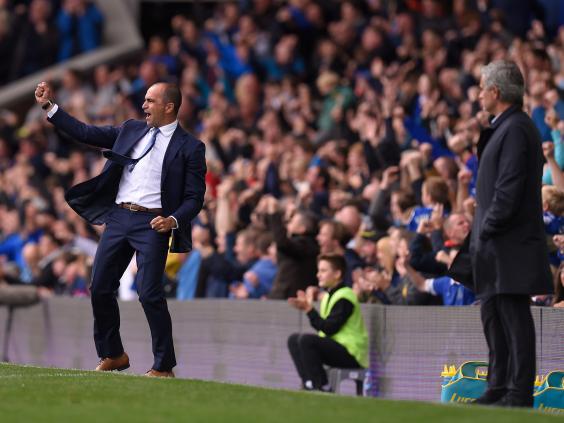 Martinez said Saturday's display underlined why he did not consider selling the Scot when Norwich made an £8m deadline-day offer. "If we are going to be a big team competing for things we need a large squad. You can't just rely on 11 players. As you saw today [with] injuries, it's good to have a player like Steven who has the right mentality and sets the standard for the other players."
There may have been a second plane protest against the club's board before kick-off but on the pitch, Everton's performance hinted at a brighter season, with Stones and teenage left-back Brendan Galloway among those to excel. What a difference a year makes for both teams.
Reuse content