Arsène Wenger admitted on Sunday night that he would not have signed Kim Kallstrom had he known about the midfielder's injury before the final hours of the transfer window.
Kallstrom will be out for at least one month with a back injury which Wenger learned of at 5pm on Friday, with six hours of the window remaining. Wenger conceded on Sunday – following his side's 2-0 home win over Crystal Palace that sent them back to the top of the table – that he had no alternative but to complete the deal, because it was too late to find any fit midfielders in time.
"It crossed my mind," Wenger said, when asked whether he had thought about pulling out of the transfer. "But I would not have signed him if we'd had two or three more days to do something. It was 5pm on Friday night, so it was sign him or nobody. We had to sign him in these conditions. We might need the players in March or April, you know, so it is difficult."
Kallstrom will be out for one month, at the very least, with a microfracture in his vertebra, missing league games against Liverpool and Manchester United, an FA Cup tie against Liverpool and the first leg of their Champions League last-16 fixture against Bayern Munich.
"That is the best-case scenario," Wenger said of a month's absence. "I'm sure that, if you've played football, you might have played with a microfracture of a vertebrae without knowing you had it. You don't even notice it."
Wenger confirmed that it was a free loan from Spartak Moscow, who will be paying Kallstrom's wages for the next six weeks. Although Wenger said that Kallstrom had been signed to plug a short-term gap, which he will now not be able to do, he was still confident about the signing.
"We will only know if we're wrong or right at the end of the season. But I made the decision because, across midfield, we have had players who have suffered injuries. [Mathieu] Flamini, [Jack] Wilshere, [Mikel] Arteta, [Santi] Cazorla,  they have all missed, through injuries, part of the season. A few of them might miss the next part together. It's true that we have not sorted that problem out in the next four to six weeks."
Wenger was speaking after Alex Oxlade-Chamberlain had scored both goals in the win over Palace and the manager said that, after six months out with a knee injury, the midfielder was "still a bit short".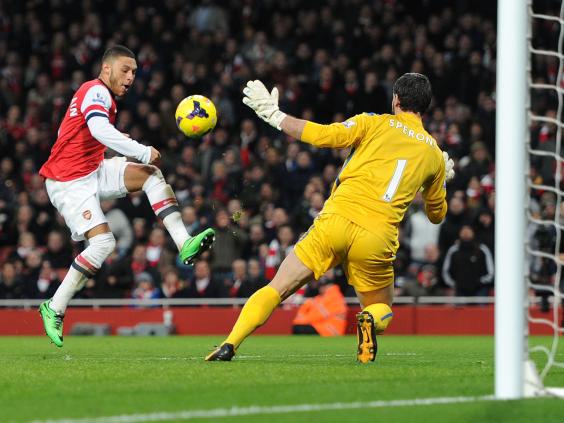 Wenger insisted Arsenal have the quality to win the league. "We are today where we are," he said, "that cannot be a coincidence. You cannot be lucky over 24 games, that is for sure.
"Today we needed to be patient, intelligent and use our opportunities that most of the time come in the second half. That is what we did."
Arsenal still face some scepticism about their title challenge and Wenger said that was just down to habits. "In the last seven years you have engraved that in your brain. It's hard to get out now. I can understand that."
Tony Pulis said that the difference between the sides was the " big moment" when Cameron Jerome could not score a free header at the far post  seconds after Arsenal had gone in front.
Watch Arsene Wenger explain the signing of Kim Kallstrom below:
Arsenal 2 Crystal Palace 0 - in pictures
Arsenal 2 Crystal Palace 0 - in pictures
1/8 The pre-match handshakes

2/8 Olivier Giroud on the ball

3/8 Tony Pulis orders his players around

4/8 Bacary Sagna goes down

5/8 Ozil and Chamakh compete for the ball

6/8 Oxlade-Chamberlain opens the scoring

7/8 Oxlade-Chamberlain celebrates scoring

8/8 Oxlade-Chamberlain scores the second goal
Reuse content