Claudio Ranieri has been around the block enough times as a manager to know that past performance is more comfort blanket than bullet-proof vest when it comes to job security.
The Leicester City manager is currently in his sixteenth managerial position since starting out with the Italian amateurs, Vigor Lamezia, in 1986 and the majority of his jobs have ended with the sack.
Chelsea, Valencia, Parma, Roma, Juventus, Inter Milan and Greece all dispensed with Ranieri following a run of poor results and he only saved himself from the sack at Atletico Madrid in 2000 by resigning before notorious owner Jesus Gil pulled the rug from beneath him.
Fortunately for the Italian, who celebrates his 65th birthday on Thursday, Leicester's Thai owners felt so indebted to him for guiding the club to the Premier League title last season that they signed off a new four-year contract in August, tying Ranieri to the King Power Stadium until 2020.
Will Ranieri still be in charge at Leicester in June 2020? Probably not, judging by the impatience of modern-day football club owners.
But for Leicester's impressive start to life in the Champions League – victory at home to FC Copenhagen on Tuesday will leave them just one point from securing a place in the knock-out stages – Ranieri would probably already be bracing himself for a knock on the door due to a series of heavy defeats in the Premier League which have left the reigning champions languishing in 13th position, a point ahead of promoted Burnley.
Chelsea vs Leicester City player ratings
Chelsea vs Leicester City player ratings
1/22 Thibaut Courtois - 6 out of 10

Did not have a single shot on target to save

Getty

2/22 Cesar Azpilicueta - 6 out of 10

Untroubled in the back three yet still picked up a booking for a clumsy challenge on Musa.

Getty

3/22 David Luiz - 7 out of 10

As entertaining as ever. Nearly scored a sensational free-kick in the first half before coming close to putting through his own goal in the second.

Getty

4/22 Gary Cahill - 6 out of 10

The comfortable afternoon that the stand-in Chelsea captain so desperately needed.

Getty

5/22 Victor Moses - 7 out of 10

An unusual choice at right-wing back, he excelled in the second period as he pushed further forward. Capped the afternoon off with a fine third.

Getty

6/22 N'Golo Kante - 8 out of 10

An excellent display against his former club that only lacked a goal that he really should have bagged when faced with an open net.

Getty

7/22 Nemanja Matic - 7 out of 10

Solid in midfield, and prevalent in attack. His flick to Costa got the scoring rolling for the afternoon.

Getty

8/22 Marcos Alonso - 7 out of 10

Heavily involved down the left, and provided defensive cover on the rare opportunities that Leicester pressurised.

Getty

9/22 Pedro - 7 out of 10

Came into the side for Willian and was both inventive and energetic as part of the forward three.

Getty

10/22 Diego Costa - 8 out of 10

Linked well with Hazard throughout, scored his seventh of the season and, most impressively, kept himself out of trouble.

Getty

11/22 Eden Hazard - 8 out of 10

Clever and sharp movement in and around the penalty box, he showed wonderful composure when scoring Chelsea's second.

Getty

12/22 Kasper Schmeichel - 6 out of 10

Had little chance in keeping out the goals he conceded, but made smart stops in the second half.

Getty

13/22 Luiz Hernandez - 5 out of 10

In for Simpson at right-back, he offered little service from the flank.

Getty

14/22 Wes Morgan - 5 out of 10

Lost concentration and Costa in the build-up to Chelsea's opener, but produced an excellent block to deny Kante later in the game.

Getty

15/22 Robert Huth - 4 out of 10

A difficult afternoon in which he was booked. A lack of communication saw him culpable for Chelsea's second.

Getty

16/22 Christian Fuchs - 5 out of 10

Unable to get forward and influence attacks, he was pinned back by the movement of Hazard and Costa.

Getty

17/22 Jess Schlupp - 4 out of 10

Grew frustrated after an anonymous first half and was eventually replaced.

Getty

18/22 Danny Drinkwater - 6 out of 10

Tried all he could to get himself involved in the action, but was always up against it.

Getty

19/22 Daniel Amartey - 5 out of 10

Overran by the fluidity of Chelsea's midfield and forwards.

Getty

20/22 Marc Albrighton - 5 out of 10

A willing runner but was most often required to double up in defence.

Getty

21/22 Ahmed Musa - 5 out of 10

Flashes of blistering pace, but his final ball lacked quality.

Getty

22/22 Jamie Vardy - 5 out of 10

Another frustrating away day for the Leicester striker who received no service from his teammates.

Getty
The good news for Ranieri is that Leicester's owners have been a breath of fresh air in English football since buying out Milan Mandaric to take control of the club in August 2010.
Since appointing Sven-Goran Eriksson as manager in October 2010, owner Vichai Srivaddhanaprabha has been a model of restraint, standing by Eriksson's successor, Nigel Pearson, for three-and-a-half years before turning to Ranieri in the summer of 2015.
Yet success can affect owners just as much as failure and Ranieri made himself vulnerable the moment his Leicester team crossed the line in the title race last season, even he insisted on Saturday that he is "not worried" about his job and that "work, work, work" is the solution.

Once an owner has tasted champagne, they tend to want more, but it has been back to flat beer with heavy defeats at Liverpool (4-1), Manchester United (4-1) and the 3-0 defeat at Chelsea at the weekend.
It gets to them all in the end. Jack Walker sacked manager after manager at Blackburn as a result of their failure to replicate Kenny Dalglish's success at Ewood Park, while Roman Abramovich has taken it to another level at Chelsea – Carlo Ancelotti was sacked less than a year after winning the double while Roberto di Matteo went six months after winning the Champions League.
So will Vichai Srivaddhanaprabha be any different? Will last season's remarkable success insulate Ranieri from the fate so many have suffered elsewhere?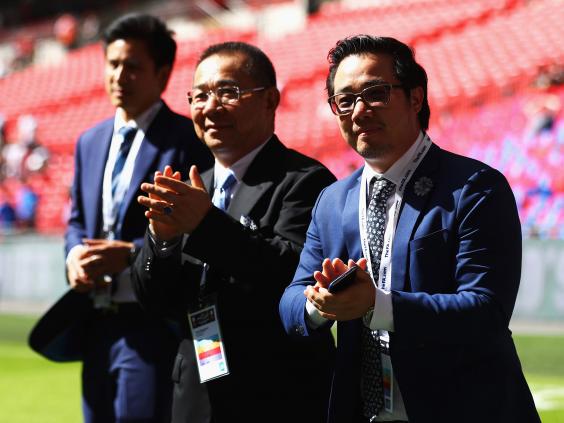 That is a question yet to be answered, but having won the hearts of the Leicester public during his six years in charge, Srivaddhanaprabha now has the opportunity to prove he is different from the rest by allowing Ranieri and his team the time to rediscover last season's magic formula.
The problem, however, is that Srivaddhanaprabha has done little to dispel the perception that he quite enjoys the reflected glow of success on the pitch.
Would a wise owner really have allowed his image to be the centre-piece of the front page of the match programme for last month's Champions League fixture at home to FC Porto, as Srivaddhanaprabha was?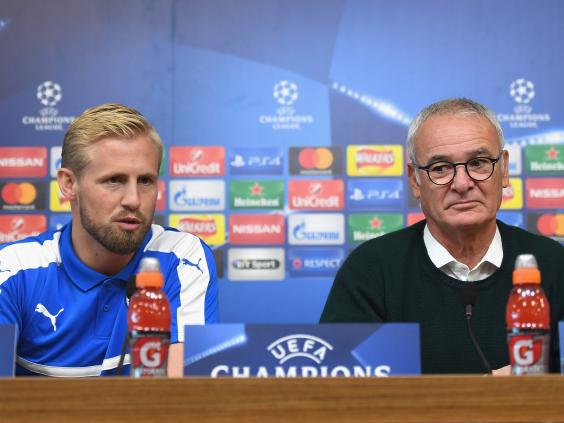 Having seemingly claimed the Premier League trophy as his own, with Srivaddhanaprabha and his son, Leicester vice-chairman Aiyawatt Srivaddhanaprabha, hogging the silverware on the pitch following the presentation last season, will the recent run of Premier League horror shows have been received with an acceptance that it was always going to be so much harder this season?
Ranieri's lukewarm reaction to Srivaddhanaprabha giving each of the title-winning squad a blue £100,000 BMW sports car at the start of the season, as a reward for the Premier League triumph, hinted at the Italian's realisation that he and his team would have to keep delivering this term to enable the owner to continue to enjoy the spotlight.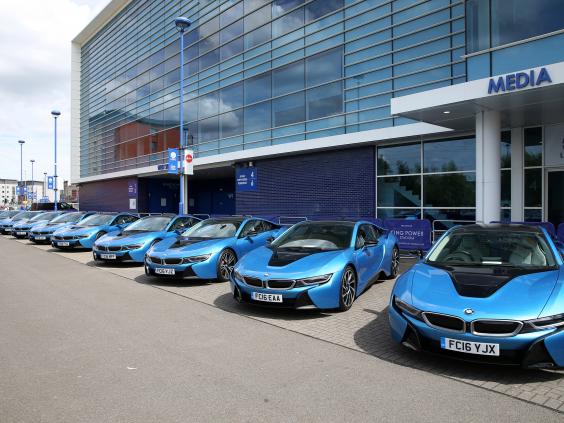 But having invested close to £80m in his squad since the end of last season, including the club record £29.7m spent on Sporting Lisbon forward Islam Slimani, Ranieri has struggled to offer an indication that last year's miracle could be repeated.
Leicester can no longer defend properly, Riyad Mahrez only performs under the bright lights of the Champions League, Jamie Vardy's hot-streak has cooled and the owner's helicopter is no longer flying on cloud nine.
Ranieri knows the road ahead, though. That is why he will now be looking over his shoulder.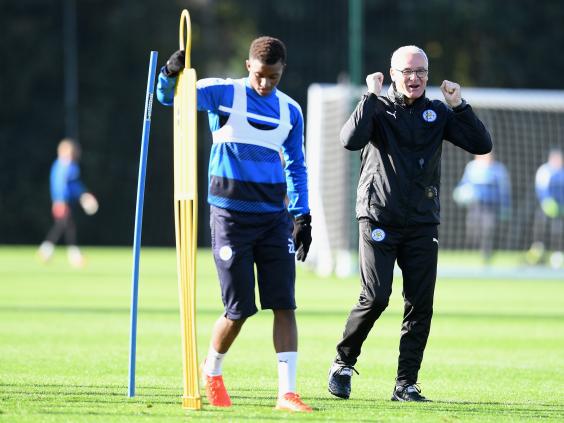 Webb reveals referees aren't robots after all
The serialisation of Howard Webb's autobiography, The Man in the Middle, will doubtless have many bemoaning the World Cup final referee's lack of discretion in lifting the lid on the behaviour of players, managers and fellow officials, but the truth is that he has probably done every referee in the country a huge favour by proving they are human, just like the rest of us.
Webb's revelation of a north-south divide, with many southern-based referees forming Graham Poll's 'Red Wine Club' and the northern element siding with Jeff Winter, tells us that, thankfully, referees are not the robots many perceive them to be.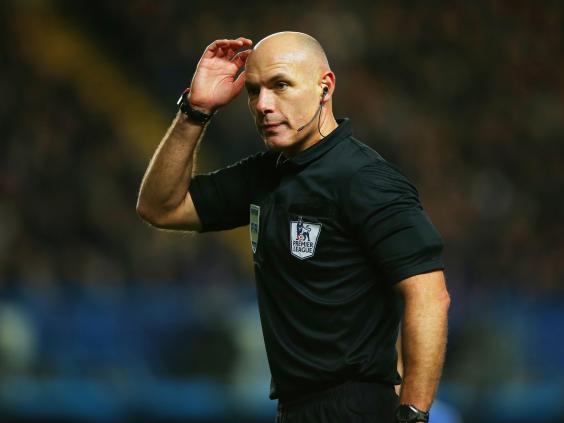 It's just a pity that none of them feel bold enough to show off their personality by speaking during their careers, with explanations offered for decisions on the pitch.
But then maybe they have a personality cloakroom in referee world and can only collect theirs when the final whistle has blown.
McNamara lands on his feet after York sacking
It is good to see Jackie McNamara back in football again, so soon after the Scot resigned from his position as manager at York City in the wake of a 6-1 humiliation against Guiseley.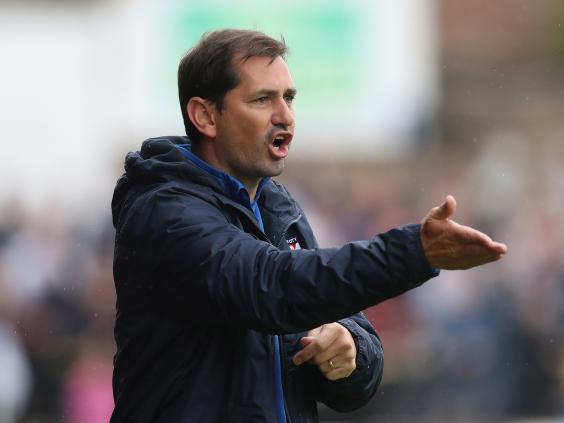 Having suffered relegation from the Football League last season, McNamara was always on a hiding to nothing at Bootham Crescent, so to be out of work for less than a week is some achievement.
His new job? Oh, he is now chief executive. Of York City.
Reuse content