Arsenal have put their fans through a fair few nervy moments already this season. They left it late to bag crucial goals against Crystal Palace and Everton and their passage to the group stages of the Champions League, secured on Wednesday night with a narrow 1-0 aggregate win over Besiktas, was too close for the comfort of many. While title-favourites Manchester City and Chelsea are winning games by two-goal margins and putting in commanding performances, the Gunners could do with a convincing victory here to prove they belong in the same bracket.
It has been a congested start to the campaign for them but given the importance of qualifying for the Champions League and given they didn't get the job done in the first leg, Arsene Wenger hasn't had the luxury of being able to play around with his starting XI. It doesn't help that Olivier Giroud has been ruled out for three to four months with the ankle injury he sustained at Everton last weekend. His absence leaves the Gunners decidedly threadbare up top but Wenger is being coy about dipping back into the transfer market, instead putting his faith in Alexis Sanchez to lead the line.
For Leicester, this is the latest in a run of brutal fixtures to welcome them back to the Premier League. But they haven't shied away from the challenge. They refused to be beaten by Everton, twice coming from behind to clinch a point, and who knows what might have been at Stamford Bridge had David Nugent buried his one-on-one to open the scoring.
The midweek defeat and exit from the Capital One Cup at the hands of Shrewsbury was a setback but boss Nigel Pearson rotated heavily and will no doubt be sending out his first-choice XI on Sunday. On home soil they will not be overly fearful of a tired Arsenal side yet to find its stride.
KICK-OFF: Sunday, 4pm
Arsenal - the latest match in pictures
Arsenal - the latest match in pictures
1/135 Arsenal 0 Chelsea 0

John Terry (left) and Gary Cahill celebrate after the draw at Arsenal which put Chelsea one step closer to the Premier League title

GETTY IMAGES

2/135 Arsenal 0 Chelsea 0

Oscar was victim of an unsavoury challenge with David Ospina.

GETTY IMAGES

3/135 Arsenal 0 Chelsea 0

Cesc Fabregas, returning to Arsenal, was booked for a dive.

Getty

4/135 Arsenal 0 Chelsea 0

Jose Mourinho watches on as Chelsea edged closer to the title.

Getty

5/135 Arsenal 3 West Ham 0

Theo Walcott started for only the third Premier League match this season.

Getty Images

6/135 Arsenal 3 West Ham 0

Olivier Giroud leaps into the air in celebration after opening the scoring on the stroke of half-time.

Getty Images

7/135 Arsenal 3 West Ham 0

Aaron Ramsey scored for the first time since December.

AP

8/135 Arsenal 3 West Ham 0

Mathieu Flamini scored with virtually his first touch after coming on as a substitute.

Reuters

9/135 Manchester United 1 Arsenal 2

Nacho Monreal celebrates scoring the opening goal with Arsenal's English midfielder Alex Oxlade-Chamberlain

GETTY IMAGES

10/135 Manchester United 1 Arsenal 2

Wayne Rooney equalises for Manchester United

11/135 Manchester United 1 Arsenal 2

Wayne Rooney celebrates after making it 1-1

GETTY IMAGES

12/135 Manchester United 1 Arsenal 2

Danny Welbeck celebrates after making it 2-1

GETTY IMAGES

13/135 Manchester United 1 Arsenal 2

Angel Di Maria is shown a red card late in the FA Cup quarter-final tie

GETTY IMAGES

14/135 QPR 1 Arsenal 2

Alexis Sanchez celebrates his goal for Arsenal

GETTY IMAGES

15/135 QPR 1 Arsenal 2

Olivier Giroud puts the Gunners ahead

16/135 QPR 1 Arsenal 2

Gabriel goes off injured in the 36th minute

17/135 Arsenal 2 Middlesbrough 0

Olivier Giroud scores his second of the game

GETTY IMAGES

18/135 Arsenal 2 Middlesbrough 0

Captain Santi Cazorla stars for Arsenal against Middlesbrough

GETTY IMAGES

19/135 Arsenal 2 Leicester 1

Theo Walcott celebrates his effort

20/135 Arsenal 2 Leicester 1

Laurent Koscielny (right) opens the scoring and celebrates with Mesut Ozil

21/135 Arsenal 5 Aston Villa 0

Theo Walcott strikes Arsenal's third

GETTY IMAGES

22/135 Arsenal 5 Aston Villa 0

Mesut Ozil celebrates his goal, Arsenal's second

GETTY IMAGES

23/135 Arsenal 5 Aston Villa 0

Mesut Ozil gets on the scoresheet for the Gunners

GETTY IMAGES

24/135 Brighton 2 Arsenal 3

Tomas Rosicky is mobbed by his team-mates after scoring

GETTY IMAGES

25/135 Brighton 2 Arsenal 3

Mesut Ozil (left) scored Arsenal's second

GETTY IMAGES

26/135 Brighton 2 Arsenal 3

Theo Walcott opens the scoring in the second minute

GETTY IMAGES

27/135 Manchester City 0 Arsenal 2

Olivier Giroud heads Arsenal 2-0 in front

GETTY IMAGES

28/135 Manchester City 0 Arsenal 2

Aaron Ramsey misses the target

29/135 Manchester City 0 Arsenal 2

Olivier Giroud celebrates with Santi Cazorla

30/135 Arsenal 3 Stoke 0

Laurent Koscielny opened the scoring at the Emirates

GETTY IMAGES

31/135 Arsenal 3 Stoke 0

Mathieu Debuchy was seriously hurt early in the match

GETTY IMAGES

32/135 Arsenal 3 Stoke 0

Alexis Sanchez doubles the Gunners' advantage

GETTY IMAGES

33/135 Arsenal 3 Stoke 0

The Chilean scored a second to make it 3-0

GETTY IMAGES

34/135 Arsenal 2 Hull City 0

Alexis Sanchez curls in Arsenal's second in this FA Cup match

GETTY IMAGES

35/135 Arsenal 2 Hull City 0

Per Mertesacker heads Arsenal in front

GETTY IMAGES

36/135 Southampton 2 Arsenal 0

A downbeat Arsene Wenger at St Mary's

37/135 Southampton 2 Arsenal 0

Dusan Tadic (right) capitalises on Wojciech Szczesny error to make it 2-0

GETTY IMAGES

38/135 Southampton 2 Arsenal 0

Mane celebrates putting Saints 1-0 up

GETTY IMAGES

39/135 West Ham 1 Arsenal 2

Cheikhou Kouyate pulls one back for West Ham

40/135 West Ham 1 Arsenal 2

Danny Welbeck celebrates Arsenal's second

41/135 West Ham 1 Arsenal 2

Santi Cazorla makes it 1-0 to Arsenal from the spot

42/135 Arsenal 2 QPR 1

Olivier Giroud is shown a straight red card by referee Martin Atkinson after head-butting Nedum Onuoha

Getty Images

43/135 Arsenal 2 QPR 1

Tomas Rosicky celebrates with Danny Welbeck after scoring Arsenal's second

Getty Images

44/135 Liverpool 2 Arsenal 2

Martin Skrtel heads in the dramatic equaliser

GETTY IMAGES

45/135 Liverpool 2 Arsenal 2

Olivier Giroud celebrates his goal with Danny Welbeck

GETTY IMAGES

46/135 Liverpool 2 Arsenal 2

Martin Skrtel, complete with bandage, re-enters the pitch

GETTY IMAGES

47/135 Liverpool 2 Arsenal 2

Martin Skrtel is treated after Olivier Giroud clash

GETTY IMAGES

48/135 Liverpool 2 Arsenal 2

Mathieu Debuchy heads in to make it 1-1

GETTY IMAGES

49/135 Liverpool 2 Arsenal 2

Philippe Coutinho opens the scoring

GETTY IMAGES

50/135 Galatasaray 1 Arsenal 4

Lukas Podolski opened the scoring in the first few minutes against Galatasaray

GETTY IMAGES

51/135 Galatasaray 1 Arsenal 4

Aaron Ramsey then quickly added a second in this Champions League group stage game

GETTY IMAGES

52/135 Galatasaray 1 Arsenal 4

Ramsey celebrates scoring a brilliant second with Podolski adding the fourth. Sneijder scored for the home side

GETTY IMAGES

53/135 Stoke 3 Arsenal 2

Arsene Wenger reacts to his side's 3-2 defeat to Stoke

Getty Images

54/135 Stoke 3 Arsenal 2

Alexis Sanchez holds his head after the 3-2 defeat to Stoke

Getty Images

55/135 Stoke 3 Arsenal 2

Santi Cazorla scores from the penalty to make it 3-1

Getty Images

56/135 Stoke 3 Arsenal 2

Santi Cazorla, Aaron Ramsey and Olivier Giroud look disconsolate after conceding a third goal

Getty Images

57/135 Arsenal 1 Manchester United 2

Wayne Rooney and James Wilson applaud the travelling Manchester United fans

Getty Images

58/135 Arsenal 1 Manchester United 2

Arsenal midfielder Jack Wilshere is tackled by Manchester United defender Paddy McNair

Getty Images

59/135 Swansea 2 Arsenal 1

Alexis Sanchez and his Arsenal team-mates react to Swansea's second goal

GETTY IMAGES

60/135 Swansea 2 Arsenal 1

Bafetimbi Gomis heads in the winning goal

GETTY IMAGES

61/135 Swansea 2 Arsenal 1

Gylfi Sigurdsson (far left) curls in a remarkable free-kick

GETTY IMAGES

62/135 Arsenal 3 Anderlecht 3

Mikel Arteta out Arsenal ahead from the penalty spot

GETTY IMAGES

63/135 Arsenal 3 Anderlecht 3

Alexis Sanchez doubles the advantage

GETTY IMAGES

64/135 Arsenal 3 Anderlecht 3

Alex Oxlade-Chamberlain scored Arsenal's third to put them in complete control of this Champions League meeting

GETTY IMAGES

65/135 Arsenal 3 Anderlecht 3

Then it all went wrong with Vanden Borre scoring twice

GETTY IMAGES

66/135 Arsenal 3 Anderlecht 3

Mitrovic scored the equaliser for the Belgian side in the 90 minute

GETTY IMAGES

67/135 Arsenal 3 Burnley 0

Alexis Sanchez scores the opening goal for Arsenal against Burnley

Getty Images

68/135 Arsenal 3 Burnley 0

Alexis Sanchez celebrates scoring the opening goal for Arsenal against Burnley

Getty Images

69/135 Arsenal 3 Burnley 0

Sean Dyche shouts his instructions from the sidelines as he looks to get his side into the match

Getty Images

70/135 Arsenal 3 Burnley 0

Alex Oxlade-Chamberlain gestures during the match against Burnley

Getty Images

71/135 Arsenal 3 Burnley 0

Alexis Sanchez shows his frustration in the match against Burnley

Getty Images

72/135 Sunderland 0 Arsenal 2

Arsene Wenger and Gus Poyet shake hands ahead of kick-off at the Stadium of Light

Getty Images

73/135 Sunderland 0 Arsenal 2

Danny Welbeck shields the ball from Sunderland captain John O'Shea

Getty Images

74/135 Sunderland 0 Arsenal 2

England and Arsenal winger Alex Oxlade-Chamberlain tries to evade the clutches of Patrick van Aanholt

Getty Images

75/135 Sunderland 0 Arsenal 2

Alexis Sanchez scores his seventh Arsenal goal, latching onto a through ball and dinking over Sunderland keeper Vito Mannone

Getty Images

76/135 Sunderland 0 Arsenal 2

Kieran Gibbs (right) went off injured for Arsenal, who are in the midst of a defensive crisis

Getty Images

77/135 Sunderland 0 Arsenal 2

Sanchez scores a late second after a terrible mistake from Vito Mannone

Getty Images

78/135 Arsenal 2 Hull 2

Danny Welbeck scores the equaliser for Arsenal

GETTY IMAGES

79/135 Arsenal 2 Hull 2

Abel Hernandez completes the turn around for Hull

GETTY IMAGES

80/135 Arsenal 2 Hull 2

Mo Diame draws Hull level

GETTY IMAGES

81/135 Arsenal 2 Hull 2

Alexis Sanchez celebrates after putting the Gunners in front

GETTY IMAGES

82/135 Arsenal 4 Galatasaray 1

Wojciech Szczesny is shown a straight red card for bringing down Burak Yilmaz

Getty Images

83/135 Arsenal 4 Galatasaray 1

Mesut Ozil jostles with Galatasaray captain Wesley Sneijder

Getty Images

84/135 Arsenal 4 Galatasaray 1

Alexis Sanchez scores Arsenal's third goal as he slots the ball beyond the covering Galatasaray defence

Getty Images

85/135 Arsenal 4 Galatasaray 1

Danny Welbeck celebrates scoring his second goal for Arsenal

Getty Images

86/135 Arsenal 4 Galatasaray 1

Danny Welbeck opens the scoring for Arsenal with a neat finish that rolls between the goalkeeper's legs

Getty Images

87/135 Arsenal 1 Tottenham 1

All 10 of Oxlade-Chamberlain's Arsenal goals have come at the Emirates

Getty Images

88/135 Arsenal 1 Tottenham 1

Alex Oxlade-Chamberlain fired in Arsenal's equaliser from close range

Getty Images

89/135 Arsenal 1 Tottenham 1

Nacer Chadli (second right) fired Spurs into the lead after Mathieu Flamini gave away the ball in midfield

Getty Images

90/135 Arsenal 1 Tottenham 1

Worryingly for the Gunners Aaron Ramsey was taken off after hurting his hamstring in the first half

Getty Images

91/135 Arsenal 1 Tottenham 1

Danny Rose and Alex Oxlade-Chamberlain battle for the ball in a tense, nervy north London derby at the Emirates

Getty Images

92/135 Arsenal 1 Tottenham 1

Ryan Mason (right) made his Premier League debut for Spurs in the match

Getty Images

93/135 Arsenal 1 Southampton 2

Arsenal's Abou Diaby and Southampton's Steven Davis in action during the Capital One Cup third-round tie

Stuart MacFarlane/Arsenal FC via Getty Images

94/135 Arsenal 1 Southampton 2

Nathaniel Clyne (No 2) drives home his side's second goal past Arsenal's David Ospina at the Emirates

REX

95/135 Arsenal 1 Southampton 2

Alexis Sanchez delivered one of the best free-kicks of the season

Getty

96/135 Aston Villa 0 Arsenal 3

Aly Cissokho rues his mistake

GETTY IMAGES

97/135 Aston Villa 0 Arsenal 3

Kieran Gibbs puts a cross into the box which leads to Aly Cissokho scoring an own-goal

GETTY IMAGES

98/135 Aston Villa 0 Arsenal 3

Danny Welbeck celebrates his goal

GETTY IMAGES

99/135 Aston Villa 0 Arsenal 3

Danny Welbeck makes it two for the Gunners with his first for the club

GETTY IMAGES

100/135 Aston Villa 0 Arsenal 3

Mesut Ozil opens the scoring for Arsenal with a calmly slotted finish

GETTY IMAGES

101/135 Aston Villa 0 Arsenal 3

Ex-Gunner Phillippe Senderos clears the ball

GETTY IMAGES

102/135 Aston Villa 0 Arsenal 3

Santi Cazorla is tackled

GETTY IMAGES

103/135 Borussia Dortmund 2 Arsenal 0

Ciro Immobile celebrates after opening the scoring against Arsenal

GETTY IMAGES

104/135 Borussia Dortmund 2 Arsenal 0

Pierre Emmerick Aubameyang scores his goal against Arsenal

GETTY IMAGES

105/135 Borussia Dortmund 2 Arsenal 0

Alexis Sanchez pictured during Borussia Dortmund vs Arsenal

GETTY IMAGES

106/135 Borussia Dortmund 2 Arsenal 0

Mikel Arteta pictured during Borussia Dortmund vs Arsenal

GETTY IMAGES

107/135 Borussia Dortmund 2 Arsenal 0

Arsene Wenger pictured during the 2-0 defeat to Borussia Dortmund

GETTY IMAGES

108/135 Arsenal 2 Manchester City 2

The Arsenal joy is short-lived, however, as Martin Demichelis heads in to grab his side a valuable away point.

Getty

109/135 Arsenal 2 Manchester City 2

Alexis Sanchez looks on as his brilliant volley flies past Joe Hart and puts the Gunners ahead.

Getty

110/135 Arsenal 2 Manchester City 2

Jack Wilshere can't hide his delight after dragging Arsenal back into the match. That's one way to silence your critics.

Getty

111/135 Arsenal 2 Manchester City 2

Frank Lampard's first start in a Manchester City shirt was short lived after being substituted at half-time.

112/135 Arsenal 2 Manchester City 2

Danny Welbeck can't believe his misfortune after watching his first half chip bounce back off the post.

Getty

113/135 Arsenal 1 Besiktas 0

Alexis Sanchez celebrates scoring the only goal of the game as Arsenal advanced into the Champions League 1-0 on aggregate

PA

114/135 Arsenal 1 Besiktas 0

Per Mertesacker in action at the Emirates

Getty Images

115/135 Arsenal 1 Besiktas 0

Mathieu Flamini came in to the side due to the absence of Aaron Ramsey and Mikel Arteta

Getty Images

116/135 Arsenal 1 Besiktas 0

Jack Wilshere was among Arsenal's best performers

Getty Images

117/135 Arsenal 1 Besiktas 0

Alex Oxlade-Chamberlain in action against the Turkish side

Getty Images

118/135 Everton 2 Arsenal 2

Steven Pienaar picked up an injury just 10 minutes into the match at Goodison Park

Getty Images

119/135 Everton 2 Arsenal 2

Alex Oxlade-Chamberlain has an early strike at goal for the visiting team but it went over

Getty Images

120/135 Everton 2 Arsenal 2

Alexis Sanchez wriggles his way past Kevin Mirallas - but the £35m Chilean struggled and was withdrawn at half-time

Getty Images

121/135 Everton 2 Arsenal 2

Arsenal players Aaron Ramsey, Mathieu Flamini and Per Mertesacker are dejected after Seamus Coleman made it 1-0

Getty Images

122/135 Everton 2 Arsenal 2

Steven Naismith fires his second goal in two matches past Wojciech Szczesny right on the stroke of half-time to put Everton two in front

Getty Images

123/135 Everton 2 Arsenal 2

Aaron Ramsey pulls a late goal back to begin the Arsenal comeback

Getty Images

124/135 Everton 2 Arsenal 2

Olivier Giroud celebrates after his late goal saved Arsenal a point at Goodison Park

Getty Images

125/135 Besiktas 0 Arsenal 0

Olivier Giroud vies with Besiktas' Ersan Gulum (left) and Pedro Franco

Getty Images

126/135 Besiktas 0 Arsenal 0

Demba Ba was Besiktas' chief threat throughout the game

Getty Images

127/135 Besiktas 0 Arsenal 0

Arsene Wenger displays some nifty ball skills on the sidelines

Getty Images

128/135 Besiktas 0 Arsenal 0

Mikel Arteta limps off injured and is replaced by Matthieu Flamini

EPA

129/135 Besiktas 0 Arsenal 0

Aaron Ramsey exits the pitch after receiving his marching orders

EPA

130/135 Besiktas 0 Arsenal 0

Besiktas fans hold a placard in support of Mike Brown, the teenager who was recently shot dead by police in Ferguson, Missouri, USA

Getty Images

131/135 Arsenal 2 Crystal Palace 1

Arsenal celebrate Aaron Ramsey's late winning goal to make it 2-1

Getty Images

132/135 Arsenal 2 Crystal Palace 1

Aaron Ramsey knocks in the winning goal to give Arsenal a 2-1 victory over Crystal Palace

Getty Images

133/135 Arsenal 2 Crystal Palace 1

Yaya Sanogo was preferred once again to start over Olivier Giroud

Getty Images

134/135 Arsenal 2 Crystal Palace 1

Crystal Palace celebrate Brede Hangeland's goal on his debut to put the Eagles into the lead

Getty Images

135/135 Arsenal 2 Crystal Palace 1

Arsene Wenger was in good spirits ahead of the game following the Community Shield victory the week before

Getty Images
PAST MEETINGS…
Arsenal 2 (Henry, Vieira) Leicester 1 (Dickov), Premier League, May 2004
Leicester 1 (Hignett) Arsenal 1 (Silva), Premier League, December 2003
Leicester 1 (Izzet) Arsenal 3 (van Bronckhorst, Henry, Wiltord), Premier League, January 2002
STATS…
Leicester haven't beaten Arsenal since 1983
The Gunners have 16 goals from their last 6 games against Leicester
Aaron Ramsey has scored in 5 of his last 6 competitive appearances for Arsenal
It is 10 years since Leicester last featured in the top flight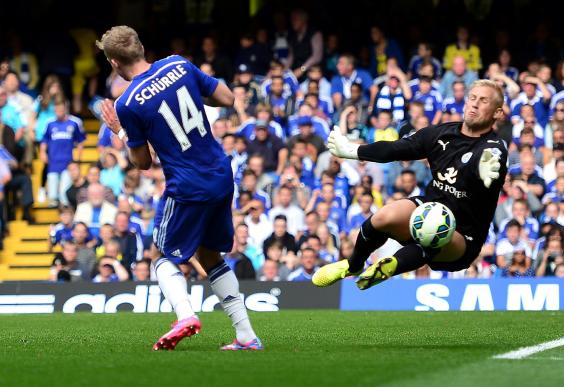 ODDS…
Leicester to win: 4.75
Arsenal to win: 1.75
Draw: 3.6
TV:
Live on Sky Sports 1 at 4pm. Highlights on BBC1 at 10.25pm